Inaugural initiative aims to bring Yugoslav war stories to wider audiences.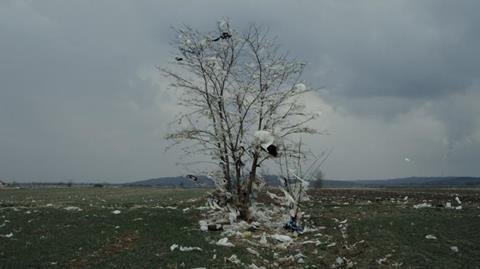 It was standing room only at Sarajevo's True Stories Market, part of the film festival's Dealing with the Past programme that aims to connects filmmakers with organisations that are documenting and researching the Yugoslav wars of the 1990s, with the aim of bringing these stories to wider audiences.
The event attracted an audience much larger than even the festival team expected and more than 30 people remained outside the Hotel Europe's Atrium hall.
The opening session consisted of the case study of Serbian director Ognjen Glavonić's Depth Two [pictured], followed by a presentation of seven barely known stories from the region that could attract interest as works of cinema and inspire audiences to consider unresolved issues that still burden the nations of the former Yugoslavia.
Glavonić, producer Dragana Jovović, and editor Jelena Maksimović detailed how they investigated the case of mass graves - the result of war crimes of the Serbian army and police in the Kosovo war in 1999, found in a Belgrade suburb in 2000-2001 - in an attempt to make a feature film.
Glavonić worked for six years to secure finance for the film, and the research he undertook resulted in the documentary that received its world premiere at Berlinale's Forum.
"I accidentally ran into two newspaper articles in 2009, about the truck with bodies of killed Albanian civilians fished out of the Danube near the border with Romania," Glavonić told the audience.
"I didn't know about this case, nor did any of my friends, my family or professors. Serbian mainstream media never reported on it.
"The usual answer was that it was propaganda of Western media, and I wanted to escape that kind of logic that the other is always responsible and making yourself the victim. That is something that's happening all over the region."
With the help of the Belgrade Humanitarian Law Centre and support from the Robert Bosch Stiftung (which also supports the True Stories Market), Glavonić and the crew produced the documentary.
Scroll down for details of True Stories Market projects
In the second part of session, representatives of organizations who found and researched stories presented at the event.
These included Mirna Buguljić from the Balkan Investigative Reporting Network in Bosnia and Herzegovina (BIRN BiH), Aleksandra Letić from the Helsinki Committee for Human Rights Republika Srpska, Nikola Mokrović from Croatia's Documenta – Center for Dealing with the Past, Nataša Govedarica from the Serbian branch of the German Forum Civil Peace Service, and Tamara Milaš from Montenegro's Centre for Civic Education (CCE).
They then described the seven stories, from the crimes against Croatian prisoners in the Concentration Camp Morinj in Montenegro, to Baljevine, a town in Bosnia where Bosniak and Serbian neighbours resisted the war and stick together, running away from Croatian forces- although Croatians and Bosniaks were allies in the war at that point.
Some of these stories are terrifying, while others offer a glimmer of hope, but all of them have definite cinematic potential, either as documentaries or fiction films.
And this is what the region needs - important stories told in an engaging way, inspiring emotions and empathy, inciting dialogue, and hopefully, leading to catharsis, necessary for a peaceful co-existence of not-so-long-ago warring nations.
"I survived war for four years and I have been dealing with the past in BIRN for 11 years," said Letić. "Why do this? It is important for the new generations because we have to accept what happened in order to go on. That is the only way."
True Stories Market
Synopses provided by festival
CONCENTRATION CAMP MORINJ
Source: Centre for Civic Education (CCE) Montenegro
Montenegrin society has not yet fully confronted the truth about the Morinj detention camp. This place, which brings back painful memories to those who were imprisoned there during the war in the 1990s, today takes pride in its exceptional tourist offer. Those who visit Morinj today know nothing of what happened there a mere two decades ago. People in Montenegro still shy away from the issue and are unprepared to face the truth about what Morinj was during the bloody war.
Established in 2002, the Centre for Civic Education (CCE) is a non-governmental, non-profit organisation. Its vision is one of Montenegro as a democratic society of responsible citizens, while its mission is to contribute to the development of civil society and encourage the participation of citizens in policy-shaping and decision-making through the education of actors in the fields of democracy, human rights and European integration.
MILENA PERČIN
Source: Documenta - Center for Dealing with the Past, Croatia
War stories are often complex and surprising, in that they can capture not only moments of extreme cruelty, but also examples of unexpected kindness. Milena Perčin's story captures both. A Croat nurse who remained in the Serb Autonomous Region of Krajina throughout the war, she fled from the area together with its Serb population after the Croatian military's Operation Storm. Her son, a soldier in the Croatian Army, was killed during the war, but her Serb neighbours protected her from possible retaliation in Serb-dominated Krajina. Perčin's is a story of humanity in wartime, a story about people of different ethnicities who protected each other while their communities were in conflict, and who returned to their homes after the end of the conflict and moved on with their lives.
Documenta – Center for Dealing with the Past is based in Zagreb. It was established in 2004 in an attempt to deepen public dialogue on dealing with the past by contributing to the documentation of historical events, developing educational policies, commemorating culture, advocating a compensation policy and advancing judicial practices and legal standards as a result of continuing monitoring of war crimes trials.
SBX BREZOVICA
Source: Forum Civil Peace Service (forumZFD| Forum ZivilerFriedensdienst), Serbia
SBX Brezovica allows people to behave differently from what is expected of them, and sometime even required from them in their violent society. Given the daily politics, one might think a friendship among young Serbs and Kosovars is impossible. But young snowboarders offer a different path, a possibility for youth like them to live side by side and form friendships.
The Forum Civil Peace Service (forumZFD| Forum ZivilerFriedensdienst) is a German organisation that was established in 1996. It trains and deploys peace experts to regions in conflict, where they work together with local partners to promote peaceful co-existence and non-violent conflict resolution.
S. K.
Source: Helsinki Committee for Human Rights Republika Srpska, Bosnia and Herzegovina
The story of S.K., a victim of the war and a former camp inmate who became a nationalist after the end of the conflict. His transformation into a nationalist can be understood if the suffering he endured is taken into account. But once this victim recognises that nationalism is not the right choice for him; when he decides to fight against it and to confront other nationalists whose views he agreed with not long ago, his extraordinary story becomes worthy of a film.
The Helsinki Committee for Human Rights Republika Srpska was founded in May 1996 by a group of independent intellectuals, as a citizens' reaction to violent and systematic human-rights violations. It is an independent, non-profit organisation of citizens that has undertaken a series of activities directed toward promoting and protecting of human rights, with a focus on educating citizens about the basic humanistic and cultural values that underlie human rights, including the field of transitional justice.
BALJEVINE
Source: The Balkan Investigative Reporting Network Bosnia and Herzegovina (BIRN BiH), Bosnia and Herzegovina
Baljevine – an exceptional story about a village that rejected war, a village where Serbs and Bosniaks protected each other during the conflict. When Croat soldiers attacked the village, Serbs and Bosniaks fled their homes. But they returned after the war and today they raise their voices in protest, saying that a village like theirs does not fit anyone's political agenda in today's Bosnia and Herzegovina because it shows that co-existence after a bloody war is not only possible, but that it is probably the only right choice.
The Balkan Investigative Reporting Network Bosnia and Herzegovina (BIRN BiH) is a non-governmental media organisation based in Sarajevo that specialises in monitoring and reporting on war crimes trials. Since its formation in January, 2005, BIRN BiH has been actively analysing and informing the public about the work of the war crimes chambers at state and local courts in Bosnia and Herzegovina.
PERSON A., PERSON H. AND PERSON J. F.
Source: The Balkan Investigative Reporting Network Bosnia and Herzegovina (BIRN BiH), Bosnia and Herzegovina
Three stories from hell. That women were raped during the war is a well-known fact, but unfortunately one that no one really talks about. Over time, the horrors women suffered and the impact the experience had on them becomes taboo; they are shunned by the public and their painful experiences are never openly discussed. Three women involved in this project decided to speak out on behalf of all other victims in order to show that they live among us, and demonstrate how little understanding there is for their continued suffering. But they also want to show that they will not give up, that they want to take from life what little it has to offer.
RAMIZ NUKIĆ
Source: The Balkan Investigative Reporting Network Bosnia and Herzegovina (BIRN BiH), Bosnia and Herzegovina
Ramiz Nukić's story is perhaps one of the most painful confrontations with the consequences of crimes committed during the war. For years, Nukić has spent his days walking through the woods in search of the bones of people killed during the war. Every shot of a possible movie about him, every minute of it, would be a confrontation with the evidence of inhumanity.