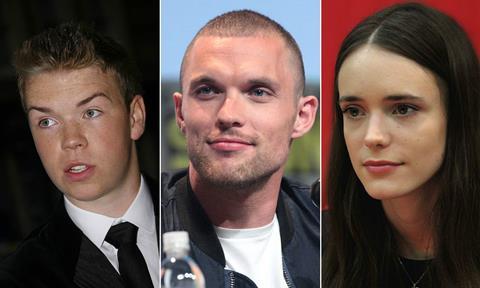 The 10th edition of "Stars of Tomorrow" includes actors who have gone on to deliver celebrated performances, such as Will Poulter's comedic work in We're The Millers, for which he won the BAFTA Rising Star Award. Additionally, Chloe Pirrie co-starred in the Oscar-winning short film Stuttered and James Norton was nominated for a BAFTA TV Award for his work in Happy Valley.
Other stars from the class of 2013 have starred in hit television shows on both sides of the Atlantic, such as Malachi Kirby as Kunte Kinte in Roots, Cush Juumbo in The Good Wife, Raffey Casidy in Mr. Selfridge, Franz Drameh in Legends of Tomorrow, and Rosie Day in Outlander.
In film, Stacy Martin has worked on a number of movies since her celebrated debut in Lars von Trier's Nymphomaniac, and Ed Skrein starred as the main villain Ajax in Deadpool - in addition to his work as Daario Naharis in Game of Thrones. The full list of 2013 Stars of Tomorrow is below.
STARS OF TOMORROW 2013
ACTORS
Raffey Cassidy
Antonia Clarke
Rosie Day
Franz Drameh
Cush Jumbo
Matt Kane
Malachi Kirby
Dimitri Leonidas
Rose Leslie
Stacy Martin
Freya Mavor
Bill Milner
Luke Newberry
James Norton
Chloe Pirrie
Will Poulter
Ed Skrein
FILMMAKERS
Joe Barton, writer
Cathy Brady, director
The Brothers Lynch, writer-directors
Matthew Butler and Tori Hart, writer-directors
Jon Croker, writer
Rachel De-Lahay, writer
Afarin Eghbal, director
Stephen Fingleton, writer-director
Arinze Kene, actor-writer
Cosmo Jarvis, writer-director and musician
Hong Khaou, director
Rob Savage, writer-director
Alex Taylor, writer-director
BRITS IN LA STARS OF TOMORROW 2013
JJ Feild, actor
Arash Amel, writer
Peter Rodger, director
Alex Hardcastle, director
Nathan Parker, writer
Miguel Sapochnik, director
Rebecca Reid, actor
Agyness Deyn, actor
Lara Pulver, actor
Aml Ameen, actor
Elyes Gabel, actor
Dominic Mitchell, writer