Secret Cinema's latest event was supposed to be a sonic tribute to the mellifluous Amy Winehouse…technology had other ideas.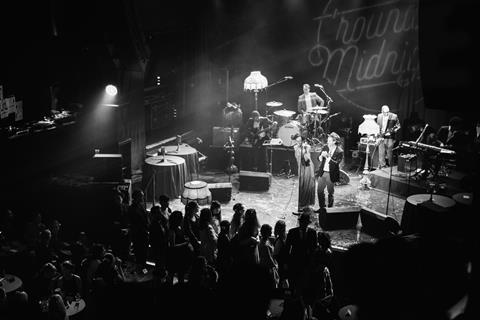 On Sunday night [June 28], immersive cinema specialists Secret Cinema held its first Secret Cinema X event, the strand aimed at growing the brand worldwide on a more intimate, transferable scale.
Audiences were supposed to be treated to a moving, sonic experience in the shape of Asif Kapadia's Cannes documentary Amy, which would play Sunday and Monday night.
London's KOKO Club in Camden was a sell-out, transformed into a "smoky jazz" bar for the evening with the 1500-strong audience entertained with live music from band Round Midnight and singers Abby Smith and Hollie Cook.
However, what was intended as a fun tribute to the late singer turned into something of a tech torment after the film's projection stalled multiple times.
The event began late, possibly because of seating problems.
Attendees had the option of purchasing a seated ticket for £30, or a standing ticket for £12, but organizers had to scramble to find more seats before the film began.
A large projector descended from the stage and the film began, but it quickly became clear that the sound quality was poor.
The event organizers stopped the film to fix the problem. Five minutes later, they restarted the film with apologies.
However, the problem was not fixed. After stopping the film again, this time for 15 minutes, audience members became hostile until Secret Cinema founder Fabian Riggall announced that everyone at the event would be receiving a free pass to Secret Cinema Presents' Empire Strikes Back event, tickets for which can cost a hefty £78.
The third time was the charm for the organizers and the film played from start to finish without further problems, however by that time many had already left and others were restless.
The event was rounded out in style, however, with more live music from Winehouse's original band, and singers Smith and Cook returned for the final performance: Winehouse's brilliant and silky smooth Back to Black.
Proceeds from the event went to the charity MAC UK.