Dir: Sergei Bodrov. US. 2015. 102mins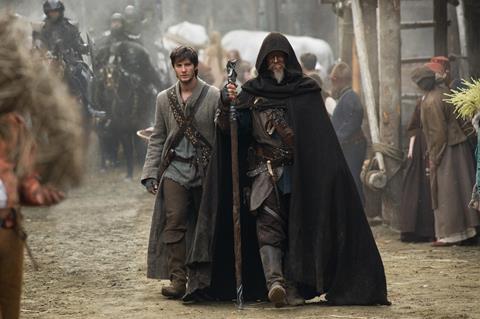 For a film featuring witches, dragons, shape-shifters, cleavage and Jeff Bridges, Seventh Son sure isn't much fun. As dreary as the grey skies framing the characters, this drab fantasy-adventure plods along, grimly competent without ever being particularly magical or enthralling. Russian director Sergei Bodrov (Mongol) brings a rugged muscularity to the proceedings, but this ho-hum tale of good versus evil exists in a nether region that's far less inventive than anything comparable one could find on the big (Peter Jackson's Hobbit and Lord Of The Rings trilogies) or small screen (Game Of Thrones).
The familiarity of this fantasy realm isn't helped by performances that play into Seventh Son's generally cheesy, hand-me-down aesthetic.
Opening in the US on February 6 after already unspooling across most of the globe — where it's so far earned an estimated $82m — this Universal offering has been bouncing around the release calendar since early 2013, and considering the studio's mediocre advertising push, Seventh Son may have a tough time in a marketplace that includes Jupiter Ascending and the still-potent American Sniper. Bridges' marquee value will help some, as will a supporting cast headlined by Julianne Moore. But you can expect Seventh Son to sink into ancillary markets soon.
Bridges plays Master Gregory, who in the film's enchanted medieval land is known as a Spook: a warrior who defends the commonwealth against malevolent magical spirits. But he faces his greatest test when Mother Malkin (Moore), a fearsome witch, frees herself from a prison created by Gregory years earlier. Vowing vengeance, Mother Malkin plans to enslave the world once the blood moon becomes full, which will coincide with the height of her evil powers.
Gregory's only hope to defeat Malkin and her legions is to recruit Tom Ward (Ben Barnes), a modest young man who, because he is the seventh son of a seventh son, has been endowed with magical properties. Gregory takes Tom on as an apprentice, training him in the ways of witchcraft and swordplay.
Bodrov has built his reputation on historical epics, but despite Seventh Son's lumbering, widescreen gravitas, this film (based on Joseph Delaney's book series The Last Apprentice) never gets close to resembling what might be called rousing. Whether it's the pro forma mentor-tutor relationship between Gregory and Tom or the budding romance between Tom and a local girl (Alicia Vikander) who may herself be a witch, Seventh Son dresses up tired story conventions with cloaks, ogres, warlocks and endless dark forests.
The dress-up does have its mild pleasures. Bodrov has assembled a superb collection of craftspeople — including cinematographer Newton Thomas Sigel, three-time Oscar-winning production designer Dante Ferretti, and two-time Oscar-winning effects maestro John Dykstra — to give his imaginary setting a spooky, vivid sense of otherworldliness. But not much in Charles Leavitt and Steve Knight's screenplay is comparably fecund, piling on the expected mythical-hero tropes without much ingenuity.
The familiarity of this fantasy realm isn't helped by performances that play into Seventh Son's generally cheesy, hand-me-down aesthetic. Chewing the same cud as he did in True Grit and R.I.P.D., Bridges plays Gregory as a growling, mumbling, slightly loopy warrior. It's slightly amusing seeing the Zen-like actor portray a deadpan medieval knight, but at this stage of his career, we're used to the Big Lebowski-slacker routine, and so the rewards are fleeting.
Likewise, Moore gives us an evil witch heavy with mascara and severe line readings. Not quite florid enough to be campy, the performance is a study in fearless commitment to deeply dopey material. As for Barnes, he came to the world's attention as Prince Caspian in the Chronicles Of Narnia films. Seventh Son shows him growing into a striking, handsome man, but he still doesn't have much of a presence, unable to generate any spark alongside Vikander.
The truth is, Bodrov doesn't seem to know what to do with his actors unless they're involved in battle scenes. His action sequences, while never really inspired, churn with enough raw energy to keep one engaged. (Although the film is rated PG-13, which means we see little blood, Seventh Son is dark and violent enough to perhaps be too intense for younger viewers.) With half of the characters able to morph into creatures ranging from bears to dragons, there's a faint sense of danger and unpredictability to the fight sequences, but with the stakes alarmingly low, much of the film feels like a technical exercise in creating believable shape-shifters. Too bad Seventh Son never transforms into something worth watching.
Production companies: Legendary Pictures, Thunder Road Film, Wigram Productions
US distribution: Universal Pictures, www.universalpictures.com
Producers: Basil Iwanyk, Thomas Tull, Lionel Wigram
Executive producers: Jon Jashni, Brent O'Connor, Alysia Cotter
Screenplay: Charles Leavitt and Steve Knight, screen story by Matt Greenberg, based on the book series The Last Apprentice by Joseph Delaney
Cinematography: Newton Thomas Sigel
Editors: Paul Rubell, Jim Page, Michael Kahn
Production designer: Dante Ferretti
Music: Marco Beltrami
Website: http://seventhson.legendary.com/
Main cast: Jeff Bridges, Ben Barnes, Alicia Vikander, Kit Harington, Olivia Williams, Antje Traue, Djimon Hounsou, Julianne Moore