Sarah Cooper hangs out with the sons of acting royalty on the set of Christopher Granier Deferre's directorial debut.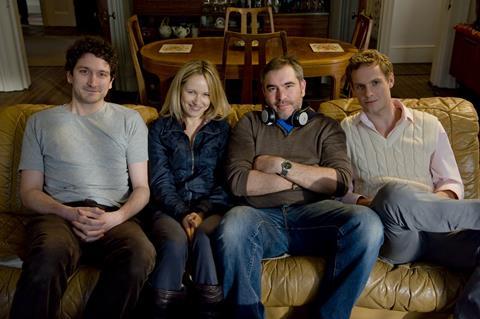 When Brit producer Christopher Granier Deferre told us that he was turning his hand to directing, we couldn't resist the opportunity to visit the set of his first short, Beast, even if it was on a sunny Saturday. That's our dedication to the film industry (and a free lunch) folks!
And it was well worth the trip to Putney, if only to witness two acting dynasties literally wrestling each other to the floor, in the form of Jack Fox (son of James/ nephew of Edward/brother in law to half of the UK entertainment industry) and Edmund Kingsley (son of acting legend Ben) as they play flatmates whose relationship takes a sinister turn when one of them reveals he has killed a girl…
Add to the equation the fact that Granier Deferre's dad is the late award-winning French director Pierre Granier Deferre, and you've got enough material for a psychology PHD.
"We are basically three people standing in our fathers' shadows," the BIFA-nominated producer turned director jokes.
Granier Deferre is using this short as a test drive for his first feature, The Last Witness, which he is planning to shoot at the end of this year in Newcastle. Although if Saturday's shoot was anything to go by, he's a natural.
Chatting to Jack and Ed whilst tucking into lasagne in the garden, it becomes clear that a) they are not at all fazed by their famous parentage and b) I've clearly missed all the juicy bits, like a shower scene and one involving porn. "It's all a bit homoerotic really," laughs Jack. "So, a bit like public school."
The film's producer John Schwab also told me that shooting in Putney had been a bit of a nightmare due to being below the Heathrow flight path. Now where's that no fly zone when you need it..