The long-awaited return of Bond doesn't disappoint as it scores $32.4m (£20.1m) through Sony to break records in the UK.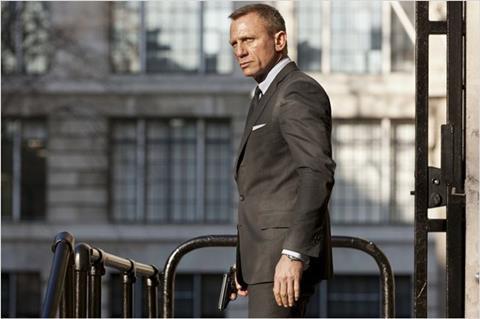 Aided by a strong critical reception, Skyfall has dominated the UK on its release to record a mighty $32.4m (£20.1m) to ease its way to the top of the box office.
That result is the second biggest Fri-Sun haul behind only Harry Potter and the Deathly Hallows: Part 2's $38.2m (£23.8m) debut last July and will be the third biggest opening of all time, behind Toy Story 3's $34.1m (£21.2m) which benefitted from four days of previews. On Bond terms, it's around £7m more than Casino Royale ($21.4m/£13.4m) and around £5m ahead of Quantum of Solace ($24.7m/£15.4m).
As for other records, Skyfall set the biggest Saturday attendance of all time and is also the second-biggest IMAX Fri-Sun tally in history, with showings sold out at the BFI IMAX in Waterloo for the next nine days with the exception of some midweek midnight showings.
In terms of 2012, Skyfall's debut is around £5m stronger than the year's previous best Marvel Avengers Assemble which took $25.3m (£15.8m) back in April and also benefitted from one day of previews.
However you look at it, it's a mightily impressive debut and, seeing as both Casino and Quantum went on to take at least three times their opening haul, Skyfall should end up among the UK's biggest grossers of all time, especially with a clear run at cinemas until the arrival of the climactic Twilight on Nov 16.
Understandably in the wake of Skyfall's epic debut, other titles suffered in the UK although Paramount's Madagascar 3: Europe's Most Wanted managed to put up some resistance with only a 20% drop (based on just Fri-Sun figures).
The animated threequel added $4.5m (£2.8m) for a decent early $16.8m (£10.5m), just behind the original Madagascar ($18.1m/£11.3m) and ahead of Madagascar: Escape 2 Africa ($16.1m/£10m) at the same stage in their runs.
In the week it crossed $300m worldwide, Fox's Taken 2 also held well with a fourth weekend tally of $1.6m (£1m) to break the £20m barrier. The sequel has grossed $33.6m (£20.9m) to date.
Dropping two places to fourth was Paramount's Paranormal Activity 4 with a $1.3m (£791,138) second weekend tally. The fourth instalment in the found footage horror franchise has scared up $6.9m (£4.3m) and without sturdy holds or strong midweeks, is unlikely to challenge even the lowest grosser of the series which currently belongs to the original instalment's $16.1m (£10m) gross.
Sony's Hotel Transylvania stands at $7.4m (£4.6m) after three weeks following a non-final $1.1m (£710,000) weekend.
Having expanded to 44 sites, StudioCanal's Beasts of the Southern Wild continued to impress with $187,000 (£116,414) weekend (still with one site to report) for the lowest drop of any adult-orientated title on release at just 26%. Benh Zeitlin's critically acclaimed debut has taken $660,000 (£410,826) to date.
This week sees saturation releases for Paramount's Fun Size (opens today) and Lionsgate's Silent Hill: Revelation (opens Oct 31). Entertainment's The Master starts its exclusive two-week 70mm run at the Odeon West End, Universal's For A Good Time, Call… releases wide, while Monster Pictures' Excision, Peccadillo's Keep The Lights On and StudioCanal's Rust and Bone are among the films receiving a limited release.