Programmers at the Park City jamboree's upcoming 23rd edition announced on Monday the 11 narrative and eight documentary selections that will play in January.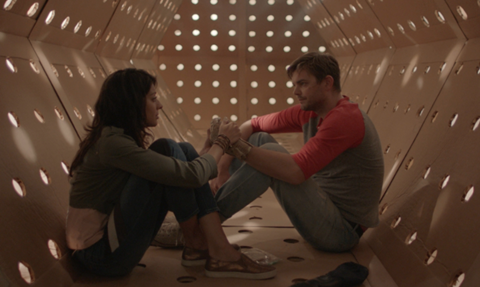 The 2017 showcase will also feature DIG (Digital, Interactive & Gaming), a platform of eight works by emerging artists working in cutting-edge digital media, while Polytechnic is a series of free workshops exploring disruptive perspectives on filmmaking from industry insiders.
"As filmmakers themselves, the Slamdance programmers and staff share the same creative spirit as the festival artists," said Slamdance co-founder and president, Peter Baxter. "Our stories are different but our divergent attitude is the same.
"Together, we give a voice to DIY filmmaking. Empowering emerging artists is what we do, and you are about to see a great group at Slamdance 2017."
The feature competition roster includes 16 premieres – 12 world, 3 North American and one US. All competition films are feature directorial debuts with budgets of under $1m and without US distribution.
Jury awards are presented for the best narrative feature and best documentary feature. Films in both categories are eligible for the audience award and Spirit Of Slamdance Award.
The 23rd Slamdance Film is scheduled to run from January 20-26.
NARRATIVE FEATURES
All synopses provided by the festival.

Aerotropolis (Taiwan)
Jheng-Neng Li
Allen invested everything into a beautiful home to flip for profit only to have it languish on the market, turning his daily life into a haze of financial pressures and an erosion of reality.
Cast: Chia-Lun Yang, Jui-Tzu Liu, Chong-Cyuan Huang, Chin-Yu Lin, Sih-Mei Liou, Ting-Li Bao, Chieh-Wen Deng, Zaw Lin Htwe.
World Premiere
Beat Beat Heart (Germany)
Luise Brinkmann
Daydreaming her way out of a broken heart, Kerstin's denial as well as her days are shaken up with the arrival of her mother, dealing with her own relationship's demise.
Cast: Lana Cooper, Saskia Vester, Till Wonka, Aleksandar Radenkovic, Christin Nichols, Jörg Bundschuh, Caroline Erikson.
North American Premiere
Cortez (USA)
Cheryl Nichols
Struggling musician Jesse tracks down his ex Anne in a small town in New Mexico, and is forced to face the decisions of his past as present day consequences set in.
Cast: Arron Shiver, Cheryl Nichols, Drago Sumonja, Judith Ivey, Jackson Shiver, Cassidy Freeman, Kristian Moore, Dylan Kenin.
Dave Made A Maze (USA, pictured)
Bill Watterson
Dave builds a fort in his living room and ends up trapped inside by fantastical pitfalls, booby traps and creatures, leaving his girlfriend Annie to head up the eccentric rescue team to go in after him.
Cast: Nick Thune, Meera Rohit Kumbhani, Adam Busch, James Urbaniak, Stephanie Allynne, Kirsten Vangsness, Scott Krinsky, John Hennigan.
World Premiere
Dim The Fluorescents (Canada)
Daniel Warth
A struggling actress and an aspiring playwright funnel their uninhibited passion into the only paying work they can find: role-playing demonstrations for corporate seminars.
Cast: Claire Armstrong, Naomi Skwarna, Andreana Callegarini-Gradzik, Brendan Hobin, Clare McConnell, Todd Graham, Hannan Younis, Thom Gill.
World Premiere
The Family (China-Australia)
Shumin Liu
Liu and Deng are a couple in their 70s who set off to visit their adult children in three faraway cities, in an immersive exploration of family dynamics and daily life.
Cast: Shoufang Deng, Lijie Liu, Xiaomin Liu, Jiangsheng Jiang, Erya Chen, Xujun Liu, Liqin Huang, Zepeng Liao.
US Premiere
Kate Can't Swim (USA)
Josh Helman
When Kate's best friend Em returns from abroad with a surprising new lover, they embark on a reunion vacation with their partners, but the peaceful getaway quickly becomes emotionally complicated.
Cast: Celeste Arias, Grayson Dejesus, Jennifer Allcott, Josh Helman.
World Premiere
Kuro (France-UK-Germany-Luxembourg)
Joji Koyama, Tujiko Noriko
A Japanese woman living in Paris tends to her paraplegic lover, passing time by recounting a story about the time they once spent together in Japan, rich with anecdotes, myths and an unexpected dark turn.
Cast: Tujiko Noriko, Jackie.
World Premiere
Weather House (Germany)
Frauke Havemann, co-director Eric Schefter; Screenwriter: Mark Johnson Set in an unspecific time of extreme climate change, an isolated group of disoriented characters develop their own strange belief systems and engage in absurd activities to process their dilemma.
Cast: Inga Dietrich, Charles McDaniels, Erik Hansen, Sabine Hertling, Jack Rath.
World Premiere
Wexford Plaza (Canada)
Joyce Wong
Betty is a lonely strip mall security guard, and an unexpected moment with charming deadbeat Danny ends up setting off the unraveling of both their lives.
Cast: Reid Asselstine, Darrel Gamotin, Francis Melling, Ellie Posadas.
North American Premiere
Withdrawn (Canada)
Adrian Murray
Living in a basement he can't afford, Aaron spends his days doing drum solos and talking his way out of paying for utilities, until he finds a lost credit card and devises a plan to defraud its owner.
Cast: Aaron Keogh, Molly Reisman, Dean Tardioli, Adrian Murray, Greg Wasylyszn, Kelly Paoli, Hallie Burt, Earl Oliveros.
World Premiere
DOCUMENTARY FEATURES
All synopses provided by the festival.
Bogalusa Charm (USA)
Stephen Richardson
Through the lens of an anachronistic charm school that has existed for almost three decades in rural Louisiana, we explore a town confronted with contemporary issues of class and race.
World Premiere
The Children Send Their Regards (Austria)
Patricia Josefine Marchart
Adult victims of physical abuse by clergy members in Austria revisit the sites of their childhood trauma and make public their stories to shed light into one of the greatest crimes of the post-war period.
Cast: Georg Prader, Jo Auer, Inge Killmeyer, Josef Schörkmayr, Klaus Oberndorfer, Paula Neulinger, Walo Nowak, Anita Ossinger, Klaus Fluch, Sepp Rothwangl.
World Premiere
Hotel Coolgardie (Australia)
Pete Gleeson
Somewhere between Australia's most isolated city and it's largest gold pit lies Coolgardie, where the arrival every three months of a new pair of foreign female backpackers to work the only bar in town is keenly anticipated by the town's hot-blooded males.
The Modern Jungle (Mexico-USA)
Charles Fairbanks, Saul Kak
A story of globalization filtered through the fever dream of a Mexican shaman, this is an intimate portrait of Zoque culture, commodity fetish, and the predicament of documentary cinema.
Cast: Juan Juarez Rodriguez, Carmen Echevarría Lopez.
North American Premiere
On The Sly: In Search Of The Family Stone (USA)
Michael Rubenstone
Director and super-fan Michael Rubenstone sets out in search of long-time reclusive funk legend, Sly Stone. Along the way, he meets with some success, but finds countless more failures in trying to capture a man who refuses to be contained.
Cast: Michael Rubenstone, Cornel West, Bobby Womack, Clive Davis, Dick Cavett, Paul Shaffer, David Kapralik, Freddy Stone.
World Premiere
Strad Style (USA)
Stefan Avalos
A rural Ohio eccentric with an obsession for 'Stradivari' convinces a famous European concert violinist that he can make a copy of one of the most famous and valuable violins in the world. Fighting time, poverty, and most of all - himself - Danny Houck puts everything on the line for one shot at glory.
Cast: Daniel Houck, Razvan Stoica, David Campbell, Rodger Stearns, Mary Houck.
World Premiere
Supergirl (USA)
Jessie Auritt
Naomi seems like a typical 11-year-old Orthodox Jewish girl; watching her compete to lift almost three times her bodyweight tells a different story.
Who is Arthur Chu? (USA)
Scott Drucker, Yu Gu
Arthur Chu, eleven time Jeopardy! winner turned internet iconoclast, battles dark forces as a blogger and cultural pundit ultimately realizing that to create positive change in the world he must first heal his own wounds.
World Premiere