Dir: Barry Berk. South Africa. 2012. 94mins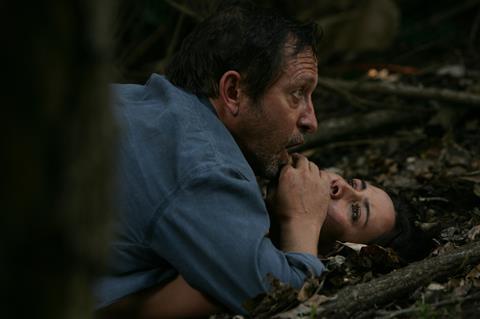 A somewhat stilted psychological thriller where South Africa's stunning KwaZulu Natal South Coast provides most of the flourishes, Sleeper's Wake is an effective if small-scale drama and the second to be co-produced by Ken Kaplan and Anant Singh after horror Pure Blood.
Sleeper's Wake is really quite tongue-in-cheek and all the more enjoyable for it.
Genre aficionados may well take to this initially clinical feature (set in sterile Port Elizabeth), which eventually ratchets up the man-vs-(mostly his own) nature component to reach a lurid denouement with a baboon in the jungle which is entirely, and quite thrillingly, over-the-top.
Based on the sparse novel by Alistair Morgan (adapted for the screen by first-time feature director Barry Berk), Sleeper's Wake opens with a scream, as scar-faced writer John Wraith (Lionel Newton) wakes up in his hospital bed to realise that he is the sole survivor of a car crash which killed his wife and daughter. Depressed and drinking far too much, he eventually decides to accept his sister's offer to spend some time in a rural retreat called Nature's Cove.
There he meets sexy/sulky teen Jackie (Jay Anstey), who is clearly trouble – and deeply troubled - from the get-go. There's an odd policeman called Doug (Stiaan Smith, who patrols the area in his Scorpion Security car. Jackie's strange father Roelf (Deon Lotz) turned out to be an evangelical nutcase who has also lost a spouse and thinks this is a sign from God to bring him and John together. And a strangely silent brother (Luke Tyler) lurks in the background.
Even before native housekeeper Doreen (Bayo Jwai) arrives to shake her head portentously, this all clearly spelling b-a-d n-e-w-s for our three-bottles-a-day addled anti-hero, who really should sharpen up – but Jackie is giving off some sexual heat, and as the jungle provides a pulsating backdrop, what kind leading man would John be if he resisted?
Although it takes itself very seriously, adopting a Picnic On Hanging Rock tone, Sleeper's Wake is really quite tongue-in-cheek and all the more enjoyable for it. While clearly working with limited resources, technical credits here are good across the board, from locations to Flo Ballack's design and Willie Nel's intense camera work. Acting is strong, and young Anstey is quite a compelling presence. And although it's no advert for the country, South Africa has rarely looked better on screen.
Production companies: Bioskope Film Works, Liquid Crayon, Videovision
International sales: XYZ Films, www.xyzfilms.com
Producers: Ken Kaplan, Anant Singh
Screenplay: Barry Berk, based on the novel by Alistair Morgan
Cinematography: Willie Nel
Editor: Vuyani Sondlo
Production designer: Flo Ballack
Main cast: Lionel Newton, Jay Anstey, Deon Lotz, Amanda Lane, Bayo Jwai, Stiaan Smith