Dir:  Roberto Faenza. Italy-US. 2011.  99mins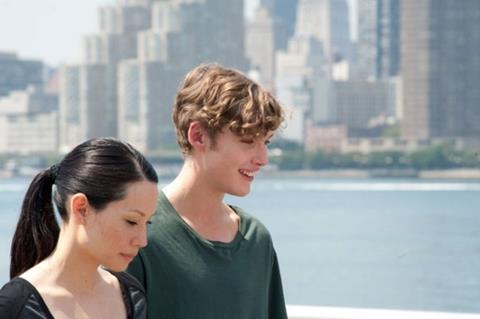 Italian director Roberto Faenza's English-language adaptation of Peter Cameron's quality teen novel, which has been described as a sort of 'post 9/11 Catcher in the Rye', moves along pleasantly enough, and features a convincing lead performance by upcoming star Toby Regbo. But Faenza makes no good case for why we need to see a screen version of Cameron's novel for sensitive teens and adult nostalgics.
The best one can say about Someday This Pain.. is that it's watchable if you're in an undemanding mood.
With its characters fleshed out on screen, Someday This Pain… reveals itself to be what Cameron's nuanced prose managed to finesse us into excusing or overlooking: a slight story about a mixed-up rich kid who throws an existential wobbly - but is okay in the end. The question the film never really answers is why we should care about any of the characters.
The attractions of Regbo's authoritative account of conflicted teenage hero James and tasty supporting performances by Marcia Gay Harden and Ellen Burstyn as his mother and grandmother will not be enough in themselves to guarantee Someday This Pain… multi-territory theatrical releases outside of majority producer Italy (where Cameron's book sold well). The last Cameron adaptation, The City of Your Final Destination, failed to reach $500,000 at the US box office despite the director-star pairing of James Ivory and Anthony Hopkins - though interestingly, it took over $900,000 in Italy, one of only four foreign territories where it was released.
Someday This Pain… could thus turn out to be a curio: an English-language film destined almost exclusively for an Italian audience. Certainly director Faenza is less concerned than his compatriots Paolo Sorrentino (This Must Be The Place) or Gabriele Muccino (The Pursuit of Happyness) to get America right for American audiences: in particular, large swathes of the educational visit to Washington where James suffers a kind of breakdown are downright embarrassing in their tonal misjudgements.
Regbo's character, James Sveck, is a 17-year-old bright but sensitive New York loner struggling to define himself socially, academically and sexually. His drama queen mother, Marjorie (Harden), runs a contemporary art gallery and collects husbands; his spoiled sister Gillian (Woll) only dates older men; his father Paul (Gallagher) is a macho money man somewhere in the city with a taste for fast cars and young girls.
James helps out in his mother's gallery, which plays to a different kind of gallery (the 'contemporary art is all rubbish' sort) in its main exhibit, a series of dustbins. The only family member James is really close to is his laissez-faire grandmother (Burstyn); though after initial resistance he also opens up to no-nonsense life coach Hilda (Liu).
Quirky comedy (broad at times) and TV-style melodrama intertwine in a film that is tonally uneven. Stylistically, too, Faenza seems to pick and mix, trying out a bit of handheld camera here, a wide-angle shot there, using music alternately for ironic comment or emotional underlining. But the film's main problem is its failure to dramatise James' inner turmoil. At one point, the script is reduced to having him confide in his dog just so we know what he's going through. The best one can say about Someday This Pain.. is that it's watchable if you're in an undemanding mood. The worst is that it comes across as an expensive vanity project.
Production companies: Jean Vigo Italia, Rai Cinema, Four of a Kind Productions
International sales: Preferred Content (North America), www.preferredcontent.net; Highland Film Group (rest of world), www.highlandfilmgroup.com
Producers: Elda Ferri, Milena Canonero, Ron Stein
Screenplay: Roberto Faenza, Dahlia Heyman, based on the novel by Peter Cameron
Cinematography: Maurizio Calvesi
Editor: Massimo Fiocchi
Production designer: Tommaso Ortino
Music: Andrea Guerra
Main cast: Toby Regbo, Marcia Gay Harden, Peter Gallagher, Lucy Liu, Stephen Lang, Deborah Ann Woll, Ellen Burstyn