Dir/scr: Paul Andrew Williams. UK. 2012. 93mins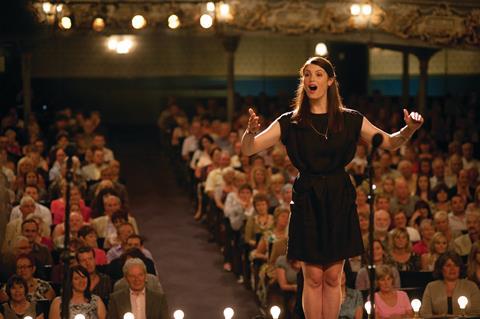 Song For Marion is aggressively sentimental and predictable — and its target audience won't mind one bit. A drama about a miserable old coot who reluctantly takes part in an amateur vocal group consisting of senior citizens, the fourth film from writer-director Paul Andrew Williams strikes every emotional note with the subtlety of a tuba, but Terence Stamp and Vanessa Redgrave give the movie some grace, no matter that you've heard this particular song many times before.
The cast helps give Song For Marion a professional polish.
This UK production — the Closing Night movie at the Toronto Film Festival — will call to mind a mix of different inspirational/underdog films like The Full Monty and Young@Heart, the 2007 documentary about a real-life elderly choral group. And with The Best Exotic Marigold Hotel proving to be one of summer's biggest indie smashes, there is certainly a market for feel-good dramas featuring older characters grappling with mortality. Expect the Weinstein Company, which is handling Song For Marion's US release, to play up the film's crowd-pleasing elements to the hilt.
The film's centrepiece is grumpy, retired Arthur (Stamp), who doesn't get much joy out of life aside from his charming wife Marion (Redgrave, luminous as usual). Still, he finds her interest in the OAPZ (a grey-haired vocal group that performs covers of popular radio hits) a waste of time — that is, until Marion's cancer returns, leaving her with just months to live. Knowing how much the group means to her, Arthur forces himself to get involved with the OAPZ, much to the pleasure of the group's leader, the vivacious Elizabeth (Gemma Arterton).
Williams doesn't bother trying to disguise the programmatic nature of his storyline. From the moment that Arthur starts grumbling at everyone around him — including his son James (a nicely dialled-down Christopher Eccleston) — it's pretty clear that he's approximately 60 minutes of screen time away from being a changed, better person.
Such comfortable predictability can be enjoyable if it's handled with enough gusto and good cheer, and the cast helps give Song For Marion a professional polish. (Stamp does what he can to make Arthur's transformation from codger to kind-hearted as smooth as possible.) Still, Williams plays down to his audience a little too strenuously, telegraphing each major twist and throwing in several tired plot conventions as well. (It's not enough for Arthur to find contentment — of course, there must also be a big singing competition at the end of the film where everything is on the line.)
This by-the-numbers movie will appeal to those who don't demand a lot from their nights out at the cinema, to audience members who simply want to laugh and cry and not be challenged by what they're watching. There's no shame in that, but it is frustrating that Song For Marion doesn't dig into its two most potentially interesting kernels: the challenges facing the elderly when their spouses die, and the ways in which pop music is uniquely suited to expressing universal sentiments that can be otherwise hard to discuss. Unfortunately, these themes are merely paid lip service as Song For Marion marches to the beat of its very familiar drum.
Production companies: Entertainment One, The Weinstein Company, Steel Mills Pictures, Coolmore Productions, Film House Germany, Aegis Film Fund, Egoli Tossell Film
International sales: Entertainment One, www.entertainmentonegroup.com
Domestic distribution: The Weinstein Company, www.weinsteinco.com
Producers: Ken Marshall, Philip Morross
Cinematography: Carlos Catalan
Production design: Sophie Becher
Editor: Dan Farrell
Music: Laura Rossi
Main cast: Terence Stamp, Gemma Arterton, Christopher Eccleston, Vanessa Redgrave, Anne Reid, Elizabeth Counsell