Dir. Stewart Hendler. US. 2009. 101 mins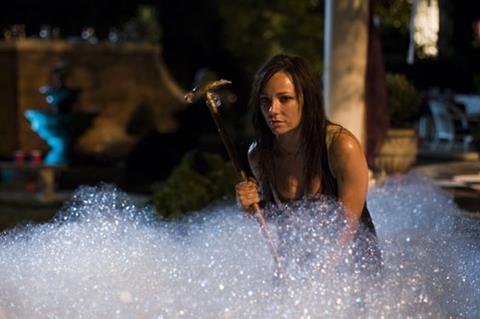 Pitched as "Mean Girls meets Scream", Sorority Row proves to be just another crass slasher movie, recycling familiar ingredients to diminishing effect. A perfunctory plot and a flippant, throwaway tone conspire against the construction of any genuine suspense or menace. The time honoured formula of babes in their undies and gruesome bloodshed have always been beloved of young audiences, however, and theatrical returns should still be profitable without raising the roof.
Sorority Row finds its raison d'etre in mean-spirited wisecracks and a succession of grisly deaths
A loose remake of Mark Rosman's 1983 chiller The House On Sorority Row, Stewart Hendler's Sorority Row appears to have taken the bulk of its inspiration from repeated viewings of 1990s scary movie landmarks such as Scream and particularly I Know What You Did Last Summer.
A prank gone wrong is the starting point of a very predictable storyline. Determined to exact revenge on cheating love rat Garret (O'Leary), Megan (Patridge) and her Theta Pi sorority sisters devise an elaborate hoax which ends in Megan's death. Now the sisters must decide whether it is really in their best interests to spoil their glittering futures by reporting events to the authorities.
Megan's body is consigned to the bottom of a mine shaft but eight months later, on graduation day, someone has decided that it is payback time.
A disappointing screenplay by Josh Stolberg and Peter Goldfinger wastes little time on the niceties of character development or motivation. All the sisters are sketchily drawn archetypes with queen bee Jessica (Pipes) as a ruthless bitch; party animal Chugs (Harshman) playing the shameless slut; Ellie (Willis) is the bookish one; Claire (Chung) the flirt; and Cassidy (Evigan) the conscience-stricken moral compass of the group.
None of the characters are endearing enough to make you care about their fate and none of the performers go above and beyond the constraints of their roles.
Sorority Row finds its raison d'etre in mean-spirited wisecracks and a succession of grisly deaths by flare gun, tyre iron and a particularly nasty use of a wine bottle. A little too self-aware for its own good, it has a vaguely frivolous air that topples over into high camp with the transformation of Carrie Fisher's caring den mother Mrs Crenshaw into a shotgun blasting momma out to protect her girls from harm.
Red herrings are half-heartedly thrown into the mix but the ultimate revelation of who is behind it all carries little conviction and makes no sense. A groan-inducing closing shot hinting at the possibility of a sequel merely confirms the film's status as a cynical potboiler.
To sign up for Screen's weekly Reviews Newsletter with all the week's new releases, internationalopenings and full festival reviews delivered free to your mailbox every Friday, please click HERE
Production companies
Karz Entertainment
SummitEntertainment
International sales
SummitEntertainment
+ 310 -828-4132
Producers
Mike Karz
Darrin Holender
Screenplay
Josh Stolberg
Peter Goldfinger
Cinematography
Ken Seng
Production designer
Philip Toolin
Editor
Elliot Greenberg
Main cast
Briana Evigan
Leah Pipes
Rumer Willis
Jamie Chung
Julian Morris
Carrie Fisher
Audrina Partridge
Matt O'Leary