CHINA BOX OFFICE: Japanese animation Stand by Me Doraemon topped the China box office last week, grossing $38.29m in its opening four days.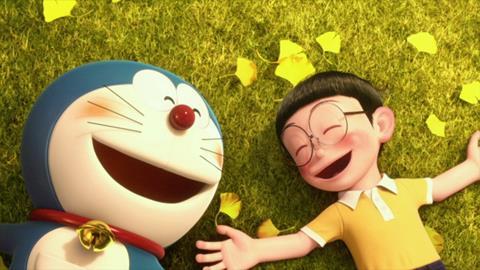 The film's release marks the first time a Japanese production has been distributed in mainland China since Ultraman in 2012. Based on a hugely popular manga about a blue robot cat, Stand by Me Doraemon also topped the box office when it was released in Hong Kong over Chinese New Year grossing $5.1m.
Disney's Avengers: Age Of Ultron came in second at the China box office for the week May 25-31, according to EntGroup figures, grossing $17.03m for a cumulative gross of $226.79m after 20 days.
Tomorrowland, also a Disney movie, took third place in the chart in its opening week, grossing $14.11m in its six days, which was around the same as its North American opening but lower than expected for a sci-fi movie in China.
Rajkumar Hirani's P.K., starring Aamir Khan, grossed $6.89m in its second week, for a cume of $12.04m after 10 days, which is a record for an Indian film in mainland China. Lionsgate's I, Frankenstein came in fifth with $6.35m in its opening six days
Chinese animation Happy Little Submarine Magic Box Of Time opened at sixth position in the chart, grossing $2.36m in three days. It was followed by local documentary Mr Deng Goes to Washington, which took $1.05m for a cume of $1.84m after 17 days.
Local productions filled out the last three positions in the top ten: romance Love Without Distance took $1.04m for a cume of $4.6m after 11 days; animation The Grow 2 opened with $420,000 in three days; and award-winning crime drama 12 Citizens, inspired by Hollywood classic 12 Angry Men took $360,000 for a cume of $2.04m after 17 days.
Warner Bros' San Andreas opened on June 2 and made $5.53m on its first day. Other upcoming US releases include Jurassic World on June 10 and Insurgent on June 19.