Paramount's sci-fi sequel dethrones Iron Man 3 with $12.9m (£8.4m) opening, including previews.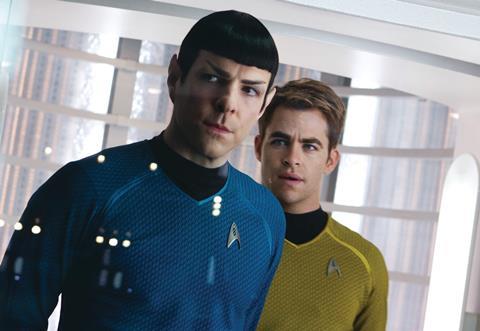 Following on from Iron Man 3's $21.3m (£13.7m) debut a fortnight ago, Star Trek Into Darkness has delivered another strong opening salvo to top the UK box office.
Paramount's 3D sci-fi sequel scored a $12.9m (£8.4m) opening, including $2.4m (£1.6m) in previews, from its 556 sites to land number one. That result is director J.J. Abram's best-ever UK debut, topping predecessor Star Trek's $9.1m (£6m) opening in 2009.
Star Trek is also Abrams' strongest UK performer at $32.9m (£21.4m) and while some fellow big hitters arrive this week in the form of Fast & Furious 6 and The Great Gatsby, Star Trek Into Darkness has a good chance to top that performance.
Last week's champion Iron Man 3 still performed well in its third weekend despite dropping to second.
Disney's 3D superhero outing blasted its way to a further $4.9m (£3.2m) to break the £30m barrier and climb to $47.8m (£31.1m). With around £20m to make up on The Avengers, it's unlikely that Iron Man 3 can become the UK's best Marvel performer, but it's an excellent performance regardless.
Also for Disney, Wreck-It Ralph has grossed $36.2m (£23.5m) while Chimpanzee has taken $185,000 (£120,340) after ten days in play.
eOne's 21 and Over fell just 25% in its second weekend to laugh its way to a further $885,000 (£579,146) for $2.9m (£1.9m) to date.
Mud enjoyed a great start to its UK run, debuting with $361,000 (£236,000) from its 71 sites. That marks director Jeff Nichols' best-ever UK debut, as well as Mud already being Nichols' strongest UK performer, topping the $338,000 (£220,928) result of Take Shelter in 2011.
Dead Man Down has grossed $923,000 (£603,706) to date.
Vertigo's All Stars enjoyed a slim drop as it posted a second weekend tally of $766,000 (£498,334) and has now danced its way to $2.1m (£1.4m).
Rounding off this week's top five was Fox's The Croods which is now up to an excellent $39.3m (£25.6m) after a $587,000 (£382,096) weekend.
Also for Fox, I'm So Excited added $219,000 (£142,240) for $940,000 (£611,304) to date.
Lionsgate's Olympus Has Fallen added $556,000 (£362,772) in its fourth weekend and has now shot its way to a healthy $9.1m (£5.9m) in the UK.
Warner Bros released Deadfall in 105 sites, resulting in a soft debut of $52,000 (£33,987). That's lower than director Stefan Ruzowitzky's previous feature The Counterfeiters, which opened with $180,000 (£117,091) from 61 sites in 2007.
This week sees saturation releases for Universal's Fast & Furious 6 and Warner Bros' The Great Gatsby [opens May 16]. Metrodome's The Liability is among the films receiving a limited release.