The 20th edition of the Tallinn Black Nights festival rolls out its digital red carpet with the inaugaral edition of Storytek, a one-day financing and business development forum for alternative storytellers.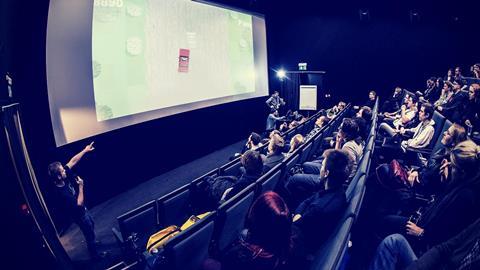 Co-hosted by Industry@Tallinn & Baltic Event, the all-day event takes place on Saturday November 19 and will host panels on topics ranging from intellectual property (IP) and product development to crowdfunding and marketing and distribution for new multi-platform businesses.
Informal brainstorming discussions will also be on the agenda, with international film and technology experts revealing their trade tips across the gaming, merchandising, mobile content, publishing and VR and AR industries
A raft of film and technology speakers will be in attendance, including: Pam Rodi, PR & Marketing executive of Sony Pictures Entertainment; Keith Arem, Call of Duty talent director & VR visionary; Tero Kaukomaa, crowdfunding pioneer of the Iron Sky franchise; Laura-Anne Edwards, digital brand & startup strategist, TED resident and open data expert; Mitch Mallon, digital content integrator of iTunes and Google Play, and Co-Chair of America's Electronic Merchants Association; Colin Brown, editorial director of online independent film company Slated; and Jennifer Jao, partner of Singapore's global media fund Gin Kai Chan and the director of Taipei Film Commission.
The forum also acts as the launchpad for Storytek IP & startups accelerator, a programme that supports the emergence of innovative storytelling and producing. The scheme will feature three sets of projects, each with 20 selected global participants who will engage in a three-week programme due to start in early 2017.
Storytek will act as a co-investor in the successful projects, with a percentage stake that the producer can opt out of once it goes into full production or is being acquired. The first session is due to start at next year's European Film Market (EFM) in Berlin.
A full accelerator/ development fund is also planned for launch next year, with the inaugural edition focusing on Southeast Asia and including partners from Singapore, South Korea and Malaysia.
"Today, producers need to look beyond films to create appealing stories in multiple formats, whether online, games or virtual reality," said Sten Saluveer, creative curator of Storytek and head of development & special projects for Tallinn Black Nights Film Festival.
"Storytek is set up to help producers and film-makers take advantage of these possibilities around the world," he continued.
Head of Industry@Tallinn & Baltic Event Marge Liiske added: "Storytek Forum combines top-level networking and knowledge by tapping into the startup and tech environment of Estonia. We want Industry@Tallinn to be a place where people can come to solve problems, and we hope this day will put new and creative ideas on the table.
The Storytek Forum is organised by Industry@Tallinn & Baltic Event in partnership with regional investment venture Head Capital and with the support of European Regional Development Fund and Estonian Ministry of Culture.