Dir: Zack Snyder. US. 2011. 110mins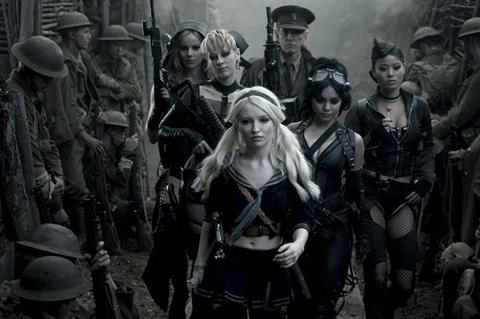 A declamatory and utterly soulless piece of recombinant entertainment, Zack Snyder's Sucker Punch lands with a roar, and then spends nearly the next two hours making much noise, almost all of it married to balletic, CGI-enabled violence. A female-revenge fantasy that feebly tries to tweak gender expectations even as it relies wholeheartedly on them, the film is a miasma of glossy superficiality, and most characterised by a gaping emotional void where any sense of narrative engagement or rooting interest in its characters should be.
With her kewpie doll visage and perfect pout, Browning manages to acquit herself.
After the $456 worldwide gross of 300, Snyder's star dimmed a bit with Watchmen, which was less of a hit ($108 domestically, $185 cumulative) than expected. Sucker Punch should open big, but its PG-13 Stateside play for gender-split adolescent filmgoer dollars could face considerable trouble, with boys rejecting an ensemble female cast and girls finding the story some combination of stupid and insulting. With negative word-of-mouth, studio recoupment seems unlikely for Warner Bros., for whom Snyder is next tackling the Superman reboot, under producer Christopher Nolan's guidance.
A highly stylised, mostly dialogue-free opening segment details an accidental homicide, after which Baby Doll (Emily Browning) is sent by her stepfather to Lennox House, an institution for the mentally ill. Baby Doll quickly learns this is a front for a gambling/strip club run by Blue Jones (Oscar Isaac), and that all the girls, under the tutelage of Vera Gorski (Carla Gugino), are trained to dance for their room and board.
Fortified by a surreal vision, Baby Doll comes to believe she can escape if she obtains a map, fire, a knife and a key, so she promptly drafts a handful of girls to help her. While Baby Doll hypnotizes men with her dancing (never seen), the girls aim to steal the items. Each task therefore presents an opportunity for battle dreamscapes of a different sort, allowing for discrete, metaphorical set pieces in which the micro-skirted babes, variously, cut down German biplanes with machine guns and lay waste to reanimated Nazis, dragons or killer robots.
Cashing in on the commercial haul of his previous works, Snyder here delivers a self-described dream project (he has sole story credit) that is pointless and vacant, featuring a glaringly obvious and emotionally hollow end twist, and arriving with a thud at a voiceover-laden conclusion that exhorts its audience to "fight." Presumably this message is designed to resonate with a young target demographic, but its sheer divorce from what precedes it makes it come across as jointly silly and cynical.
Working for the third time with cinematographer Larry Fong, Snyder concocts a symphonic cinematic experience that is not infrequently visually ravishing. The problem is that his story is so riddled with clichés and lame dialogue as to render futile any engagement on a technical level. Every on-screen choice seems to flow not from anything within the narrative, but rather is designed to provoke the most base-level emotions in any given scene. It's call-and-response filmmaking, entirely in the service of little more than some gonzo idea of what is all-caps cool, and an audience wants to see.
With her kewpie doll visage and perfect pout, Browning manages to acquit herself. Other performers fare less well.
Pieces of a couple Bob Fosse-style full-on dance numbers are glimpsed in the end credits, hinting at an even more bloated original vision. When not trafficking in the sheer decibels of an engorged sound design, Snyder litters his movie with cover versions and remixes of songs used to much greater effect in other cinematic works (The Eurythmics' "Sweet Dreams," The Pixies' "Where Is My Mind?," and Bjork's "Army of Me") — again, a sign of an imagination too reliant upon the various and sundry inspirations for his first original screenplay.
Production companies: Legendary Pictures, Cruel and Unusual Films
Domestic distribution: Warner Bros. Pictures
Producers: Deborah Snyder, Zack Snyder
Executive producers: Thomas Tull, Wesley Coller, Jon Jashni, Chris deFaria, Jim Rowe, William Fay
Screenplay: Zack Snyder & Steve Shibuya, based on a story by Zack Snyder
Cinematography: Larry Fong
Editor: William Hoy
Production designer: Rick Carter
Music: Tyler Bates and Marius DeVries
Website: www.Sucker-Punch-Movie.com
Main cast: Emily Browning, Abbie Cornish, Jena Malone, Vanessa Hudgens, Jamie Chung, Oscar Isaac, Carla Gugino, Jon Hamm, Scott Glenn, Malcolm Scott