Screen rounds up the critical breakthroughs from this year's festival.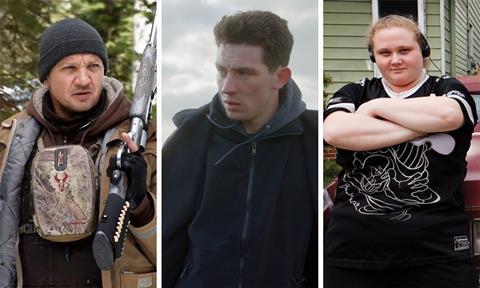 Blanketed in deep snow, the buzz at Sundance this year was muffled as delegates focused hard on getting to the screenings. It was a busy festival for the business, with Fox Searchlight, Netflix, Amazon. The Orchard, A24, Neon, et al huddled in various late-night bidding wars. Critically, there was no Manchester By The Sea this year, with its six Oscar nominations; but no need for a Gamblers Anonymous intervention over something like last year's $17.5 million on Birth of A Nation either.
With Sundance about to wrap, both the art-house and festival circuit have gems to polish in the coming 12 months, both narrative features and a particularly blistering documentary line up which premiered in Park City. If there was a theme - signalled by the success of Moonlight, perhaps - it was of gay love, around the world.
Here's a look at the highlights.
Wind River
Taylor Sheridan directs for the first time - a particularly "Sheridanesque" story from the writer of Sicario and Hell Or High Water. Jeremy Renner is forceful and brooding as a game tracker who becomes embroiled in the murder of a teenager on the Native American reservation Wind River. Ashley Olsen, much like Emily Blunt in Sicario, plays a gutsy FBI agent who is out of her depth. The majesty of Wyoming's snow-bound topography (much was shot in neighbouring Utah) gives this chilly tale an extra snap. Read our review HERE.
Thoroughbred
First-time director Cory Finley has a lot of fun with this creepy Connecticut-set neo-noir, with hot British actresses Olivia Cooke and Anya Taylor-Joy playing amoral, privileged teens; the late Anton Yelchin co-stars. Focus Features agreed, hopping straight onto it the day after its world-premiere screening in the Next Section. Finley is undoubtedly a name to watch. Read our review HERE.
Patti Cake$
Fox Searchlight paid top dollar at Sundance (a reported $10m) for Geremy Jasper's New Jersey-set tale of an overweight, white rapper (played by Australian actress Danielle Macdonald) who struggles to escape her dead-end life and fabulously blowsy, boozy, scene-stealing mother (played by Bridget Everett; Cathy Moriarty also has fun as her gran). A banging soundtrack will draw comparisons to 2016's Sing Street, but it's very specific milieu may make non English-language markets a challenge for Patti Cake$. Read our review HERE.
The Big Sick
Deadpan stand-up comedian Kumail Nanjiani plays out his own life story in this Judd Apatow-produced romantic comedy, with wife Emily Gordon on co-writing duties. While it my look more televisual than cinematic, there's a broad scope to this cross-cultural tale of a Pakistani immigrant and his American girlfriend in which their in-laws - led by Holly Hunter - steal every scene. Amazon agreed, taking worldwide rights. Read our review HERE.
Marjorie Prime
A " captivating contemplation of time, memory and mortality" from veteran director Michael Almereyda (Experimenter). Geena Davis, Lois Smith, Jon Hamm star in a small, futuristic chamber piece set almost entirely in a single venue (it's adapted from a play by Jordan Harrison), but was striking enough to win the Alfred P Sloane prize. Read our review HERE.
Call Me By Your Name
Luca Guadagnino's exquisitely-shot story of young gay love was the cherry - or the peach - on Sundance's narrative feature line-up, bought by SPC on the eve of the festival. Even at 131 minutes, this 1983-set adaptation of a cherished coming-of-age novel enthralled, although it will take careful handling to reach wider audiences. Timothée Chalamet gave the performance of the festival (along with Britain's Josh O'Connor, see below) as 17 -year-old Elio, who falls hopelessly for older graduate student Oliver (a warm Armie Hammer) in his father's rented house during a long, hot summer. Read our review HERE.
God's Own Country
Britain's independent sector is on the rise again; Francis Lee's Yorkshire-set love story between a miserable, withdrawn young man (Josh O'Connor) and the Romanian farmhand who comes to help out (Alec Secareanu) has important things to say about racism and the farming community in Britain but that these are wrapped in such a loving cloak of hopefulness should help attract all audiences, and not only on the LGBT circuit, despite frank sexual interludes. Set for a Panorama international premiere at Berlin. Read our review HERE.
Pop Aye
Kirsten Tan's giant, lumbering elephant is a pretty big metaphor to lassoo into a bittersweet comedic feature, but the Singapore director, shooting a Thai story, manages to control it. Disillusioned Bangkok architect Thana (Thaneth Warakulnukroh) spots Pop Eye the patient pachyderm and impulsively decides to buy his family's elderly retainer and bring him on a road trip back home to remote Northern Thailand. Entertaining and certainly audience-friendly, Kino Lorber clambered on Pop Aye for the US and more sales are sure to follow for Cercamon. Read our review HERE.
My Happy Family
This Georgian drama from Nana Ekvtimishvili and Simon Gross, who directed In Bloom, is captivating and rich. Even though the ending isn't quite as perfect as the feature deserves, My Happy Family is a joy, as we experience the story of middle aged mother Moana (Ia Shugliashvili) as she "suddenly" decides to leave the hopelessly-overcrowded family home, much to the chagrin of her colourful nearest and dearest. Sudden bursts of music as the room bursts into spontaneous song are surprisingly moving. Read our review HERE.
Other highlights
Social media drama Ingrid Goes West with Aubrey Plaza and Elizabeth Olsen, picked up by Neon for the US; Where is Kyra, with a forceful comeback from Michelle Pfeiffer; David Lowery's A Ghost Story, and The Nile Hotel Incident.