Former vice-president fires a shot across the bows of climate sceptics on the eve of Donald Trump's inauguration.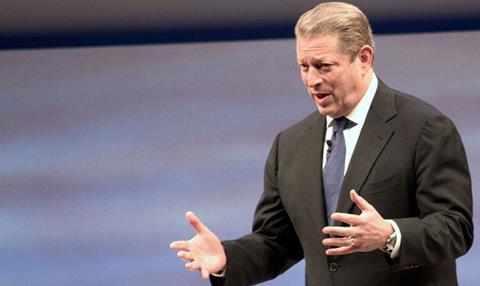 Former vice-president Al Gore fired a shot across the bows of climate sceptics on the eve of Donald Trump's inauguration when he told an opening night Sundance crowd that "no one person" could stop the environmental movement.
Gore was in bullish form as he took to the Eccles Theatre stage following Thursday evening's world premiere of An Inconvenient Sequel: Truth To Power, a more personal film than the ground-breaking jeremiad he fronted in Sundance 2006 premiere An Inconvenient Truth.
"This movie gives me an extra burst of hope," he said, adding later: "We have the capacity to rise above our limitations and whether or not Donald Trump on his inauguration tomorrow will change the kind of approach that continues this progress we will have to see.
"But let me repeat, no one person can stop this – it's too big now."
Earlier Gore said. "Over the years there have been people who started out as [climate] deniers and changed over time. Whether or not he will remains to be seen."
Participant Media's An Inconvenient Sequel takes Gore on the road as he visits Greenland to witness melting glaciers, trains activists, wades through flooded streets in Miami and prepares to attend the Paris Climate Change Conference in 2015.
In one scene he enters the golden elevator in Trump Towers to meet the president-elect, however the conversation was not included in the film and Gore declined during the post-screening Q&A to divulge what was said.
"We have to do more," he told the Eccles audience after receiving a standing ovation. "We're at a time in world history where there's unrest and it's a moment of decision.
"We set a course for a principal-based order, which is now challenged, but we're going to prevail. For those who have any doubt, just remember there are so many others who are yearning to do the right thing and to see the right outcome."
The former vice-president also alluded to an educational booklet that will be handed out when Paramount releases An Inconvenient Sequel in US theatres on July 28 that will provide film-goers with "the means to give a ten-minute presentation." Paramount has confirmed to Screen there will be a companion book with the release.
After expressing doubt about the suitability of Scott Pruitt to head the Environmental Protection Agency, Gore rounded off by saying, "The will to act is itself a renewable resource."

Bonni Cohen and Jon Shenk directed the film and joined Gore on stage alongside Participant Media founder and executive producer Jeff Skoll and An Inconvenient Truth director Davis Guggenheim.
Also on stage were Skoll's Participant colleague and producer Diane Weyermann and producer Richard Berge, as well as Sequel executive producers Lawrence Bender, Scott Z. Burns, and Lesley Chilcott.