Dir/scr: James Gunn. US. 2010. 96mins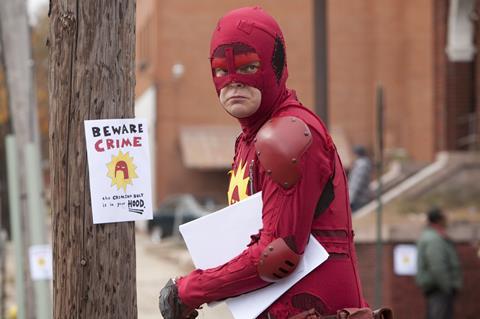 In the follow-up to his gleefully cheeky B-movie horror homage Slither, writer-director James Gunn turns his attention to comic-book superheroes for SUPER, a disappointingly familiar tale of a painfully ordinary guy who dons a costume in order to find meaning in his miserable life. Both more gratuitous and emotional than Gunn's directorial debut, this action-comedy sports a committed lead performance from Rainn Wilson but often seems more enraptured in its inappropriateness than its characters.
Gunn displays a noticeable zeal for the pulpy aspects of genre movies, relishing in the blood, gore and body count.
Premiering during Toronto's Midnight Madness section, SUPER will have to contend with a marketplace that has already encountered the similarly themed Kick-Ass and the low-budget indie Defendor, which was also about an imbalanced man drawn to crime-fighting. Wilson's involvement with the acclaimed American remake of the British sitcom The Office could help attract buyers, as should Ellen Page as his character's eager sidekick. But SUPER's explicit violent content might make it merely a niche performer, although the movie seems just about certain to garner an eventual cult following.
Broken-hearted that his recovering addict wife Sarah (Liv Tyler) has left him for a local crime boss Jacques (Kevin Bacon), lowly diner chef Frank (Wilson) receives a message that he believes is from God instructing him to become the superhero Crimson Bolt. Dressed all in red and using a pipe wrench as his weapon, Crimson Bolt starts by assaulting small-time criminals before, with the assistance of a comic-book store employee named Libby (Page), working his way up to confronting Jacques and his goons in order to rescue Sarah.
As a filmmaker, Gunn displays a noticeable zeal for the pulpy aspects of genre movies, relishing in the blood, gore and body count. But while SUPER has its fair share of mayhem, often played for laughs, Gunn's screenplay simultaneously tries to dig into Frank's psychology to explain his need to "save" Sarah, tracing their relationship back to its origins when he helped pull her out of addiction.
That attempt at back-story gives Frank's quest an added emotional component, but as SUPER rolls along it becomes clear that Gunn would rather invest his time in his script's more outrageous moments. Initially, the movie draws shocked laughs from its matter-of-fact close-up shots of Frank (as The Crimson Bolt) whacking crooks in the face with a wrench, but soon Gunn's need to up the ante becomes tiresome, culminating in a racy encounter between Frank and Libby that's less hilarious than it is faintly desperate.
Just as Frank is drawn to the vigilante heroism of costumed do-gooders, so too does Gunn incorporate comic-book movies' stylistic sheen into SUPER. Unfortunately, after films like Kick-Ass and Scott Pilgrim Vs. The World, which have sought to blend action-movie aesthetics with the DNA of other forms of entertainment (comic books, video games), Gunn's technique feels a little quaint and timid. By the same token, his central comedic conceit – the juxtaposition of pitifully regular people trying to pretend to be superheroes – doesn't break much new ground. He does, however, deliver a dynamic animated opening-credits sequence whose freewheeling energy the rest of the movie struggles to emulate.
As the melancholy, quietly deranged loser Frank, Wilson slowly reveals the character's psychosis, but he's also quite adept at eliciting sympathy from Frank's genuine love for Sarah, which is more difficult considering how few scenes he has with Tyler. Page is enjoyably loose as Libby, a seeming variation of the actress's typical hipster-chick character who, it turns out, quite disturbingly enjoys her new alter ego as Crimson Bolt's sadistic sidekick Boltie. The trouble is that rather than letting this partnership build organically, Gunn drags them down with repetitive shtick involving their inability to behave as proper crime-fighters.
After SUPER's predictably explosive climax, Gunn adds an unexpected coda that finds Frank discovering a sense of contentment in a way that he never could have imagined when he first created his Crimson Bolt costume. Poignant and bittersweet, it's a thoughtful conclusion – a rare moment in which this would-be anarchic film legitimately surprises.
Production companies: Cold Iron Pictures, This Is That, Ambush Entertainment
International sales: HanWay Films, www.hanwayfilms.com
Producers: Miranda Bailey, Ted Hope
Executive producers: Rainn Wilson, Lampton Enochs, Matt Leutwyler
Cinematography: Steve Gainer
Production designer: William Elliott
Editor: Cara Silverman
Music: Tyler Bates
Main cast: Rainn Wilson, Ellen Page, Liv Tyler, Kevin Bacon, Nathan Fillion