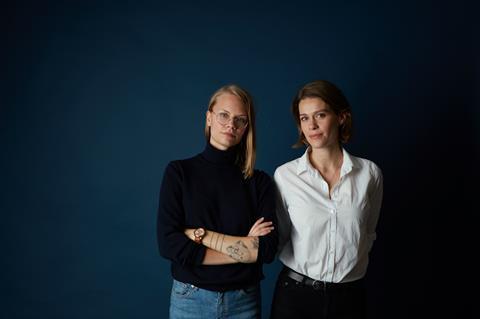 Former Koch Media UK head of acquisitions Martina Österling (formerly Ternstrom) and Swedish TV executive Elin Sandström Lundh have launched Albatros Agency, a Stockholm-based talent group for film and TV writers and directors which will also look to package projects.
Österling has worked at distribution companies including Koch Media UK, Magnolia and Revolver and has consulted for Umbrella, Icon UK, the BFI and Film London.
Sandström Lundh was previously head of production at Pocket Entertainment, managing director at Anagram Pocket and head of development at Anagram Sweden. She was an executive producer on SVT series Thirty Plus and the Swedish version of QI as well as sketch comedy The School for MTG.
Swedish production outfit Anagram produces Swedish TV series and has also worked on features including Tom Of Finland and Life's A Breeze.
The agency launches with clients including Peter Birro (Monica Z), authors Mikaela Bley and Denise Rudberg, Henrik Hellström (The Quiet Roar), Måns Herngren (Adam & Eva), Jens Lien (The Brothersome Man, Occupied) Mani Maserrat (Ciao Bella), Peter Modestij (6A), Jonas Westbom (Before We Die), Maja Winkler (Francis) and Andrea Östlund (30 Degrees in February).
The company is currently packaging Sviten, an interrogation drama series written by Rudberg (a detective fiction writer and former co-host of an SVT literature TV series with crime writer Camilla Lackburg) and Mikaela Bley.
Österling told Screen: "We are extremely proud to be working with our clients, who we believe are amongst the most talented and exciting in the industry. We will act as their business partner and work strategically with their careers and creative goals.
Sandström Lundh added: "Negotiating is something we both are passionate about and have a long experience doing, but we will also work closely with the industry in order to actively create opportunities for our talent."
"We are thrilled to have the opportunity to work so closely with rightsholders, as they are the ones who hold the true value in our industry. We look forward to fighting their corner and for their rights.
"Our experience from both production and distribution gives us a unique understanding of the value of rights during the lifecycle of film and tv content. With our broad competence we cater to a clear need we see in both our clients and other talent."