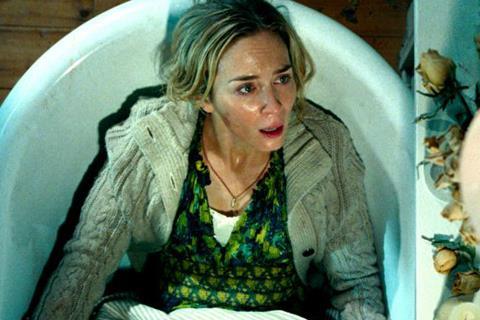 SXSW top brass on Wednesday (January 31) said the world premiere of John Krasinski's A Quiet Place will open the 25th edition of the festival, which runs in Austin, Texas, from March 9-18.
Krasinski directed and stars in horror-thriller A Quiet Place alongside his wife Emily Blunt in the tale of an isolated family living in silence for fear of attack by an unknown force than tracks sound. Platinum Dunes produced the feature, which opens in the US through on April 6 through Paramount.
SXSW launches the inaugural Independent Episodic section this year, an expansion on the Episodic section launched in 2014. Overall, the festival will screen 132 features, with additional titles to be announced.
The full line-up will include 44 films from first-time filmmakers, 86 world premieres, 11 North American premieres and five US premieres. The films were culled from 2,458 feature-length film submissions, with a total of 8,160 films submitted this year.
Feature selections screen across 12 sections: Narrative Feature Competition, Documentary Feature Competition, Headliners, Narrative Spotlight, Documentary Spotlight, Visions, Midnighters, Episodic, 24 Beats Per Second, Global, Festival Favorites, and Special Events.
The Narrative Feature Competition includes: Family directed by Laura Steinel; First Match by Olivia Newman; Jinn by Nijla Mu'min; The New Romantic by Carly Stone; SADIE by Megan Griffiths; Shotgun by Hannah Marks and Joey Power; Summer '03 by Becca Gleason; Thunder Road directed by Jim Cummings; The Unicorn directed by Robert Schwartzman; Write When You Get Work directed by Stacy Cochran.
The Documentary Feature Competition includes: Chi-Town by Nick Budabin; Garry Winogrand: All Things Are Photographable by Sasha Waters; The Gospel of Eureka by Michael Palmieri and Donal Mosher; ¡Las Sandinistas! by Jenny Murray; People's Republic Of Desire by Hao Wu; Social Animals by Jonathan Green; TransMilitary by Gabriel Silverman and Fiona Dawson; Weed The People by Abby Epstein.
Other highlights include: The Bill Murray Stories: Life Lessons Learned From A Mythical Man by Tommy Avallone; Blockers by Kay Cannon; Boundaries by Shana Feste; The Dawn Wall by Josh Lowell and Peter Mortimer; Fast Color by Julia Hart; PARADOX directed by Daryl Hannah; and Profile by Timur Bekmambetov.
Episodics selections include: Barry by Bill Hader; The Last O.G. by Jordan Peele; Warriors Of Liberty City by Evan Rosenfeld and Andrew Cohn; and Vida by Alonso Ruizpalacios and So Yong Kim.
Midnighters, Shorts, Virtual Cinema, Independent Episodics, Title Sequences, Music Videos and late-breaking Features will be announced on February 7.
All feature categories, with the exception of Special Events, will be eligible for category-specific Audience Awards.
"2018 marks the 25th edition of the SXSW Film Festival and my tenth year at the helm," director of film Janet Pierson said. "As we look back on the body of work of talent discovered, careers launched and wonderful films we've enjoyed, we couldn't be more excited about the future.
"This year's slate, while peppered with works from many of our alumni, remains focused on new voices, new directors and a range of films that entertain and enlighten.
"We are particularly pleased to present John Krasinski's A Quiet Place as our Opening Night Film. Not only do we love its originality, suspense and amazing cast, we love seeing artists stretch and explore. While this is not Krasinki's first feature as writer and director, it's an exciting evolution for this multi-talented artist."
For the full line-up click here.