UPDATE: Fox's sequel records second straight week at number one; Sony's Hotel Transylvania charts second with $2.8m (£1.7m), while eOne's Looper adds $1.9m (£1.2m) for $12.2m (£7.6m) to date.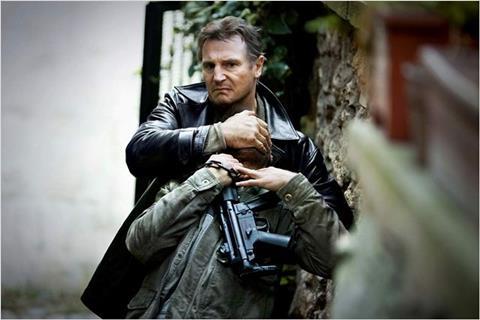 Liam Neeson's particular set of skills have helped Taken 2 retain top spot at the UK box office for a second consecutive week.
Fox's sequel shot its way to an excellent $6.0m (£3.7m) for $23.2m (£14.5m) after two weeks in play, only dropping 40% from its impressive opening bow. It's swiftly moved into the top twenty highest grossers of the year and, unless it drops significantly, should easily move into the top ten in due course.
Sony's Hotel Transylvania was the week's highest new entry following a $2.8m (£1.7m) debut from its 471 sites to land in second. That tally compares favourably to the recent release of similarly horror-tinged animation ParaNorman, which opened with $2.3m (£1.4m) last month.
Disney's Frankenweenie arrives this week to complete the spooky trio, having opened the BFI London Film Festival last week.
Were previews counted in this week's chart, Paramount's Madagascar 3: Europe's Most Wanted would have been second thanks to a strong return of $4.8m (£3.0m) from its Sat-Sun previews in 552 cinemas. The threequel is now open in Scotland, before expanding nationwide this Friday with the previews added to its opening three-day tally this week.
Momentum's horror Sinister enjoyed a superb second weekend and was on course for less than a 20% drop week-on-week, a remarkable achievement given that horrors tend to be front-loaded at the box office. Exact figures were unavailable at the time of writing.
eOne's Looper recorded a third straight weekend above £1m as it continued its decent run in the UK with an additional $1.9m (£1.2m). Rian Johnson's sci-fi crossed the £7m mark over the weekend and has amassed $12.2m (£7.6m) to date.
Opening somewhat softly in seventh was Fox's Ruby Sparks after taking $461,468 (£287,306) from its 309 sites. That tally is lower than directing duo Jonathan Dayton & Valerie Faris' debut film Little Miss Sunshine, which grossed $561,745 (£349,810) from only 114 sites on its way to a highly respectable $5.5m (£3.4m). Ruby Sparks will need to ignite midweek if it hopes to challenge that haul.
Lionsgate's On The Road coasted to a $351,209 (£218,738) debut from its 100 sites, including $74,358 (£46,305) from four previews, to chart eighth. Walter Salles' adaptation of Jack Kerouac's novel achieved Salles third-highest debut in the UK, behind Dark Water's $770,941 (£480,199) from 250 and The Motorcycle Diaries' $535,256 (£333,368) from 80. Diaries is Salles' benchmark in the UK with $4.4m (£2.7m).
The Campaign added $272,840 (£170,000) in its third weekend through Warner Bros to stand at $3.4m (£2.1m) to date.
Luis Prieto's remake of Nicolas Winding Refn's Pusher managed only a $79,230 (£49,346) debut from its 122 sites, which includes $24,252 (£15,106) from 33 previews. That total is higher than Refn's Pusher took in its entire run, but Refn's original only played at four sites at its widest release.
This week sees saturation releases for Disney's Frankenweenie (opens Oct 17), Paramount's Madagascar 3: Europe's Most Wanted and Paramount's Paranormal Activity 4 (opens Oct 17). StudioCanal's Beasts Of The Southern Wild, New Wave's 5 Broken Cameras and Artificial Eye's Ginger And Rosa are among the films receiving a limited release.
For more of Screen's box office news, analysis and charts, visit our Box Office section by clicking the icon below.