Disney comedy Tangled tops UK on $8.2m (£5.1m) from 445 locations.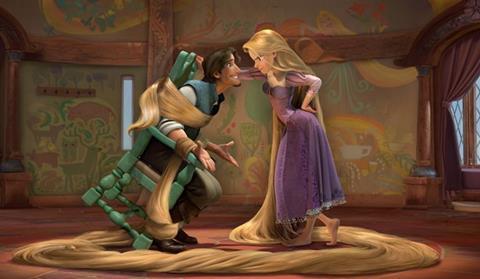 Tangled separated itself from its UK rivals after debuting on $8.2m (£5.1m) from 445 locations for a week-high screen average of $18,372 (£11,476).
The result is Disney's best UK opening since summer 2010 smash Toy Story 3.
Despite the release of a number of Hollywood comedies and action spectacles, the awards contenders stood their ground.
In its fourth week, UK sensation The King's Speech continued to do fantastic business for Momentum, taking $5.8m (£3.6m) from a week-high 536 screens at a decent screen average of $10,855 (£6,780).
The Oscar contender dropped only 14% from last week and has now grossed $40m (£25m) in the UK, over $16m (£10m) more than recent UK sensation Slumdog Millionaire had taken in its corresponding week.
Momentum will now be hoping their box office phenom profits from the same revenue bounce Slumdog received during and after its impressive Oscar performance.
While the $66.8m (£41.7m) amassed by the UK's biggest hit of the last decade Bridget Jones's Diary looks insurmountable, the period drama is edging towards Slumdog's total of $50.1 (£31.3m).
Fox's third-placed Black Swan continued to do excellent business in its second week, making $4.2m (£2.6m) from 439 screens. Darren Aronofsky's psychological thriller saw only a seven percent decline in week-on week profit, and should also profit from awards buzz. The film's running total currently stands at $11.7m (£7.3m).
There were three more debuts among the top ten: Lionsgate's action-thriller The Mechanic debuted in fourth, taking $1.5m (£921,554); Warner Bros' Hereafter came in seventh after scooping $963,260 (£601,728) and Sony's comedy How Do You Know managed only a weak $600,201 (£374,933) in tenth.
In a crowded week for openers Optimum's 15th-placed Biutiful took a decent $249,763 (£156,029) from only 47 screens and Universal's Barney's Version struggled to $174,906 (£109,266) from 141 screens.
This week sees saturation releases for Paramount's awards contender The Fighter, Universal's action-thriller Sanctum and Entertainment's romantic-comedy A Little Bit Of Heaven. There are also releases for Metrodome's Rabbit Hole and Optimum's Brighton Rock.