Sony's 3D reboot opens top with $17.2m (£11.1m), just behind previous best opening of the series, Spider-Man 3.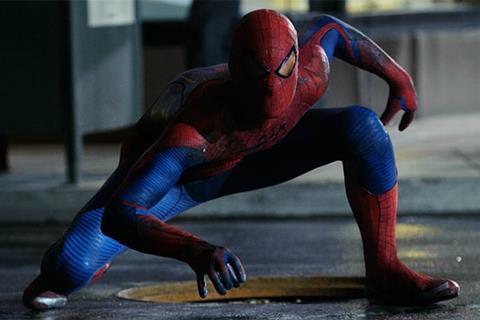 Following its lull last week, the UK box office was back in full swing this week thanks to everyone's favourite neighbourhood hero, as The Amazing Spider-Man debuted at number one with an impressive opening salvo.
Sony's 3D reboot spun $17.2m (£11.1m), including previews of $6.7m (£4.3m), from over 1,500 screens as it recorded a debut narrowly behind the previous best of the franchise, Spider-Man 3's $18.3m (£11.8m). However, Marc Webb's take on Spider-Man comes out second in comparison to the year's other superhero tentpole, The Avengers, which smashed its way to $24.4m (£15.8m) back in April, aided by only one day of previews.
Compared to recent comic book reboots, The Amazing Spider-Man comes out on top with both Batman Begins and The Incredible Hulk some way back on $6.9m (£4.4m) and $5.0m (£3.3m) respectively. It does lose out to another recent major reboot though, in the form of Casino Royale which gambled and won big with a $20.7m (£13.4m) debut.
Spider-Man 3 currently ranks as the best performer of the franchise at $51.9m (£33.5m) and while The Amazing Spider-Man can certainly challenge that, it'll need to fight off major competition in the form of The Dark Knight Rises, which arrives in UK cinemas in just two weeks time (July 20).
Another weekend of previews proved fruitful for Fox's Ice Age: Continental Drift as it added $5.8m (£3.7m) for an early $11.6m (£7.5m) in the UK.
Official chart figures only take into account its 134 Scotland and Ireland sites, so its weekend tally will be $1.1m (£712,533) for a ten-day total of $3.6m (£2.3m), with its combined previews of $8.1m (£5.2m) - after taking $4.7m (£3.0m) this week - added onto its nationwide opening this Friday (13).
Universal's The Five-Year Engagement dropped just 22% in its third weekend as it romanced a further $930,000 (£600,000) from its 431 sites. The matrimonial comedy has taken $5.9m (£3.8m) in the UK so far.
The only other main release this week was Paramount's musical documentary Katy Perry: Part Of Me, which charted fourth with a preliminary $707,000 (£457,000) debut from 319 sites.
While less than Justin Bieber: Never Say Never achieved on its UK bow when it sung its way to $1.3m (£820,592) for $3.6m (£2.3m) overall, Part Of Me does compare favourably to the likes of Glee: The 3D Concert Movie ($550,530/£355,607) and Hannah Montana & Miley Cyrus: Best of Both Worlds Concert ($373,252/£241,119), although the latter did open in significantly less sites (65).
Ridley Scott's return to the sci-fi genre Prometheus managed an additional $502,591 (£324,487) as it continued its strong run at the UK box office and has amassed $37.4m (£24.1m) to date through Fox.
Sony's Men In Black 3 has taken $32.6m (£21.02m) while Universal's Snow White And The Huntsman stands at $23.5m (£15.2m), after seven and six weeks in play respectively.
Lionsgate's Friends With Kids grossed $208,000 (£134,000) for $1.3m (£817,000) so far.
This week sees saturation releases for Fox's Ice Age: Continental Drift, Lionsgate's Magic Mike (opens July 11) and StudioCanal's Seeking A Friend For The End Of The World. Fox re-release Chariots Of Fire wide, while Picturehouse/Revolver's Electrick Children, G2's Detachment and Immense Production's Tortoise In Love are among the films receiving limited releases.