Hou Hsiao-hsien's The Assassin leads the nominations for the 10th Asian Film Awards with nine nods, followed by India's Bajirao Mastani and Hong Kong's Port Of Call with five apiece.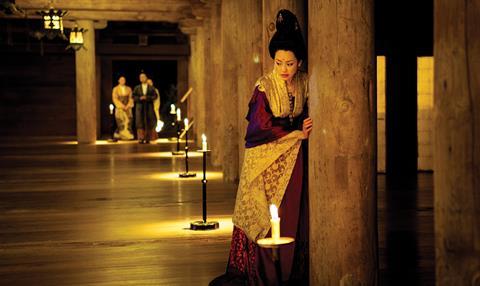 The Assassin, which won best director in Cannes last year, was nominated for best film, director, actress (Shu Qi), supporting actress (Zhou Yun), cinematography (Mark Lee Ping-bing) and four other technical categories.
Another sumptious period epic, Sanjay Leela Bhansali's Bajirao Mastani, was also nominated for best film, along with best editing, original music, costume design and visual effects.
Philip Yung's social drama Port Of Call, based on the true story of a mainland prostitute who was murdered in Hong Kong, picked up nods for best supporting actor (Michael Ning), newcomer (Jessie Li), screenplay, editing and Christopher Doyle's cinematography.
Rounding out the best film category are Jia Zhangke's Mountains May Depart (France-China); Hashiguchi Ryosuke's Three Stories Of Love (Japan); Guan Hu's Mr Six (China) and Ryoo Seung-wan's Veteran (South Korea). Mountains May Depart, Mr. Six and Veteran all picked up four nominations.
Chinese director Feng Xiaogang scooped a best actor nomination for his role in Mr. Six, along with Donnie Yen for Ip Man 3 (Hong Kong), Nagase Masatoshi for An (Japan), Lee Byung-hun for Inside Men (South Korea) and John Arcilla for Heneral Luna from the Philippines.
In addition to Shu Qi, best actress nominations went to Zhao Tao for Mountains May Depart, Ayase Haruka for Our Little Sister (Japan), Kim Hye-soo for Coin Locker Girl (South Korea) and Karena Lam for Zinnia Flower (Taiwan).
Hong Kong director Johnnie To will serve as president of this year's jury, which also includes celebrity jurors Hong Kong actor Sean Lau Ching-wan and Chinese actress Gao Yuanyuan, and 12 film industry professionals, festival programmers and critics from around the world.
Over the past year, the Asian Film Awards Academy, which organises the AFAs, has rolled out year-round audience and professional development programmes, including masterclasses, training programmes and roadshows.
The AFAs have also added a new category for sound this year, with nominations for Monster Hunt, The Assassin, Bakuman, The Inerasable and Assassination.
This year's ceremony will take place at the Venetian Macao on March 17.
10th ASIAN FILM AWARDS NOMINATIONS LIST
BEST FILM
1.Mountains May Depart (France, Japan, Mainland China)
2.The Assassin (Hong Kong, Mainland China, Taiwan)
3.Bajirao Mastani (India)
4.Three Stories Of Love (Japan)
5.Mr. Six (Mainland China)
6.Veteran (South Korea)
BEST DIRECTOR
1.JIA Zhang-Ke, Mountains May Depart (France, Japan, Mainland China)
2.HOU Hsiao-Hsien, The Assassin (Hong Kong, Mainland China, Taiwan)
3.KORE-EDA Hirokazu, Our Little Sister (Japan)
4.GUAN Hu, Mr. Six (Mainland China)
5.RYOO Seung-wan, Veteran (South Korea)
BEST ACTOR
1.Donnie YEN, Ip Man 3 (Hong Kong)
2. NAGASE Masatoshi, An (Japan)
3.FENG Xiaogang, Mr. Six (Mainland China)
4.LEE Byung-Hun, Inside Men (South Korea)
5.John ARCILLA, Heneral Luna (The Philippines)
BEST ACTRESS
1.ZHAO Tao, Mountains May Depart (France, Japan, Mainland China)
2.SHU Qi, The Assassin (Hong Kong, Mainland China, Taiwan)
3.AYASE Haruka, Our Little Sister (Japan)
4.KIM Hye-soo, Coin Locker Girl (South Korea)
5.Karena LAM, Zinnia Flower (Taiwan)
BEST SUPPORTING ACTOR
1.Max ZHANG, Ip Man 3 (Hong Kong)
2.Michael NING, Port Of Call (Hong Kong)
3.ASANO Tadanobu, Journey To The Shore (Japan)
4.OH Dal-soo, Assassination (South Korea)
5.CHENG Jen Shuo, Thanatos, Drunk (Taiwan)
BEST SUPPORTING ACTRESS
1. ZHOU Yun, The Assassin (Hong Kong, Mainland China, Taiwan)
2.TSUCHIYA Anna, Gonin Saga (Japan)
3.Cherry NGAN, Mojin - The Lost Legend (Mainland China)
4.UENO Juri, The Beauty Inside (South Korea)
5.PARK So-dam, The Priests (South Korea)
BEST NEWCOMER
1.Vicky KAUSHAL, Masaan (France, India)
2.Jessie LI, Port Of Call (Hong Kong)
3.FUJINO Ryoko, Solomon's Perjury, Solomon's Perjury 2 (Japan)
4.KIM Seol-hyun, Gangnam Blues (South Korea)
5.LEE Hong-Chi, Thanatos, Drunk (Taiwan)
6.Waruntorn PAONIL , Snap (Thailand)
BEST SCREENPLAY
1.JIA Zhang-Ke, Mountains May Depart (France, Japan, Mainland China)
2.Philip YUNG, Port Of Call (Hong Kong)
3.Vishal BHARDWAJ, Talvar (India)
4.UJITA Takashi, KUROSAWA Kiyoshi, Journey To The Shore (Japan)
5.RYOO Seung-wan, Veteran (South Korea)
BEST EDITING
1.William CHANG Suk Ping, CHU Ka Yat, LIAO Ching-sung, WONG Hoi, Philip YUNG, Port Of Call (Hong Kong)
2.Rajesh PANDEY, Bajirao Mastani (India)
3.OZEKI Yasuyuki, Bakuman (Japan)
4.TU Yiran, Jian Bing Man (Mainland China)
5.KIM Jae-bum, KIM Sang-beom, Veteran (South Korea)
BEST CINEMATOGRAPHY
1.Christopher DOYLE, Port Of Call (Hong Kong)
2. Mark LEE Ping-Bing, The Assassin (Hong Kong, Mainland China, Taiwan)
3.SASAKIBARA Yasushi, YAMAMOTO Yoshiaki, Gonin Saga (Japan)
4.LUO Pan, Mr. Six (Mainland China)
5.KIM Woo-hyung, Assassination (South Korea)
BEST ORIGINAL MUSIC
1.LIM Giong, The Assassin (Hong Kong, Mainland China, Taiwan)
2.Nihar Ranjan SAMAL, Bajirao Mastani (India)
3.Amit TRIVEDI, Bombay Velvet (India)
4.OTOMO Yoshihide, Journey To The Shore (Japan)
5.BANG Joon-seok, The Throne (South Korea)
BEST COSTUME DESIGN
1.HWARNG Wern-Ying, The Assassin (Hong Kong, Mainland China, Taiwan)
2.Maxima BASU, Anju MODI, Bajirao Mastani (India)
3.MIYAMOTO Masae, Kakekomi (Japan)
4.LEE Ji-yeon, SHIM Hyun-seob, The Throne (South Korea)
5.Carlo TABIJE, Heneral Luna (The Philippines)
BEST PRODUCTION DESIGN
1.Ken MAK, Ip Man 3 (Hong Kong)
2.HWARNG Wern-Ying, The Assassin (Hong Kong, Mainland China, Taiwan)
3.HARADA Tetsuo, Kakekomi (Japan)
4.Lee Min-su, Inside Men (South Korea)
5.Benjamin PADERO, Carlo TABIJE, Heneral Luna (The Philippines)
BEST VISUAL EFFECTS
1.Ellen POON, Jason H. SNELL, TANG Bingbing, Monster Hunt (Hong Kong, Mainland China)
2.Srinivas MOHAN, Baahubali: The Beginning (India)
3.Prasad SUTAR, Bajirao Mastani (India)
4.ONOUE Katsuro, Attack On Titan (Japan)
5.CHO Yong Seok, CHOI Jae Cheon, LEE Jeon Hyoung, The Tiger (South Korea)
BEST SOUND
1.LEE Yiu Keung, Kinson TSANG, George YIU Chun Hin, Monster Hunt (Hong Kong, Mainland China)
2.CHU Shih-Yi, TU Duu-Chih, WU Shu-Yao,The Assassin (Hong Kong, Mainland China, Taiwan)
3.WATANABE Shinji, Bakuman (Japan)
4.NISHIYAMA Toru, The Inerasable (Japan)
5. KIM Suk-won, PARK Joo-gang, Assassination (South Korea)