What one thing can be done - however small - to bring more minorities and women into the film industry?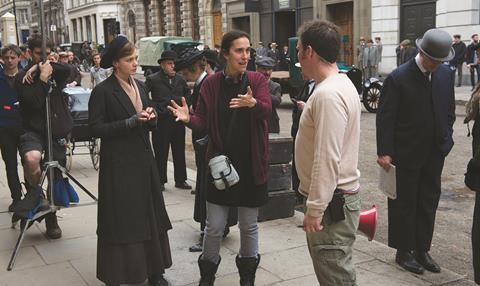 "Hire more women and minorities in front of and behind the camera. Smaller, undefined roles are usually just filled by white male actors and to see characters you can identify with in interesting roles allows viewers to consider new possibilities."
Mimi Steinbauer
President, Radiant Films International
"We can all take a beat every time we're embarking on a project and ponder if we've given women and minorities every consideration in our decisions. All they are looking for is the equal opportunity."
Cassian Elwes
Producer
"One of the key findings of EWA's pan-European study on female directors to be launched at the Berlinale is that positive measures should be implemented to ensure public funding is distributed more evenly, ensuring female directors are supported in equal measure to male counterparts.
"However, I would also stress from personal experience that nothing can undermine the value of networking, of joining networks and of working together in solidarity to really bring about a change in hearts and minds, which will then contribute to more balanced representation across the industry."
Francine Raveney
Director of European Women's Audiovisual Network (EWA)
"In addition to more diversity on screen, we need people behind the scenes who will champion projects with greater diversity and who are not afraid to challenge the formula for success."
Tannaz Anisi
President, 13 Films
"As casting directors, it is our responsibility to ask three questions when considering actors for any role. One: 'Does this character have to be a man?' Two: 'Does this character have to be white?' Three: 'Can this character be played by someone from the less-abled community?' But the basis of the problem is in the writing in the first place.
"There are not enough stories being told that look at life from a multi-racial perspective. Also, children do not receive any career guidance towards the arts and associated jobs. No-one ever told me there was such a thing as a casting director.
"Recruitment for film crews is another huge problem. No jobs are ever advertised. It's not what you know, it's who you know. There are few, if any, training schemes that might encourage ethnic minorities to enter the arts."
Deborah McWilliams
Casting director
"If I had to pick one thing, it would be for the BFI and the broadcasters to continue to champion diversity. I say that because there's no point looking to the profit-motivated private sector to take its focus away from films likely to appeal to the majority culture.
"Although Pathé has managed to make progressive films that have been profitable, we've only been able to do so through spreading our risk with the BFI, BBC/Channel 4 and tax breaks (including a dedicated Enterprise Investment Scheme fund raised by Ingenious).
"That's why I believe in the principle of 'additionality' when it comes to the use of public funds — they should only be applied where they make a difference. Diversity is clearly a case in point. The more films that are made by/about women and minorities, the more likely it is that new talent will break through critically and commercially to be embraced by the private sector."
Cameron McCracken
Managing director, Pathé Productions
"As a new member of the board of the European Film Academy, I would love to see a greater degree of integration between the UK film industry and the rest of Europe."
Lynda Myles
Producer and head of fiction, National Film & Television School, UK