Dir-scr: Miraz Bezar. Germany. 2009. 102mins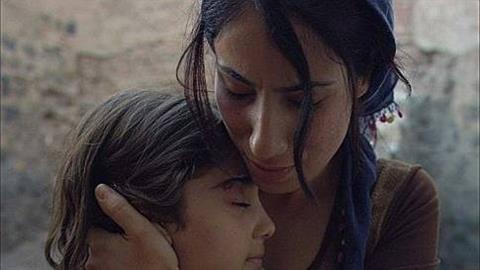 Produced by Fatih Akin's Hamburg-based company - obviously no domestic company would have risked such Kurdish-speaking harsh indictment of the Turkish regime - this eminently politically correct picture pulls all the right heart strings to draw the sympathy and support from well-intentioned Western audiences.
There is too much playing up the kids' endearing cuteness despite all the miseries they endure.
Abandoned children courageously facing every possible adversity and even managing to punish the out-and-out villain before reaching a less than happy ending have the kind of natural appeal that might work its way to a respectable art house box office performance.
Ten year-old Gulistan (Orak), her younger brother Firak (Al) and their baby sister are orphaned when both their parents, on their way back from a family wedding, are shot by paramilitary types. Their aunt, who is supposed to take care of them, soon disappears (later it turns out she is being tortured by the same people who had killed their parents) and once the little money she had left them is gone, the children end up living on the street, along many other kids their own age
One day, they recognise the person who killed their parents and with the help of their new friends devise their revenge, before being packed towards the hapless future of Istanbul's multitude of street urchins.
Shot on the streets of Diyarbakir, a South-Eastern city deep in Turkey's Kurdish territory and inspired by recently documented similar stories, debut director Bezar's script is packed with black-and-white characters and largely manipulative incidents which are far more benevolent than real life would probably be. Plus there is too much playing up the kids' endearing cuteness despite all the miseries they endure.
The cathartic ending of the villain's punishment, followed by warning coda underlining this is not the end of the story, will leave the audience happily chastised.
Production company: Corazon International
Producers: Miraz Bezar, Fatih Akin. Klaus Maeck
International sales: The Match Factory, www.the-match-factory.com
Cinematography: Isabelle Casez
Production designer: Pinar Soydinc
Editor: Miraz Bezar
Music: Mustafa Biber
Main Cast: Senay Orak, Muhammed Al, Hakan karsak, Suzan Ilir, Berlvan Ayaz, Mehmet Inci, Cekdan Korkusuz