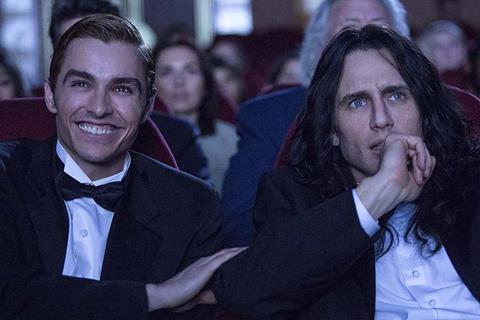 James Franco's The Disaster Artist won the Golden Shell for best film at last night's awards ceremony for the 65th edition of the San Sebastián International Film Festival (30 Sept).
The Disaster Artist tells the story of Tommy Wiseau, the man behind cult classic The Room - regarded by many as one of the worst American films ever made. Franco was the star, producer and director of the project, which was also runner-up for the Midnight Madness People's Choice Award in Toronto.
The jury presided by John Malkovich awarded the Silver Shell for Best Director to Anahí Berneri for Alanis, a story about a prostitute forced out onto the streets in Buenos Aires. She is the first women to win the award in the history of the festival.
The film's star Sofía Gala Castiglione also won the Silver Shell for Best Actress.
The Silver Shell for Best Actor went to Bogdan Dumitrache (Sieranevada) for Constantin Popescu's Pororoca - a missing child family drama co-produced by Romania and France.
The Special Jury Prize went to Handia, by Aitor Arregi and Jon Garaño, a film inspired by the true story of an unusally tall man from the Basque country who became a circus attraction in the 19th century . Arregi and Garaño had previously collaborated on another San Sebastián premiere, Loreak, three years ago.
The Audience Award went to Three Billboards Outside Ebbing, Missouri, by Martin McDonagh, a dark comedy starring Frances McDormand as a woman determined to get justice in small-town America.
The 65th edition of San Sebastián closed with The Wife, by Björn Runge, starring Glenn Close and Jonathan Pryce. Close attended the ceremony with her daughter Annie Starke, who plays her mother's character in her youth in the film, and co-star Christian Slater.
San Sebastian 2017: Winners
Golden Shell For Best Film
The Disaster Artist (US), James Franco
Special Jury Prize
Handia (Spain), Aitor Arregi, Jon Garaño
Silver Shell For Best Director
Anahí Berneri, Alanis (Argentina)
Silver Shell For Best Actress
Sofía Gala Castiglione, Alanis (Argentina)
Silver Shell For Best Actor
Bogdan Dumitrache, Pororoca (Romania/France)
Jury Prize For Best Cinematography
Florian Ballhaus, The Captain (Germany/France/Poland)
Jury Prize For Best Screenplay
Diego Lerman, María Meira, A Sort Of Family (Argentina/Brazil/Poland/France)
Kutxabank-New Directors Award
The Sower (France), Marine Francen
Special Mention: Matar a Jesús (Colombia/Argentina), Laura Mora
Horizontes Award
Los Perros (Chile/France), Marcela Said
Special Mention: Alba (Ecuador/Mexico/Greece), Ana Cristina Barragán
Zabaltegi-Tabakalera Award
Braguino (France), Clément Cogitore
Special Mentions: Darya Zhovner (Actress),Tesnota/Closeness (Russia) and Spell Reel (France), Filipa César
San Sebastián Audience Award
Three Billboards Outside Ebbing Missouri (UK), Martin McDonagh (UK)
San Sebastián Audience Award for European Films
Custody (France), Xavier Legrand
Irizar Basque Film Award
Handia (Spain), Aitor Arregi, Jon Garaño
Ezae Youth Award
Matar a Jesús (Colombia/Argentina), Laura Mora
Fipresci Award
Life And Nothing More (Spain/US), Antonio Méndez Esparza
TVE-Another Look Award
Custody (France), Xavier Legrand