Winner of best film at San Sebastian, 'The Disaster Artist' is a genuinely moving bromance about the 'Citizen Kane of bad movies'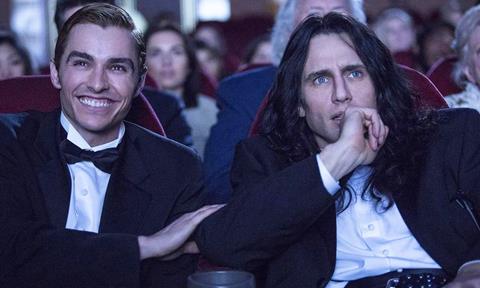 Dir. James Franco. US. 2017. 105 mins
Behind-the-scenes Hollywood comedy The Disaster Artist commemorates perhaps the ultimate cinematic case of making lemonade out of lemons – or making chicken soup out of prize turkey. Tommy Wiseau's legendarily wretched 2003 vanity project The Room has been called "the Citizen Kane of bad movies", but in James Franco's account of the making of an oddity as much adored as derided, perhaps it's more a case of the Springtime for Hitler of egomaniacal melodramas.
A genuinely moving bromance in every sense
Based on the memoir by Wiseau's friend and actor Greg Sestero, this hugely entertaining, sometimes hair-raising farce is an unusually approachable addition to Franco'seccentric catalogue of directing projects (which include adaptations of William Faulkner and Cormac McCarthy, plus Interior. Leather Bar, a co-directed meditation on William Friedkin's Cruising). It features a genially goofy (and accurate) impersonation of Wiseau by Franco himself, plus irresistible interplay between the actor-director and his brother Dave Franco as Sestero, making this a genuinely moving bromance in every sense.
Their fraternal duetting, a starry, cameo-sprinkled cast including Seth Rogen, Zac Efron and even Judd Apatow, plus irresistible good humour all round should make this resonate far beyond the obsessive circles of those Wiseau celebrants for whom even an innocuous line like "Oh hi Mark" causes instant Pavlovian fits of hilarity.
The film begins with assorted showbiz interviewees – among them, Kevin Smith, Danny McBride and J.J. Abrams - enthusing about a certain movie as if it were the chef d'oeuvre to end them all. Then we're in an acting class in San Francisco in 1998, where tyro thesp Greg, his stiff Godot rendition failing to impress his teacher (Melanie Griffith), is dazzled by long-haired wild man Wiseau, whose unrestrained Brando routine sees him literally climbing the walls. Greg instantly falls under the spell of this self-mythifying oddball, who claims to be his own planet (he's not wrong) and loves to project himself as the ultimate Real Thing. He invites Greg to move with him to L.A., and under the baffled gaze of Greg's mom (Megan Mullaly), the couple heads off in search of fame in Tinseltown.
With Tommy's eccentricities making him a hopeless outsider in Hollywood, the inseparable flatmates decide to make their own movie. The main body of the film follows the shooting of The Room, an incoherent melodrama built around a vainglorious performance by Tommy, whose directing style makes Edward D. Wood look like Ingmar Bergman. Asked what on earth his movie is about, Tommy repeatedly invokes "human behaviour" – although his, on-set and off, verges on the inhuman. Still, the project staggers on thanks to Tommy's endless self-belief and seemingly infinite financial resources.
The Disaster Artist will have a particular appeal for people who have gaped in amazement at the real Wiseau's bizarre line readings; just to show how accurate Franco's pastiche is, an end sequence runs clips of his reconstruction side by side with the original, the timings often bang-on to the microsecond. Throughout, Franco is mesmerisingly odd as the shambling savage innocent, with his peculiar (supposedly New Orleans) accent, aversion to the definite article ("Where script girl?"), odd renditions of familiar names ("the Tennessee William") and overall resemblance to a fright-wigged Halloween impersonation of Christopher Walken. And Dave Franco is extremely winning as the besotted ingénu caught up in a dysfunctional love story with an idiot Svengali.
Enjoyable as The Disaster Artist is, it's hard not to feel uncomfortable with its celebration of the cinema of ineptitude. There's a certain pulling-wings-off-flies aspect to the film, as there often is when highly talented movie people enjoy a laugh at the expense of dolts. Films such as this and Tim Burton's Ed Wood perform a sort of homeopathic function for Hollywood – a there-but-for-the-grace-of-God element – although this film's mockery is somewhat vindicated by the fact that Wiseau, as seen here, is boorish, self-aggrandising, exploitative, in short an irredeemable jerk. Overall, though, this somewhat self-satisfied movieland in-joke is hard to dislike, especially with such moments as the appearance of Bryan Cranston, playing himself, whose name elicits the instant response, "From Malcolm in the Middle!"
Production companies: New Line Cinema, Good Universe, Point Grey Pictures, RabbitBandini Productions, Ramona Films, Rat-Pac Dune Entertainment
International sales: Warner Brothers Distribution
Producers: Vince Jolivette, James Franco, Seth Rogen, James Weaver, Evan Goldberg
Executive producers: Kelli Konop, Scott Neustadter, Nate Kahane, Michael H. Weber, Toby Emmerich, Richard Brener, Michael Disco, David Neustadter, Hans Ritter, Alexandria McAtee, Roy Lee, John Powers Middleton, Joe Drake, Erin Westerman
Screenplay: Scott Neustadter, Michael H. Weber, Based on the book by Greg Sestero, Tom Bissell
Cinematography: Brandon Trost
Production design: Chris Spellman
Editor: Stacey Schroeder
Music: Dave Porter
Main cast: Dave Franco, James Franco, Seth Rogen, Ari Graynor, Alison Brie, Jacki Weaver, Paul Scheer, Josh Hutcherson, Zac Efron