Dir/scr: Peter Strickland. UK. 2014. 106mins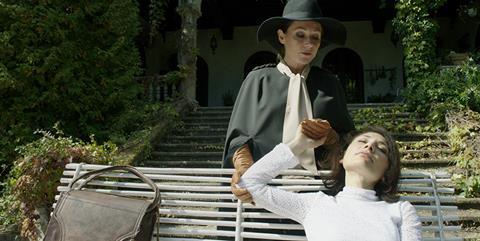 Peter Strickland confirms his growing reputation as the champion of notoriously disreputable genres with The Duke Of Burgundy. Having reclaimed the gaillo in Berberian Sound Studio, he now channels his inner Jess Franco and Jean Rollin to revisit the heyday of 1970s continental soft porn. He meticulously deconstructs the genre to create a drily witty, idiosyncratic exploration of a sado-masochistic lesbian relationship increasingly challenged by the gap between fantasy role playing and banal but much less exhausting reality.
It is an odd, original and beguiling work.
There are strong echoes of Jean Genet's The Maids here and the driving intensity of Peter Greenway's films. Whether 1970s soft porn deserves such a slavish devotee is a moot point and one that might be lost on mainstream audiences unwilling to indulge Strickland's folly. As we have come to expect from Strickland, the film is impeccably crafted and acted throughout and should arouse the curiosity of hardcore arthouse audiences and fans of his strikingly singular sensibility.
All the elements traditionally enjoyed by the dirty mac brigade of yore are lovely assembled here as we are immersed in a world of silk stockings, lace panties, tight skirts and high heels. The fact that none of it is remotely erotic is also in keeping with the films of the period.
Maid Evelyn (Chiara D'Anna) arrives at a vast mansion to begin her chores. Mistress Cynthia (Side Babett Knudsen) is particularly demanding; finding fault with her work and promising to punish her insubordination. It transpires that the two women are lovers and this ritual is a regular part of their relationship.
Both are only too aware that they are playing roles in a story, something that Strickland constantly underlines as we see the collection of wigs that Cynthia owns and the written instructions that determine the course of the scenario. The more enthusiastic Evelyn questions her partner's commitment to their games and encourages her to act more spontaneously. " Try to have more conviction in your voice next time, " she begs.
A good deal of the bone dry humour in The Duke Of Burgundy stems from the stark contrast between the role playing fantasy and the life where Cynthia wears frumpy pyjamas, snores in bed and has a bad back that doesn't leave her in the mood for love. " I need an instruction manual to get into half of the things you buy me, " Cynthia complains and she clearly wants a more conventional relationship of cuddles, affection and shared interests.
The submissive Evelyn is hungry for more intense experiences and extreme fantasies and that divergence of desire could be what threatens the end the relationship.
Cynthia's profession of orthopterist and Evelyn's passion for lepidoptery gives Strickland the excuse to punctuate the film with scenes of butterflies, larvae, cricket sounds, scientific drawings and lectures in which some audience members are clothed mannequins. In the press notes, Strickland claims that they represent "no intended metaphors" but merely add to the atmosphere of an autumnal film steeped in change, decay and possible rebirth.
We have no notion where the film is set or when and there is, apparently, no particular significance to the title, Strickland merely " found it amusing having a male name for such a female story." In the end The Duke Of Burgundy is a complex, melancholy romance in which love is sustained by negotiating the limits of desire and understanding the expectations of your partner. It is an odd, original and beguiling work.
Production company: Rook Films
International sales: Protagonist Pictures, www.protagonistpictures.com
Producer: Andy Starke
Executive producers: Ben Wheatley, Lizzie Francke, Anna Higgs, Amy Jump, Ildiko Kemeny
Cinematography: Nic Knowland
Editor: Matyas Fekete
Production designer: Pater Sparrow
Music: Cat's Eyes
Main cast: Sidse Babett Knudsen, Chiara D'Anna, Eugenia Caruso, Monica Swinn