Universal's comedy knocks Prometheus off top spot with estimated $1.8m debut; Fox's action horror Abraham Lincoln: Vampire Hunter opens closely behind on $1.7m.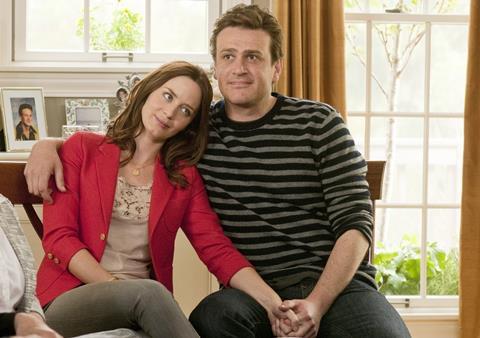 With an overall soft weekend due to the European football championships, Universal's comedy The Five-Year Engagement has opened top of the UK box office, denying Prometheus from becoming the first film this year to record four consecutive weeks at number one.
The latest Judd Apatow-produced comedy debuted with an estimated $1.8m (£1.2m) from its 499 sites, marking director Nicholas Stoller's lowest opening in the UK behind his previous collaboration with Jason Segel, Forgetting Sarah Marshall ($3.3m/£2.1m), and Get Him To The Greek ($2.4m/£1.6m). It's also some way down in the list of Apatow comedies as well led by last year's Bridesmaids which laughed its way to a $5.5m (£3.5m) debut.
Next week will give a clearer indication of how much The Five-Year Engagement's opening was affected by the football.
Also claiming top spot was another new opening in the form of Fox's Abraham Lincoln: Vampire Hunter, although its early estimate of $1.7m (£1.1m), including previews, from 679 screens suggest it'll chart second. Final figures might see it switch places with The Five-Year Engagement.
Timur Bekmambetov's 3D action horror lacks bite compared to the director's only other English-language film Wanted, which fought its way to a $5.9m (£3.8m) debut in 2008 for $15.3m (£9.8m) overall.
With an impressive 35% drop in its fifth week, Sony's Men In Black 3 added $1.6m (£1.0m) as it fell to third. The sci-fi comedy threequel has now amassed $30.7m (£19.7m), just around $4m (£2.5m) away from the final tally of $34.7m (£22.3m) for the franchise's sequel.
Despite a drop of around 50%, Fox's sci-fi Prometheus became the third highest grosser of the year to date at the UK box office with a $1.5m (£990,000) weekend. It now stands at $33.5m (£21.5m), overtaking The Woman In Black's $33.0m (£21.2m) and closing in on The Hunger Games' haul of $37.0m (£23.8m).
Prometheus will also become director Ridley Scott's second best performer in the UK this week, overhauling Hannibal's final tally of $33.6m (£21.6m) although is unlikely to usurp Gladiator's $48.5m (£31.2m) bounty as Scott's best ever.
Universal's action fantasy Snow White And The Huntsman rounded off this week's top five with an additional $1.2m (£800,000) for $20.7m (£13.4m) to date.
StudioCanal's horror Chernobyl Diaries scared up $826,000 (£531,000) on its opening bow.
This week's only saturation release is Universal's sci-fi horror Storage 24, while Lionsgate's comedy Friends With Kids, Warner Bros.' musical comedy Joyful Noise, eOne's crime thriller Killer Joe and Metrodome's horror Lovely Molly all receive wide releases.