Dir: Joshua Marston. US-Albania-Denmark-Italy. 2011. 108mins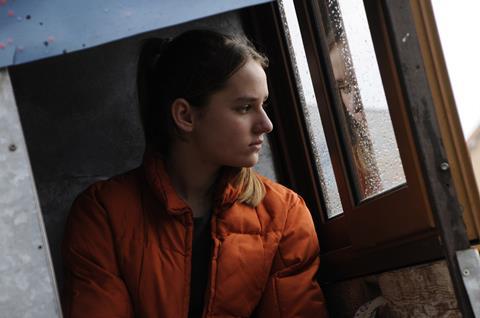 Seven years after his superb directorial debut feature Maria Full Of Grace, Joshua Marston returns with another riveting drama, this time focusing on an Albanian family caught up in a blood feud. The Forgiveness Of Blood is a richly textured portrait of a society in 2011 still bound by a centuries-old code of law. As in Maria, Marston's second feature is shot in the local language and marked by knockout performances from non-actors. The final film playing in the Berlinale competition this week, it is also one of its strongest.
Marston knows how to hook the audience by drawing his characters and their milieu with a strong sense of authenticity. His scene-setting is exactly precise enough to give us a sense of who they are and why we should care about them before the drama kicks in. And Marston's foreign nationality helps to bring a valuable external perspective to the material, however immersive his process in the society he is covering. A local film-maker might be less able to step away from the subject matter with such clarity of vision.
If the film lags somewhat in the central stretch, it is only because the theme – house arrest – demands it. Of course, this is a foreign-language film and buyers will approach it with caution. But it is a story unusual enough and certainly well-told enough to become an arthouse favourite.
Set in a small town in northern Albania, the film revolves around a 17 year-old called Nik (Halilaj) who has plans to open an internet café when he leaves high school. He has a crush on a girl from school called Bardha, larks around on motorbikes with his best friend Tom and has a close relationship with his smart 15 year-old sister Rudina.
But Nik's world is thrown into turmoil when his father Mark and uncle get into an alteraction with a neighbour over land which has been disputed for generations. The neighbour ends up dead, the uncle is taken into police custody and Mark goes into hiding. And according to the Kanun, a 15th century code of law, the aggrieved family has the right to kill Nik or any male family member in retribution. Nik and his little brother are henceforth forbidden to leave the house as a mark of respect.
While Rudina takes over the family's bread-delivery rounds and develops an appetite for business, Nik finds himself increasingly distraught as the weeks pass. In his isolation, he realises he will lose Bardha as well as any chance he had of a normal existence, if he is to have an existence at all. He begins a weight-building regime to keep fit but his frustration only increases. When attempts to bring in a blood feud mediator fail, he pits himself against his father who could end the feud if he turned himself in.
Marston only shows us what the two teens see, so we are unsure what actually happened to leave the neighbour dead, where Mark is hiding in his exile from the town or what is going on with the feuding family. As we know from Maria Full Of Grace, the director is skilled at building tension and in this film, there is a menace lurking in each scene, a threat that Nik will be felled by a bullet at any moment.
Halilaj and Lacej, neither who has acted before, fully realise their characters of young people whose futures are compromised by an age-old practice of which they feel they have no part. Veteran film and stage actor Abazi is formidable as their father whose convictions about family honour feels out of sync with their fast life of SMS texting, iPhone video messages and video games.
Production companies: Journeyman Pictures, Fandango, Portobello Pictures
International sales: Fandango Portobello, www.fandangoportobello.com
Producer: Paul Mezey
Executive producers: Janine Gold, Eric Abraham, Domenico Procacci, Hunter Gray, Tyler Brodie
Screenplay: Joshua Marston, Andamion Murataj
Cinematography: Rob Hardy
Production designer: Tommaso Ortino
Editor: Malcolm Jamieson
Music: Jacobo Liberman, Leonardo Heiblum
Main cast: Tristan Halilaj, Refet Abazi, Sindi Lacej, Illire Vinca Celaj, Zana Hasaj, Cun Lajci