Dir: Baz Luhrmann. US. 2013. 141mins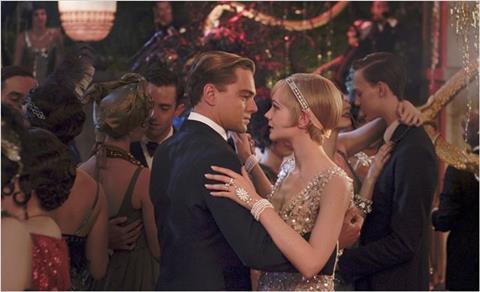 Anyone who has seen director Baz Luhrmann's Moulin Rouge or Romeo + Juliet shouldn't be asking if he would take liberties with an adaptation of The Great Gatsby but, rather, precisely how many liberties he'd take — and if they'd prove successful. The operatic, somewhat cheeky filmmaker latches onto the doomed love story at the heart of author F. Scott Fitzgerald's literary classic, and his gift for melodramatic theatrics keeps this Jazz Age cautionary tale eye-popping. But because Luhrmann is always thirsting for the next grand gesture — the next emotional crescendo — the book's subtlety and shading get trampled under his overblown aesthetic.
Luhrmann's Gatsby mostly captures the book's story beats, playing up the period detail without necessarily digging into Fitzgerald's social commentary.
Releasing in the US on May 10 before serving as the opening night film at this year's Cannes Film Festival, The Great Gatsby doesn't lack for star power thanks to Leonardo DiCaprio, Tobey Maguire and (to a lesser degree) Carey Mulligan and Joel Edgerton. Audiences' familiarity with the source material — paired with Luhrmann's reputation for outlandish, idiosyncratic movies — will certainly drive curiosity. And the fact that it's been shot in 3D will only help boost receipts for a movie that, for better or worse, looks to be unlike just about anything else this summer: a serious blockbuster drama with big stars and a hip attitude.
Preserving the core plot and characters of Fitzgerald's slim 1925 novel, this Great Gatsby differs from the book most notably in that aspiring writer Nick Carraway (Maguire) tells the story not to the reader but to a therapist, recounting the summer of 1922 in Long Island when he lived next door to a mysterious, charming millionaire named Jay Gatsby (DiCaprio) whose fortune's origin is the subject of much debate amongst the New Yorkers who frequent his many fabulous parties.
Carraway admires Gatsby, whom he regards as a fellow self-made man, unlike cousin Daisy Buchanan (Mulligan)'s husband Tom (Edgerton), an arrogant brute who is the heir to a wealthy family and enjoys taking many mistresses. Observing these individuals from the outside, Carraway finds himself drawn into their web when Gatsby has him arrange a surprise meeting with Daisy, with whom he had a passionate but brief love affair five years ago, long before she met and married Tom.
Of Luhrmann's previous films, The Great Gatsby probably most closely resembles Moulin Rouge with its mixture of flamboyant party scenes and overripe romantic intrigue. Working with several of his frequent collaborators — including cowriter Craig Pearce, production designer and costume designer Catherine Martin, and composer Craig Armstrong — the director has fashioned a striking period piece that emphasises the 1920s' freewheeling energy and boundless enthusiasm in the wake of an economic boom and World War I's end, not to mention a strain of rebelliousness in response to Prohibition. As he's done in the past, Luhrmann isn't aiming to re-create a period precisely — rather, he wants to make a bustling, comic-book exaggeration that amplifies his audience's collective impression of a bygone era.
As a result, in the film Gatsby doesn't simply have lavish soirees at his mansion: They're filled with impossibly beautiful people all wearing the most incredibly wonderful outfits while anachronistic hip-hop and club music blares through the opulent rooms. It's but one example in this Great Gatsby of how Luhrmann indulges his exuberance for oversized set pieces and spectacle. (In this regard, the 3D, though hardly essential, does add some visual oomph.) The downside to such an approach is that while it makes for excellent "for your consideration" ads for award season in the technical categories, it doesn't do much to suggest the small-scale drama going on between the central characters.
The most adversely affected is Carraway. Though the filmmakers have probably wisely decided to avoid wall-to-wall voiceover, which would have honoured Carraway's first-person narration in the book but might have become tiresome in a movie, The Great Gatsby essentially takes the character who's meant to be our surrogate and sticks him on the sidelines. It also doesn't help that Maguire seems to have been encouraged to play Carraway as a somewhat meek, ineffectual man, losing the book's sharply wry and melancholy viewpoint in the process.
DiCaprio fares far better as Gatsby, a poignant figure laid low by his desire to acquire enough riches to win back his true love. It's been 17 years since DiCaprio appeared in Luhrmann's Romeo + Juliet, but you can see much of the last decade of his career in his portrayal of Gatsby: the thwarted ambition of Howard Hughes from The Aviator, the dark intensity of Teddy Daniels in Shutter Island, and the romantic anguish of Dom Cobb from Inception.
Of late, DiCaprio seems drawn to roles where he plays dashing, confident, worldly men who cannot overcome some fatal flaw that threatens to undo everything they've accomplished. His Gatsby is very much cut from the same cloth, and while it's largely affecting — now well into his thirties, he can better utilise his still-boyish face to wring great pathos — it's also a touch familiar at this point.
Because this film adaptation homes in on the love story between Gatsby and Daisy, it's important that both leads suggest the agony of years spent apart from one another. But while Mulligan brings a coquettish spark to Daisy, she fails to convey the complexity of a woman who could bewitch a man so. Consequently, their exchanges come across as somewhat one-sided, but not in a way that seems intentional on Luhrmann's part. Gatsby yearns for Daisy and has done desperate things to reunite with her, but we never quite understand what is so haunting about her.
The rest of the cast mostly hovers in the background, with Edgerton not given much screen time to make Tom a weighty adversary to Gatsby. Isla Fisher, playing Tom's mistress Myrtle, is rather disposable, but Elizabeth Debicki captures our fancy as the sassy Jordan Baker, although her role has been greatly diminished from the book, leaving the actress little to do but bat her eyes at Carraway.
Expecting Luhrmann to be deeply faithful to Fitzgerald's work was always a futile hope. (His irreverent, knowingly over-the-top style practically goads the easily offended to storm of in a huff at the small changes he's made to the text.) But, in truth, Luhrmann's Gatsby mostly captures the book's story beats, playing up the period detail without necessarily digging into Fitzgerald's social commentary. The director seems less concerned than the author was in depicting this grand tragedy as emblematic of a fleeting moment in American life. Instead, Luhrmann, as he's done throughout his career, uses the material as a springboard for an unbridled tale about true love.
It's a testament to Luhrmann's self-assurance that, despite his movie's lack of nuance, he still almost manages to make his bold, overbearing vision work on its own terms. However, it is ironic that The Great Gatsby is at its best near the finale when it's relatively restrained by Luhrmann's standards, letting the full weight of Fitzgerald's ending work its magic and illustrate the depth of Gatsby's folly. Because Luhrmann cares little for the subtle, understated moment, his adaptation often lets the Roaring Twenties roar on nonstop. Showman that he is, he knows how to wrap up his films. Unfortunately, he's not always as good at building them dramatically.
Production companies: Village Roadshow Pictures, A&E Television, Bazmark, Red Wagon Entertainment
Domestic distribution: Warner Bros. Pictures, www.warnerbros.com
Producers: Baz Luhrmann, Catherine Martin, Douglas Wick, Lucy Fisher, Catherine Knapman
Executive producers: Barrie M. Osborne, Shawn "Jay Z" Carter, Bruce Berman
Screenplay: Baz Luhrmann & Craig Pearce, based on the novel by F. Scott Fitzgerald
Cinematography: Simon Duggan
Production designer: Catherine Martin
Editors: Matt Villa, Jason Ballantine, Jonathan Redmond
Music: Craig Armstrong
Website: www.thegreatgatsbymovie.com
Main Cast: Leonardo DiCaprio, Tobey Maguire, Carey Mulligan, Joel Edgerton, Isla Fisher, Jason Clarke