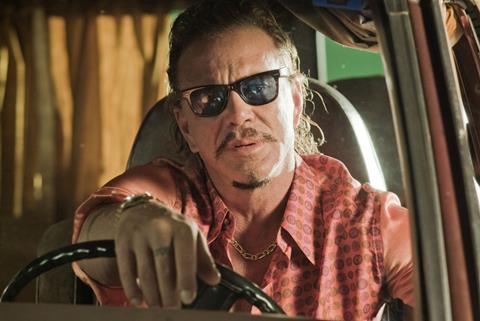 Dir. Gregor Jordan, US, 2008, 98 minutes.
More atmospheric than following a strict narrative, The Informers, set in LA in 1983, follows the intersecting paths of several numbingly-indolent, over-priveliged Angelenos. True to its origins in a collection of stories by Bret Easton Ellis, the film is a fragmentary observation of hedonism, emptiness and loss.
Stars in the cast (Billy Bob Thornton, Kim Basinger, Mickey Rourke) should help promote this grim but impeccably-groomed picture. Rourke fans worldwide, eager for more after The Wrestler, could assure it a shelf life, although The Informers' focus on its young beauties will probably work best with audiences under 35. Slick production design and a minimum of lines to subtitle will be assets internationally.
Adapted from Ellis's collection of stories (published in 1994, but mostly written a decade earlier), The Informers is a would-be Altman-esque ensemble of couplings and betrayals. Studio exec William Sloan (Thornton) tells his resentful son Graham (Foster) that he wants to reunite with wife Laura (Basinger), while still pursuing fragile newscaster Cheryl Moore (Ryder). Graham himself is involved in a three-some with pert blonde Christie (Heard) and scheming videographer Martin (Nichols), who is also sleeping with Graham's mother Laura.
As the sexual entanglings breed distrust, the city prepares for a concert by dissolute violent rock star Bryan Metro (Raido). Ex-con Peter (Rourke) rolls in from the desert to kidnap a child to earn a few bucks - and holds the boy in the bungalow home of Jack (the late Brad Renfro), the doorman of Christie's luxury high-rise.
The script by Ellis and Nicholas Jarecki is a terse, limp compression of Ellis's LA tales. It's hard not to view the film as an homage to Robert Altman's now-classic Short Cuts (1993), although its sour take on the city's rootlessness is even closer to Welcome to LA (1976), by Altman protege Alan Rudolph.
Under Gregor Jordan's direction in a mood more languorous than that of his Ned Kelly (2003) or Buffalo Soldiers (2001), characters become real enough to draw you in, yet are not deeply drawn enough to make you care. Still, as LA icons of that time, they do hit the mark. Thornton is hauntingly gaunt as an industry executive whose children despise him. Basinger rings true as the tortured first wife, as does Nichols as the young heel who exploits her vulnerability before jumping into another bed. Ryder plays well against type as the staidly coiffed TV newswoman, abandoned by her lover as she approaches middle age.
While The Informers' pampered characters flirt blithely with the dark side of self-destruction, Rourke plays the real thing, a monstrous, ruthless thug who is already beyond the edge, stealing the show in the chilling moments when he is on-screen.
Yet Rourke has something in common with the film' s lazy rich: neither makes you nostalgic for the Reagan era.
Production Companies/Backers
Senator Entertainment US
US Distributor
Senator Films
International Sales
Essential Entertainment
+ 1 310 550 9100
Producer
Marco Weber
Screenwriters
Bret Easton Ellis
Nicholas Jarecki
Cinematographer
Petra Korner
Editor
Robert Brakey
Production Design
Cecilia Montiel
Main Cast
Billy Bob Thornton
Kim Basinger
Mickey Rourke
Winona Ryder
Jon Foster
Austin Nichols
Amber Heard
Mel Raido
Brad Renfro