Dir/scr: Nadav Lapid. Israel-France. 2014. 120mins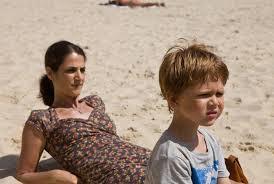 Nadav Lapid's film is all about the crass, materialistic Israeli society which has neither the time nor the patience to notice beauty springing under its feet…with one exception to the rule, a kindergarten teacher who is sensitive enough to recognise it and determined enough to do her best to preserve it, but unpractical enough to eventually fail in her endeavor.
Shot by Shai Goldman with the same meticulous care Lapid took in his first film.
It is more than likely that response to The Kindergarten Teacher will be once again as controversial as it was to Lapid's debut film The Policeman, which divided between admiration for Lapid's visual style and his eloquent all-embracing allegories or damned for pretty much the same thing.
Married to a nice but common engineer (Lior Raz) whose predilection for the silliest popular TV shows is established in the film's first sequence, Nira (Sarit Larry), the kindergarten teacher of the title, suffers in silence her husband's insensitivity to the finest points of life and its beauties.
She has belatedly discovered in herself an obsession for poetry which moves her to tears and follows an afternoon course which will hopefully allow her to write some poetry of her own. In the meantime, she disassociates herself from her husband's kind of lowbrow entertainment.
Nira's life will be turned upside down once she discovers in her kindergarten, five year-old Yoav (Avi Schneidman) walking around spouting poetry (which Lapid claims he had written when he was Yoav's age), using words that no normal kid is exposed to. She tries to investigate the miracle, and once she questions the boy's nanny (Ester Rada), she finds out the boy's mother has run away with a lover and he lives with his father (Yehezkel Lazarov), a successful restaurateur who couldn't care less whether his son has a special gift or not.
Even worse, Nira discovers the nanny, an aspiring actress in her free time, has appropriated some of Yoav's poems to facilitate her own career. This is a crime Nira will not condone, though she does exactly the same thing in her poetry class, attended by a bunch of pretentious nonentities, too crass or numb to appreciate the genius unveiled for their benefit. The only one to respond to Nira's borrowed poems is the teacher (Hamuchtar), whose facetious praise touch her to the core, so much so that she will make love to him, in what she believes to be a union of two kindred souls misunderstood by the rest of the world.
Lapid makes no bones about what he likes and what he dislikes, his camera often indulging in sneering asides, whether it looks at the party Nira's son is throwing for his soldier friends or at Yoav's brutishly arrogant father observed in his natural surroundings, one of his super-fashionable, over-priced eateries. As for Nira's husband, his self-satisfied limitations show him for the simple, unsophisticated human being she has to endure, though apparently they have an average if not particularly brilliant family life.
No one really understands her, not even Yoav, who is far too young to appreciate her devotion to his genius, and the vulgarity of the world comes clearly through when another kid teaches Yoav a foul-mouthed song the fans of one popular soccer team dedicate to their opponents.
Shot by Shai Goldman with the same meticulous care Lapid took in his first film, each angle and each frame chosen with precise intentions, the picture once again uncomfortably places its p.o.v. on a pedestal, way above the subjects it treats, who are either unfit or unworthy of its full sympathy. Nira and her likes, just like the rebels in The Policeman, are a well-intentioned lot but far too feeble and hopelessly self- destructive for their own good. Reality is bound to trample all over them without the slightest sign of remorse.
Production companies: Pie Films, Haut et Court, Arte France
International sales: Le Pacte, www.le-pacte.com
Producers: Talia Kleinhendler, Osnat Handelsman-Keren, Carole Scotta
Cinematography: Shai Goldman
Editor: Era Lapid
Production designer: Miguel Merkin
Main cast: Sarit Larry, Avi Schneidman, Lior Raz, Ester Rada, Guy Oren, Yehezkel lazarov, Dan Toren, Avishag Kahalani