Dir: Yoji Yamada. Japan. 2014. 136mins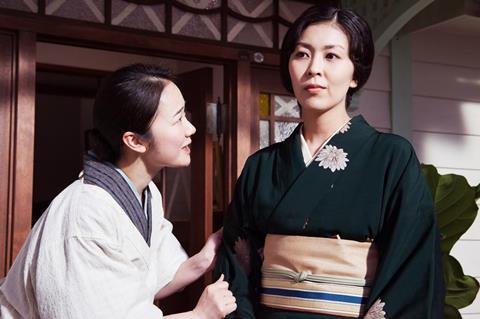 A wafer-thin weepie shot almost entirely on a sound stage, Yoji Yamada's 80th feature film The Little House (Chiisai Ouchi) will not go down in history as one of his finest achievements. An adaptation of a best-selling, award-winning, novel by Kyoko Nakamura, it offers a painfully derivative illicit love affair between a traditional middle-class wife and her husband's assistant that seems to be cut out for early afternoon TV melodrama. Its chances of drawing any attention outside Japan are slim at best.
None of the performances rise above the soap operatic tradition, but, as it is only to be expected of a man of Yamada's experience, all technical credits are aboveboard.
A flashback of a flashback, the story is told first by a young man (Satoshi Tsumabuki) who remembers encouraging his recently deceased great-aunt to write her memoirs. This is the frame for the story told by the great-aunt herself, Taki (played as an elderly lady by Chieko Baisho, and as a young girl, by Haru Kuroki).
In the winter of 1935, she left her home in the north of Japan to work for a businessman's family in Tokyo. The Harai family lived in the little house of the title, on top of a hill. The husband, Masaki Harai (Takataro Kataoka) is an executive in a toy factory, a typical Japanese authoritative husband who takes for granted that nothing can possibly go wrong at home.
His wife, beautiful Tokiko (Takako Matsu), is terribly worried because her little boy has been diagnosed with polio and is in need of constant care. Young Taki - who soon becomes Taki-dear - is indispensable to all of them. Meek, subdued but ingratiating and devoted to a fault, not only a faithful servant in charge of all the house chores, but also a masseuse, a confidante and a soulful companion, she is a blessing for the entire family.
One day, talented designer Itakura (Hidetaka Yoshioka), who works for the husband, comes into the picture and Tokiko falls, but in a very reserved and Japanese style, for his shy and youthful appearance. Predictably enough, reserve, tradition and caution are thrown to the wind after a while, but hubby's attention is elsewhere, for in the meantime, Japan marches victoriously into China and business prospects look more cheerful than ever.
Not for long, however, for the rest of the world has something to say about it. The economy suffers and the war threatens to erupt at home. But not in the little house on the hill, where nothing changes. It is still a Disney dollhouse and romance is the only real concern over there, for the boy's health has recovered and the husband couldn't be bothered with affairs of the heart.
Behind his back, tears are shed, Tokiko's soul is in turmoil, Taki suffers terribly watching her mistress risking to compromise herself, but it is all done in a nicely decorous, elegant manner. Only when war threatens to become ugly and to hit close to home, does the camera finally move out of the little house. The Hirais cannot afford Taki any longer, and she goes back to the far north and the rest of the story is told in dialogue.
Eighty two year-old Yamada may have intended to resuscitate, with painstaking love and attention, a world gone by, but what comes up on the screen looks entirely fictitious, a banal collection of clichés piling up one on top of the other, all of it wrapped in Joe Hisaishi's syrupy soundtrack, entirely alien to what the Japanese spirit the images pretend to convey. None of the performances rise above the soap operatic tradition, but, as it is only to be expected of a man of Yamada's experience, all technical credits are aboveboard.
Production companies/sales: Shochiku, www.shochiku.jp
Producers: Hiroshi Fukasawa, Hiroyuki Saito
Screenplay: Yoji Yamada, Emiko Hikamatsu, based on novel by Kyoko Nakajima
Cinematography: Masashi Chikamori
Editor: Iwao Ishii
Production designer: Mitsuo Degawa, Daisuke Sue
Music: Joe Hisaishi
Main cast: Takako Matsu, Haru Kuroki, Takataro Kataoka, Hidetaka Yoshioka, Satoshi Tsumabuki, Chieko Baisho