Dir: Fruit Chan. Hong Kong-China. 2014. 124mins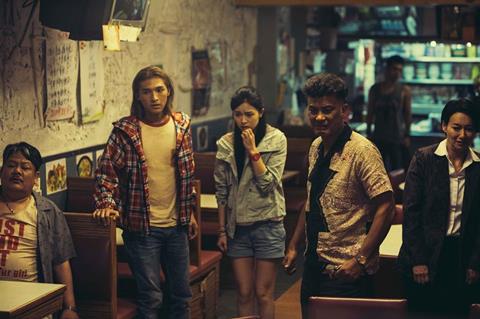 The Midnight After is a quirky apocalyptic horror from Hong Kong indie director Fruit Chan, who returns to the Panorama section after his success with Dumplings, which premiered in 2005.
Fans of Chan's will warm to his unique sense of humour and many pop culture references.
Adapting the web-series turned best-selling novel Lost On A Red Mini Bus To Tai Po by a writer who goes by the pen name "Pizza", we follow 17 Hong Kongers as they travel by night bus to Tai Po, a market town on the outskirts of the city. Things become mysterious when the bus passes through a tunnel, and emerges into a completely deserted street. The group soon starts to question whether they may be the last 17 people alive.
Set against a backdrop of neon lights and whizzing traffic, Chan and cinematographer Lam Wah-tsuen successfully capture the bustling city in all its glory. However, it is the diversity of characters that make the film so engaging, trapping together a potbellied gambler (Lam Suet) a cokehead (Sam Lee, Made in Hong Kong) and a psychic insurance saleswoman (Kara Hui), to discuss their fate in an abandoned Michelin-starred restaurant.
Black comedy comes in bursts when the characters start to be killed off in odd circumstances, some contracting the plague and others simply turning to stone and crumbling into dust. Odder still, the group find that the only clue that they've been given from their enemy is the lyrics to David Bowie's Space Oddity, sent to them in Morse code on their phones.
Fans of Chan's will warm to his unique sense of humour and many pop culture references, such as having his characters play Candy Crush and air guitar with a mop, but to a wider audience, the randomness of events and gratuitous violence may leave them pining for a more fixed genre or plot structure. The Midnight After may be best suited to a domestic audience.
In his earlier films, Chan made numerous references to Hong Kong's relationship to China and its burgeoning identity. This too, carries on with that theme, delivering a distinct local flavor whilst also throwing in commentary about Hong Kong's zombie-like masses and the lasting effects of the SARS virus and the 2011 nuclear meltdown in Fukushima, Japan. During the film we are told "Hong Kong doesn't do sci-fi", but Chan has successfully defied genre conventions here.
Production companies: The Midnight After Film Production, One Ninety Films Co.
International sales: Fortissimo Films
Producer: Amy Chin
Executive producers: Winnie Tsang, Fruit Chan
Screenplay: Chan Fai-hung, Kong Ho-yan, Fruit Chan, based on the novel "Lost on a Red Minibus to Taipo," by Pizza
Cinematography: Lam Wah-tsuen
Editors: TinSupFat, ToTo
Production designer: Andrew Wong
Music: Ellen Loo, Veronica Lee
Cast: Wong You-nam, Janice Man, Simon Yam, Kara Hui, Chui Tien-you, Lam Suet, Cheuk Wan-chi, Lee Sheung-ching, Sam Lee, Cherry Ngan, Melodee Mak, Jan Curious, Ronny Yuen, Kelvin Chan, Endy Chow