With ambitious plans to build on Bavaria Film's successful local film-production activities, the company's head tells Martin Blaney why he believes international co-productions are the key to its future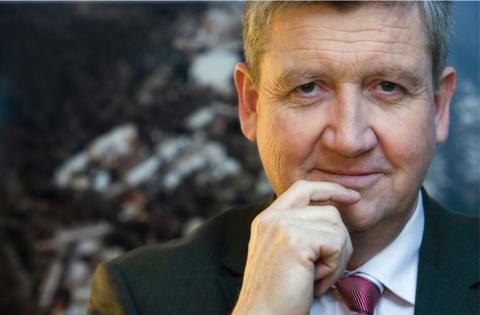 With little fanfare, Germany's Bavaria Film Group has been steadily building up its film arm over the past decade. So far the company's mainstay has been teenage comedies, such as The Wild Chicks franchise, and family films, such as Bibi Blocksberg, both geared towards the local market. But now, under managing director Matthias Esche, the company has broader ambitions.
Founded in 1919, Bavaria Film is one of the largest media companies in Europe with a flourishing TV production arm, a busy studio facility in Munich and local TV production outfits throughout Germany with one in Rome.
One of the company's most recent successes was Heinrich Breloer's adaptation of Thomas Mann novel Buddenbrooks. The $21.6m (€15m) film was released by Warner Bros Germany on Christmas Day 2008 and grossed $12.6m (€8.8m) in Germany. Last year also saw Bavaria Film's Halle-based animation subsidiary Motionworks score a local hit with family film Four Friends (Mullewapp), a Germany-France-Italy co-production which took more than $3.6m (€2.5m) through Kinowelt at the German box office.
Esche is keen for Bavaria to do more than finance big-budget films around the $20m mark. "We also want to support smaller films [$3m-$7m] and help gifted film-makers who would otherwise not be able to realise their films," he says.
To this end, Bavaria is producing Short Cut To Hollywood, co-directed by Marcus Mittermeier and Jan Henrik Stahlberg, as well as partnering with director Philip Gröning on two new films. Gröning's award-winning documentary Into Great Silence (Die Grosse Stille) was handled by the company's international sales arm, Bavaria Film International.
Production is set to roll soon on the first of Gröning's projects, the drama Die Frau Des Polizisten, to be followed by My Brother Robert, which is being structured as a Germany-France co-production with France's L Films and French Production.
"We want to support smaller films and help gifted film-makers who would otherwise not be able to realise their films."

Matthias Esche, Bavaria Film Group
At the same time, Bavaria is developing the big-budget production Hotel Lux, a black comedy set to be one of the first films made with director Leander Haussmann as part of a multi-picture output deal between Bavaria and the film-maker signed in April 2008. Michael 'Bully' Herbig is set to star as a German cabaret artist who flees to Moscow in 1938 and is mistaken for Hitler's astrologer in Stalin's infamous Hotel Lux.
Hotel Lux is emblematic of the grand ambitions Esche has for Bavaria Film with a particular focus on international partnerships. Through contacts forged by studio executive Philipp Kreuzer at the studio's Rome-based production arm, Bavaria Media Italia, Bavaria is now the German partner on Saverio Costanzo's The Solitude Of Prime Numbers. Co-produced by Italy's Offside, France's Les Films des Tournelles, Germany's ZDF Enterprises and Ostlicht Filmproduktion, the film stars Alba Rohrwacher and Isabella Rossellini and wraps in Thuringia in early February.
Meanwhile, Esche recently attended the Moscow Co-Production Forum to meet the producers of Alexander Mindadze's That Saturday, a love story set during the Chernobyl disaster. "We felt it was a cultural obligation to make this film," says Esche of his decision to co-produce the project with Russian outfits Passenger and Central Partnership. Delivery of the Russian-language film is planned to coincide with the 25th anniversary of the accident.
Under Esche, efforts are also being made to showcase Bavaria Film's Munich-based soundstages and facilities to US producers. The company is keen to take a greater slice of the international production activity that has recently been focused on the Berlin-Brandenburg region, propelled by the incentives of the German Federal Film Fund (DFFF).
In addition, further support may be forthcoming from the state of Bavaria in the form of a new funding programme - over and above the existing Bavarian Film & Television Fund - which is understood to be planned to entice producers from outside the region to shoot in Bavaria.