Dir/scr: John Akomfrah. UK. 2010. 92mins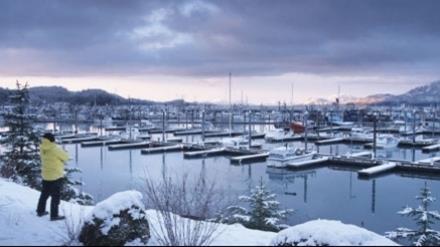 John Akomfrah's beautiful and beguiling film is very much an art-house piece – to the extent that it wouldn't be out of place as a gallery installation – and while clearly not aimed at mainstream audiences it has a lyrical richness that will impress audiences looking for something challenging and thoughtful.
It is a film that could well impress an appreciative audience in niche art house screens.
The film is a fascinating blend of glorious snowy landscape footage (shot in Alaska) and archival scenes balanced by literary references and readings and an evocative soundtrack. The core of the film is dwelling on the history of mass migration to post-War Britain, largely from the Caribbean, but also using Homer's poem The Odyssey as a narrative reference.
The multi-layering of the film's structure does not stop there. The title refers to the Nine Muses (daughters of Zeus and Mnemosyne) and each muse (comedy, dance, poetry etc) are used as chapter points through the film. Add to the pot readings from sources as varied as Dante, Milton, Joyce, Beckett and even Bob Dylan and a rich music soundtrack that veers between jazz, classical and Indian folk and you are faced with an immersive film that demands attention.
Determinedly non-linear and always subtly provocative, The Nine Muses is a fascinating film. It may read as overly pretentious on paper, but it is an easy watch with a sense of disorientation and dislocation – whether it be footage of new immigrants struggling to adjust to a gloomy Britain or shots of solitary figures set against a beautifully bleak landscape – the prevailing emotional response.
It is a film – planned as the first of a trilogy - that is unlikely to find a large theatrical audience, but could well impress an appreciative one in niche art house screens and on TV and home entertainment.
Production companies: Smoking Dogs Films, Soul Rebel Pictures, Creation Rebel Films
Sales contact: Smoking Dogs Films, www.smokingdogsfilms.com
Producers: LIna Gopaul, David Lawson
Cinematography: Dewald Aukema
Editor: Mikka Leskinen
Music: Trevor Mathison
Main cast: Trevor Mathison, David Lawson, John Akonfrah