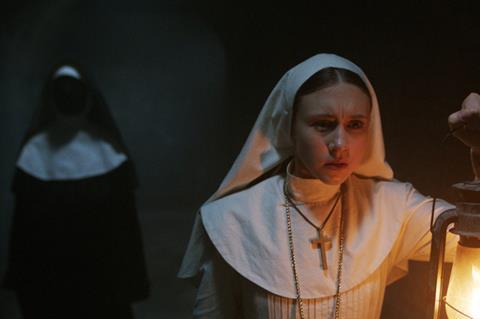 SEPTEMBER 24 UPDATE: Warner Bros' horror hit The Nun held off Fox's The Predator for the second consecutive weekend to lead international box office thanks to a $3m session that boosted the running total to $192.1m.
The Predator used a $15.7m session to climb to $54.9m, while Universal's Johnny English Strikes Again grossed $18m for an early $22.9m, The House With A Clock In Its Walls opened top in the UK, Searching became fourth highest Hollywood thriller of all time in South Korea, and Incredibles 2 delivered the fourth highest debut for a Disney Animation/Pixar release of all time in Italy.
WARNER BROS PICTURES INTERNATIONAL
UPDATED: The Nun, New Line's hit from the Conjuring universe stands at $292.7m worldwide. South Korea led the way for the international debutants on $4.3m to rank as the top Western film, followed by France on $4.5m for number one, Russia on $4.2m for number one and the highest debut in the Conjuring series and the second highest horror launch ever behind It.
Italy delivered $2.9m for second place, the best Conjuring series debut, the highest Warner Bros release for the year-to-date, and the second highest horror debut behind It. Norway produced $966,000 for number one for the top franchise debut and the second highest horror opening behind It, while Hong Kong generated $816,000 for best launch in the franchise and the highest debut by a foreign horror film.
In a raft of third-weekend holdovers, Brazil produced $1.7m for $15.5m and held on to number one, while Mexico delivered $1.7m for $20m to rank second, the UK $1.3m for $12.3m, Germany $1.2m for $6.6m, and Spain $1.2m for $9.4m and second place behind Johnny English Strikes Again.
Crazy Rich Asians brought in a further $5.4m from 35 markets for $47.4m and opened at number five in Mexico on $340,000. The rom-com added $1.5m in the UK to rank third and reach $4.6m after two weekends, while Indonesia produced $1.1m for number one and stands at $4.3m after two.
Australia delivered $1m for a number four result and stands has reached $13.9m after four sessions. It is the top market from the film's international run so far, followed by Singapore on $5m, then the UK and Indonesia.
The Meg added $3.8m from 62 for $377.3m, and $517.8m worldwide. The shark action thriller added $1.2m in its third session in Japan for $10.2m, and has reached $153m in its top market China. Mexico is next on $20.8m, followed by the UK on $20.2m.
German superstar Til Schweiger's latest directorial outing, the comedy Klassentreffen, launched top of the charts in Germany on $2.3m. It is a Barefoot Films / Nordisk Film / SevenPictures Film / Warner Bros Film Productions presentation. As Screen first reported recently, Schweiger is currently shooting the action epic Medieval in the Czech Republic.
ASIA UPDATE
Hong Kong action film Golden Job arrived in China on $23.2m, while Hong Kong anti-corruption crime thriller L Storm followed up last weekend's strong debut with $9m for $55.9m. Producer Raymond Wong and director David Lam with actor Louis Koo and Julian Cheung, with Kevin Cheng and Stephy Tang joining the cast. The Great Battle opened on $9m. Jia Zhangke's romance Ash Is Purest White debuted on $5.9m.
FOX INTERNATIONAL
UPDATED: The Predator fell away in its second session as Shane Black's action reboot brought in $15.7m for a $54.9m tally from 83 markets. The alien warriors opened top in Mexico on $3.3m and top in Colombia on $634,016.
Russia and the UK were the lead holdovers markets in the second session on $1.2m for number three and a $6.6m tally, and $873,633 for $5m for number six, respectively.
PARAMOUNT PICTURES INTERNATIONAL
Mission: Impossible – Fallout added $8m from 49 markets at the weekend to reach $559.8m, to track 23% ahead of Rogue Nation from the same group of markets.
The spy action thriller's fourth session in China delivered $6.2m for number four and a $173.6m running total, while Italy has produced $5.8m at the same stage. After eight weekends, the film stands at $15.5m in Germany, $41.8m in Japan, and $26.7m in France.
UNIVERSAL PICTURES INTERNATIONAL
UPDATED: Rowan Atkinson in Johnny English Strikes Again grossed $18m from 33 territories as the early running total climbed to $22.9m to maintain a good pace. The action comedy debuted in 27, led by Australia on $1.9m for number one, and an excellent $1.8m number one bow in the UAE that delivered Atkinson's best debut.
The Middle East delivered $1.9m for a regional number one result, while Russia produced $1.5m for number two, Spain $1.3m for number one. A string of further number one results saw the film open in Hong Kong on $1.2m, Singapore on $1.1m, Netherlands on $1.1m, and Vietnam on $827,000.
Malaysia produced $1m for $3.8m to hold at number one in its second session, and Mexico generated $613,000 for $2.2m for number three.
The House With A Clock In its Walls opened on $3.2m from 14 territories through Universal, and Germany was the fantasy film's top result on $886,000 for number three, followed by Philippines on $602,000 for number one, and Brazil on $522,000 for number three.
BlacKkKlansman added $.42m from 23 active territories for $29.6m and stands at $76.7m worldwide. Mamma Mia! Here We Go Again grossed $2.1m from 41 active for $267.9m and has reached $388.2m globally. Skyscraper stands at $136m internationally and $203.8m worldwide excluding China. Todos Lo Saben added $600,000 in Spain for $1.9m after two sessions.
AMBLIN PARTNERS
The House With A Clock In its Walls added $5.6m via Amblin's network, opening top in the UK on $4.3m through eOne, and debuting in Australia, Indonesia, Greece and Cyprus, Poland, Israel, Portugal, and Iceland. Combined with Universal, the fantasy's international weekend amounted to $8.7m, and grossed $35.6m worldwide including the $26.9m North American debut through Universal.
WALT DISNEY STUDIOS MOTION PICTURES INTERNATIONAL
Pixar's Incredibles 2 shot to the top of the table in Italy where $5.4m ($6.1m including previews) delivered the fourth highest debut for a Disney Animation/Pixar release.
Overall the family release remains on track to cross $600m, and grossed $8.3m from 20 active territories to reach $588.8m. It opens in Germany this week and currently ranks as the 17th highest global release of all time and the second highest animation on $1.195bn. The UK remains the highest territory on $71.9m, with China on $53.7m, Japan on $42m, France on $40.8m, and Brazil on $37.5m.
Christopher Robin brought in $4.1m from 21 for $67.9m and stands at $164.8m worldwide. The family release opened at number two in New Zealand on $200,000 ($400,000 including previews), and dropped a mere 26% in its second weekend in Japan to reach $9.4m. The UK is the lead market on $17.8m.
LIONSGATE INTERNATIONAL
UPDATED: Crime mystery A Simple Favor starring Anna Kendrick and Blake Lively grossed $5.4m from 36 markets to reach an early $10.2m. The bulk of the session came from a number two UK debut on $2.1m. It stands at $3.6m in Australia, where it added $1.1m in the second weekend to rank third.
A slew of major markets open this week: France, Belgium, Brazil, Netherlands, Mexico, Spain, and Sweden.
SONY PICTURES RELEASING INTERNATIONAL
UPDATED: The Equalizer 2 added $1.9m from 49 markets for $81.9m, while the thriller Searching added $2.8m from 30 for $30.5m. South Korea has delivered an outstanding $20.2m tally that makes the film the fourth highest grossing Hollywood thriller of all time.
Hotel Transylvania 3: Summer Vacation added $2.9m from 58 for $342.3m, while Studio 8's family release Alpha added $3.3m from 48 for $39.2m.
Ladies In Black, from Sony Pictures Worldwide Acquisitions' Stage 6 Films, debuted at number two in Australia on $1.6m including previews. Including The New Zealand the weekend total reached $1.8m. Bruce Beresford directed the coming-of-age adaptation of the Madeleine St John novel about a suburban schoolgirl in Sydney in the late 1950s.