Dir/scr: Asghar Farhadi. France-Italy. 2013. 130mins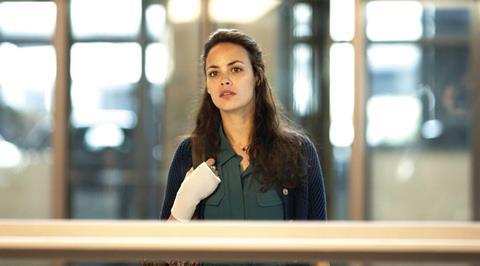 Iranian filmmaker Asghar Farhadi, who lifted a deserved Best Foreign Film Oscar for the remarkable A Separation, delivers another gripping, densely plotted drama of ethics, love and loyalty with The Past. What's missing is the pressure and jeopardy of the Iranian judicial, political and religious background that made A Separation's ballet of accusal and counter-accusal more than just a family affair. Central to the story, once again, is a keen feel for the way kids are manipulated and damaged by the crazy stuff we adults do and say, and it's this sensitivity, more than anything else, that saves the bones of high-concept melodrama from poking through the screen too obtrusively.
Just as in A Separation, the search for the truth keeps getting derailed by fresh revelations and muddied by doubt until we begin to question whether there is one truth about what happened in 'the past'.
The Past confirms Farhadi as a superb director of actors, drawing a strong performance from The Artist's Berenice Bejo as an outwardly confident woman torn between two men and gnawed by doubt. But The Prophet's Tahar Rahim – a quiet, keep-it-all-inside foil to Bejo's fiery passion - and Iranian actor-director Ali Mosaffa are equally impressive, as are the three child actors.
It's easy to see why the title has been selling well in the run-up to Cannes: the audience-teasing twists and turns coupled with the presence of Bejo and Rahim will carry it far. But paradoxically, it may not have the shelf life of A Separation, which featured actors unknown to many of those who saw and loved the film. The Past oozes directorial intelligence, and works well as a drama; but it is, quite simply, a less resonant film.
A masterful opening shot shows Bejo's character Marie trying to attract the attention of Ahmad (Mosaffa) through the glass of an airport arrivals barrier, then attempting to have a conversation across the soundproof window: an eloquent premonition of the unheeded calls for attention and communication failures in the story to come. It turns out that he is her former husband, who returned to Iran four years before, and has come back now to formalise the divorce.
Marie's insistence that he stays with her and her troubled teenage daughter Lucie (Burlet), is just one of several signs that she is unsure about a closure that she herself has requested – a direct echo of A Separation. Her uncertainty is picked up by Marie's new partner Samir (Rahin), who most of the time lives at Marie's with his little son Fouad (Aguis). The first hint that there's something darker going on than a woman being torn between her old and new man comes when it's revealed (early enough for it not to be a spoiler) that Samir's wife is in a coma in hospital following an attempted suicide.
What builds from this point on is a drama-thriller in which, just as in A Separation, the search for the truth keeps getting derailed by fresh revelations and muddied by doubt until we begin to question whether there is one truth about what happened in 'the past' – and whether one can ever really lock the latter up (like Ahmad's old things, a constant presence in the shed at the bottom of the garden) and move on. It's a subtle, nuanced game with several strands – one of which is the way the script keeps us guessing about which of the three kids in the house, if any, were fathered by Ahmad (the third is Lucie's outwardly carefree younger sister Lea, played by Jeanne Jestin).
Farhadi makes little details speak volumes: the way Lucie passes Samir the teapot across the dinner table (he can't take it without burning himself); the way Ahmad helps Marie (who has a sprained wrist) change gear on the way back from the airport; the three times that characters turn back after walking away and closing a door; the fact that Samir works in a dry cleaner's and Marie in a chemist's: professions that carry symbolic heft as well as, in Samir's case, a gradually-revealed link to the plot.
Marie's cluttered house, where much of the action is set, is also dense with portents and sidelights: the fact that it's halfway through being redecorated, the way sleeping arrangements define the characters' rifts and alliances, the fact that it's in a cul-de-sac that ends in train tracks.
It's a brilliant piece of cinematic craftsmanship, but at times, our admiration of Farhadi's art and his actors' bravura drowns out our belief in a story that feels a little too rootless, too designed for dramatic effect.
Production companies: Memento Films Production, France 3 Cinema, Bim Distribuzione
International sales: Memento Films International, www.memento-films.com
Producer: Alexandre Mallet-Guy
Cinematography: Mahmoud Kalari
Editor: Juliette Welfling
Production designer: Claude Lenoir
Music: Evgueni & Youli Galperine
Main cast: Berenice Bejo, Tahar Rahim, Ali Mosaffa, Pauline Burlet, Elyes Aguis, Jeanne Jestin