eOne's reboot takes top spot with $2.5m (£1.5m) debut with Universal's ParaNorman charting second; Disney's Brave crosses the £20m mark.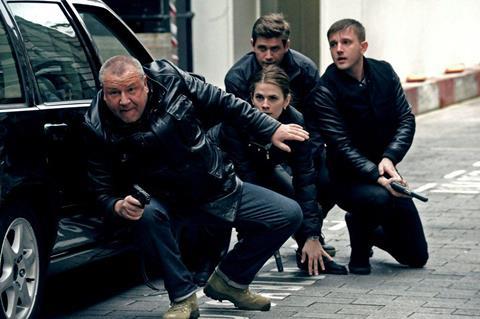 Boosted by two days of previews, eOne's The Sweeney has shot to the top of the UK box office on its debut, knocking Dredd off the number one spot after just one week.
Nick Love's reboot of the much-loved 70s police TV show garnered $2.5m (£1.5m) from its 406 sites. The result is Love's best-ever opening in the UK and will swiftly become his strongest ever film at the UK box office by overtaking Outlaw's $2.6m (£1.6m) final gross.
The Sweeney marked eOne's seventh number one in less than four years in the UK.
Taken on just Fri-Sun grosses, Universal's ParaNorman would have debuted top with its $2.2m (£1.3m) opening bow.
That figure is on par with Laika's only other feature Coraline which recorded $3.9m (£2.4m) back in 2009 with a £1m uplift from two days of previews, and eventually took a decent $12.2m (£7.5m). With a lack of direct family competition opening in the coming weeks - arguably until Sony's Hotel Transylvania on Oct 12 - ParaNorman could enjoy a lengthy run and challenge that final tally.
Enjoying just a 9% drop, Universal's Anna Karenina held well in its second weekend taking an estimated $1.3m (£795,000) for $4.3m (£2.7m) to date.
Joe Wright's bold adaptation is still some way behind the UK performances of Wright's previous collaborations with Keira Knightley and is unlikely to catch them, but it should at least overcome Hanna's final gross of $6.1m (£3.8m).
Also enjoying a strong holdover was Momentum's Lawless, with around a 11% drop on its opening weekend. With some sites still to report, Lawless added $1.3m (£788,418) for $4.2m (£2.6m) after ten days in play, and it should overtake The Road's $4.3m (£2.7m) in the coming week to become director John Hillcoat's best-ever result in the UK.
Figures for Dredd were unavailable at the time of writing.
Just missing out on the top five on its opening weekend was Momentum's Hope Springs, grossing $1.2m (£722,064) at a solid average of $2,812 (£1,732) to chart sixth. That total, however, is down on director David Frankel's strongest openings in the UK - Marley And Me ($7.2m/£4.4m) and The Devil Wears Prada ($5.3m/£3.3m), both with wider appeal - but given the determined run of The Best Exotic Marigold Hotel earlier this year, Hope Springs could blossom midweek and enjoy a decent run.
In its seventh week, Disney's Brave dropped just 10% to break the £20m barrier, the eleventh film to do so this year and only the second animation, adding $947,700 (£583,862) for $32.7m (£20.1m) to date.
Both Sony new releases opened softly with To Rome With Love taking $235,000 (£145,000) and Premium Rush grossing $187,000 (£115,000). Neither result managed to challenge the respective directors' previous efforts in the UK: To Rome With Love ranks as Woody Allen's 7th best opening, while Premium Rush resulted in David Koepp's worst-ever debut in the UK, behind Stir Of Echoes' previous low of $359,319 (£221,500).
Also for Sony, Total Recall added $725,000 (£447,000) in its third weekend for $7.7m (£4.8m) to date.
For Fox, The Watch stands at $5.7m (£3.5m), while Diary Of A Wimpy Kid: Dog Days has enjoyed a strong run and has amassed $11.8m (£7.2m).
Revolver/Picturehouse's The Imposter is expected to cross the £1m mark this week to become the first non-music based documentary to do so since Senna last year, and currently stands at $1.6m (£987,448).
This week sees saturation releases for Momentum's House At The End Of The Street, Sony's Hysteria, Entertainment's Killing Them Softly, Warner Bros.' Now Is Good (opens Sept 19) and Universal's Savages. Raiders Of The Lost Ark receives an IMAX re-release through Paramount, while Lionsgate's Tower Block opens wide and French box office smash Untouchable (Intouchables) receives a limited release through Entertainment, before expanding wide from Sept 28.
For more of Screen's box office news, analysis and charts, visit our Box Office section by clicking the icon below.