Glenn Close and Jonathan Pryce star in an adaptation of the novel by Meg Wolitzer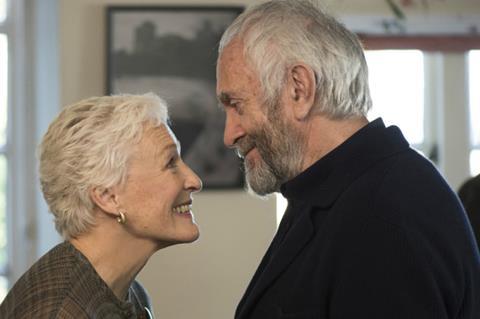 Dir. Björn Runge. UK, Sweden. 2017. 100 mins
Behind every great man is a woman. And this film tells the story of her husband's success through the eyes of one such woman. Glenn Close stars as Joan Castleman, the wife and supporter of husband Joe (Jonathan Pryce), a charismatic and successful writer. Adapted from a book by Meg Wolitzer, this solid drama posits a situation in which the wife's contribution turns out to be somewhat more integral to the work than simply providing a few cups of tea and words of praise here and there. But despite high quality performances from Close and Pryce, the film leaves us with question marks over the credibility of the central scenario.
Glenn Close's seething but self-possessed performance could conceivably gain her entry onto this year's awards circuit
Though not formally daring and fairly conventional in its storytelling, this is a quality picture which should appeal to arthouse audiences in festivals and elsewhere. The presence of the always-excellent Close in a lead role will be a selling point particularly as her seething but self-possessed performance could conceivably gain her entry onto this year's awards circuit.
The story opens in Connecticut in 1992. Joe, jittery and comfort-eating in the early hours of the morning, wakes his sleeping wife for solace. A few hours later, there comes the telephone call that he had been anticipating – the Nobel committee has decided that he is to be the recipient of this year's Nobel prize for literature. Joan's face, as she listens on the extension, is conflicted.
Behavioural patterns emerge as the couple are carried along on the swell of celebration. Joe takes centre stage, a natural raconteur who absorbs the praise like a sponge. Joan drifts on the periphery, smiling enigmatically and flinching slightly when her husband effusively thanks her for her contribution to his work.
There is already a frisson of tension between the couple when, on board a flight to Stockholm, Nathaniel (Christian Slater), a pushy writer who hopes to be Joe's biographer, shoulders his way into their space to talk across Joan and offer his congratulations to Joe. In the seat behind them is their son David (Max Irons), sulking because his father refuses to endorse the short story he just wrote.
Jocelyn Pook's eloquent, rippling score subtly undermines the tributes and the superlatives, casting doubts on everything that Joe says. Likewise, Joan's darting glance at her husband when he is introduced to the attractive female photographer who will be shadowing him tells us plenty about his fidelity long before Nathaniel broaches the subject with her.
Less successful elements are the flashbacks to 1958 and the beginning of the relationship – scenes which simply don't match the later ones in terms of performance quality. Joan's complex motivations for keeping her own contribution to the work secret are condensed down to a single encounter. It's the kind of contrived narrative device that is particularly glaring, given that this is a film about authorship of great literature.
Production company: Meta Film London Ltd, Spark Film & TV
International Sales: Embankment Films info@embankmentfilms.com
Producers: Rosalie Swedlin, Meta Louise Foldager Sørenson, Piers Tempest, Jo Bamford, Claudia Bluemhuber, Piodor Gustafsson
Screenplay: Jane Anderson
Cinematographer: Ulf Brantås
Editor: Lena Runge
Production design: Mark Leese
Music: Jocelyn Pook
Starring: Glenn Close, Jonathan Pryce, Christian Slater, Max Irons, Harry Lloyd, Annie Starke