Dir: Terry Gilliam. UK-Romania-France. 2013. 107mins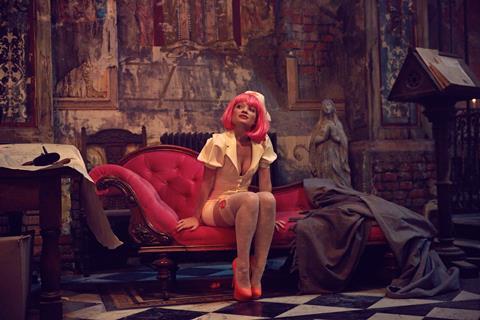 Frank Kafka is alive and well, striving in the 21st century and making films under the name of Terry Gilliam. His latest film, shot entirely in Romania, is unsurprisingly – since he has already done it before - looking for the meaning of life. His hero's name is no longer K but Q and though he manages to find his way to the Master of the Castle, otherwise known here as Management, it is all for naught, since it turns out that even at that level, there are no satisfactory answers to be found.
Gilliam's inimitable visual style is once again at work, dressing Pat Rushin's script to look like a surrealistic combination of old and new, real and imaginary, futuristic and outdated at the same time.
Gilliam, whose recent films have generally been somewhere between frustrating and irritating as far as commercial cinema is concerned, once again bombards his audience with so much information, so many extravagant quips and such a lot of side alleys to venture down and look for hidden messages, that most viewers will be either bemused or infuriated. And just like Kafka, an icon for many but familiar only to few, Gilliam might find himself admired again only by a small minority.
The full name of the picture's hero is Qohen Leth (Waltz), occasionally called Quinn or simply Q. Just for fun, if you like deciphering codes, Qohen is Priest in Hebrew while Leth could easily refer to the goddess of oblivion in Greek mythology (Lethe).
Qohen is an agoraphobic computer genius who has been waiting all his life for a call that would reveal the purpose of his existence. In the meantime, however, he has to go out into the street - a deafening bubblegum version of Times Square - to work for ManCom, the giant company that rules the world.
But rubbing elbows with other human beings is unbearable for him. He constantly complains of health and mental problems until his supervisor, Joby (Thewlis) gets him the permission, granted by Management in person (solemnly played by Matt Damon), to work at home. His impossible task is to prove, in what looks like a gigantic videogame, the mathematical formulation of the Zero Theorem, which no one had managed to do up to now.
Qohen's entire existence is naturally under constant surveillance, a shrink (a riotous Tilda Swinton) comes up every once in a while on his computer screen to calm his troubled psyche; a blonde sex-bomb calling herself Bainsley (Melanie Thierry) invites him to join her in a perfect imaginary romantic nirvana on a beach where time stands still, and Bob (Hedges), a computer geek who has all the answers and happens to be the Management's own son, drops in as well. All this, however does not alleviate Qohen's urgent need for the call that will tell him the Truth.
There are about a million other incidents taking place in this film. One could easily cover reams of paper with possible interpretations, and given Gilliam's number of ardent followers, much is bound to be written. For instance, ManCom could easily be construed as a powerful religious institution; Management as its mystic leader and Bob, as a frail Messiah in need of urgent treatment.
But essentially, this caricature of the present or very immediate future, with Everyman squirming under the constant control of powers that be, trying to make sense of his brief presence on earth and terrified by the chaos that looms all around, suggests there is no divine message about to be delivered, neither is there a scientific version of it and waiting for such a message can only lead to misery and distress. Better fly on the wings of imagination and emotions as much as you can, for there is nothing else to be done.
Gilliam, whose origins as an animator show up in the images he dreams up for every one of his films, already had a lot of fun with some of these concepts in Monty Python's The Meaning of Life (1983). His inimitable visual style is once again at work, dressing Pat Rushin's script to look like a surrealistic combination of old and new, real and imaginary, futuristic and outdated at the same time.
His cast follows his excesses with a relish and never without a touch of irony, whether it is Christoph Waltz's tormented Man in Doubt, Melanie Thierry's cutely Monroesque Brainsley or David Thewlis' cynical Joby. The film looks spectacular and Gilliam's faith in Nicola Pecorini's camera work, which has held fast for the last 15 years, is once again fully justified.
Production companies: Asian & Europe Productions, Zanuck Independent
International Sales: Voltage Pictures, www.voltagepictures.com
Producers: Nicholas Chartier, Dean Zanuck
Executive Producer: Pat Newall
Screenplay: Pat Rushin
Cinematography: Nicola Pecorini
Editor: Mick Audsley
Production designer: David Warren, Gia Stancu
Music: George Fenton
Main cast: Christoph Waltz, Matt Damon, David Thewlis, Melanie Thierry, Lucas Hedges, Tilda Swinton, Sanjeev Bhaskar, Peter Storemare, Ben Whishaw