Dir: Paolo Sorrentino. Italy/France/Ireland. 2011. 119mins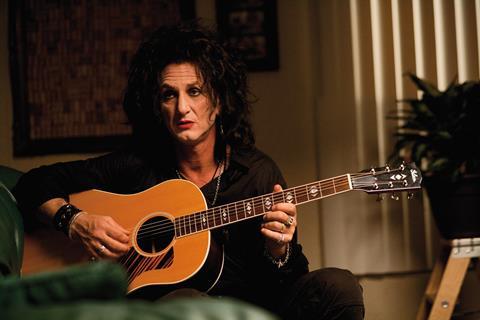 Wantonly kooky, visually Baroque, often hilarious and with a plot that might have been thrown up by a random story generator, Italian auteur Paolo Sorrentino's road movie about a washed-up rocker who goes after a Nazi war criminal proves that films don't always need to make sense to make sense. This Must Be The Place is alternately funny and sentimental, irritating and involving - but it's also infused with a humanity and that pulls the whole thing through, even as we ask ourselves what the **** is going on.
If the film is never dull, that's partly because Sorrentino pulls another droll or surreal encounter out of the hat whenever things show signs of flagging.
Playing like the Coen Brothers on acid, with echoes of The Straight Story (which the director has cited as an influence here), The Royal Tenenbaums and Broken Flowers, the film features a scene-stealing performance by Sean Penn as Cheyenne, a fragile and only barely functional former stadium rocker who sticks to his Goth stage look - all lipstick, pancake and back-combed black hair - even though he's pushing 50 (his look was apparently modeled on Robert Smith, lead singer of British post-punk band The Cure).
General audiences are likely to split along the same lines as the Cannes critics over Penn's performance - and by extension the whole film - with some finding it unbearably mannered and others taking the pastiche on board (just as we are required to do in Il Divo) to get to the nuggets of emotional truth and ethical illumination hidden beneath.
But for all its theatre of the absurd and occasionally cheap laughs, the film carries a surprising emotional heft, and while the Holocaust theme should not by rights sit easy in what is essentially a comic quest, there's also a sincerity in the exercise, a need to understand man's cruelty to man, that wards off any sense of cheap exploitation.
Cheyenne lives in a big old country house somewhere in Ireland. He walks gingerly, as if partially embalmed, as befits a man who at a certain point in his life took way too many drugs; we wouldn't be surprised to learn that he wears a truss.
His words come out in a high-pitched monotone, but he has a Warholian way with words, using a childishness that he cultivates as a sort of shield to tell home truths and ask questions that others avoid, like "Why did the Germans kill all those Jews?". His wife Jane (McDormand), a former fire fighter, is as grounded as her husband is out there.
Bits of context are painted in with freestyle nonchalance: Cheyenne hangs out with a young Goth-ette, Mary (Hewson), whose mother (Fouere) sits in the window of her terraced house waiting for her errant son to return. He visits a grave, later revealed to be that of a fan who killed himself years before under the influence of the rocker's gloomy lyrics.
There seems to be little narrative logic to this and many other plot strands, and yet Sorrentino's method (he takes full story credit, though screenplay duties were shared) is to pick ideas out of his head, then create little short-circuits between them that resonate across each scene and over the film. And mostly, it works.
The true road movie kicks in around third of the way through when Cheyenne is summoned back to the States to visit his dying father, who he hasn't seen for thirty years, and who turns out to be a pillar of the New York Jewish community. By the time he gets there, by ship (he won't fly), the old man is dead.
Reading his diary, the fragile rocker discovers that his father was obsessed with the search for an SS officer who had humiliated him at Auschwitz - a man called Aloise Lange, who may still be alive, under an assumed name, somewhere out west. After a run-in with a crabby and dismissive Nazi hunter, Mordecai Midler (Hirsch), Cheyenne sets out, wheely bag in tow, to finish the hunt his father started.
As always with Sorrentino, music is high in the mix: the film is named after a song by Talking Heads, which the band's former frontman, David Byrne, performs here in a live concert scene. Byrne composed the rest of the film's tasty score too, from pizzicato suspense music to jangly modern classical passages to the songs performed by a fictitious band, The Pieces of Shit, that Cheyenne and Mary meet in Dublin.
The camera swoops and zooms, pans and tilts, and even still shots are sometimes given a surreal feel by filters or fish-eye lenses. As our washed-up hero moves from Michigan to New Mexico to Utah colours take on acid tinge and landscapes turn to dreamscapes.
If the film is never dull, that's partly because Sorrentino pulls another droll or surreal encounter out of the hat whenever things show signs of flagging. But there's more to it than this: as in Il Divo, and far more successfully than he did in his last feature, the self-indulgently weird The Family Friend, the director nails something profound about the human comedy by releasing himself from the tyranny of narrative logic. In the end, it all makes perfect emotional sense.

Production companies: Indigo Film, Lucky Red, Medusa Film
Co-production: ARP, France 2 Cinema, Element Pictures
International sales: Pathe, www.pathe.com
Producers: Nicola Giuliano, Andrea Occhipinti, Francesca Cima
Screenplay: Paolo Sorrentino, Umberto Contarello
Cinematography: Luca Bigazzi
Production design: Stefania Cella
Editor: Cristiano Travaglioli
Music: David Byrne
Main cast: Sean Penn, Frances McDormand, Judd Hirsch, Eve Hewson, Kerry Condon, Olwen Fouere, Harry Dean Stanton