Dir/scr: Tom Tykwer. Germany. 2010. 119mins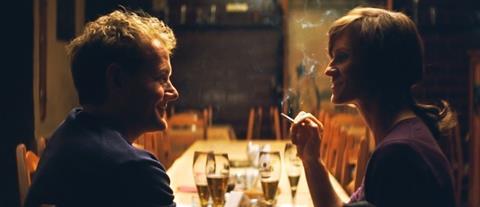 There's a small and even rather conventional sex comedy lurking at the heart of German director Tom Tykwer's new film about a longterm hetero couple in Berlin who both, unbeknownst to each other, begin seeing the same other man. But the stylishly quirky shell it hides within is so good-looking, inventively plotted, littered with post-modern themes, perfectly cast and in tune with the times that it's only as the credits roll that we realise, playing the thing back in our heads, that there wasn't actually that much to it.
The return to home territory and to a more small-scale production seems to have done the director a world of good.
Three doesn't make a good case for its two-hour running time, and there's a second-act lull that is going to alienate some of those reeled in by the film's terrific set-up. But it picks up again towards the end as the much-awaited moment when the truth dawns on him and her – straight out of Shakespeare via Lubitsch – kicks things back into gear.
This is Tykwer's first German film since The Princess and the Warrior, and arguably his first true indie outing since Run Lola Run back in 1998 – which was also set in his native Berlin. The return to home territory and to a more small-scale production seems to have done the director a world of good.
And although settings, dialogue, and a host of local references make this a German film that should do well on home ground, its sophisticated comic beats and stylish production values work in any language. It will appeal especially to demographic peers of the film's main characters: urban thirty- and especially fortysomethings at that tricky mid-life point. The unembarrassed, upfront sex scenes will raise ratings issues – but this is in any case not a film with much teen appeal.
Hanna (Rois, the film's comic lynchpin) and Simon (Schipper) are a modern, childless urban couple. They spar verbally and are prey to all the usual contemporary distractions (conveyed in an entertaining split-screen montage) of live-in lovers who are both in demanding, full time employment – she as a TV culture-channel anchorwoman, he as the head of a company that helps artists and sculptors produce installations. But their lived-in relationship is solid, affectionate, and buoyed by a shared sense of humour.
Still, there's a restlessness in their 20-year-old affair that we first detect in Hanna, and when she meets a research biologist called Adam (Striesow) and then bumps into him by chance on two separate occasions, the coincidence fosters an erotic spark between them. A night of passion follows – precisely the night when Simon, who has just lost his mother to cancer, is diagnosed with testicular cancer himself, and subjected to an emergency operation (mobile phones are conveniently turned off at the crucial moments). Recuperating from his operation with some swimming workouts, Simon meets the metrosexual Adam at the pool – and is surprised to find himself attracted to him.
One of the film's running themes is how much the most outwardly controlled and sorted life is in fact prey to coincidence. The 'three' of the title refers not only to the central ménage, but is also a factor at various crux points – Hanna and Adam's three meetings, or Simon's terminally ill mother's ingestion of 39 valium pills at 9.03 on the 3rd of September. This numerological strand overlaps with references to stem-cell and 'chimera' research – a theme that recurs in the film's comic denouement.
Stylishly shot with an inventive use of split screen in certain montage passages, Three is good at conveying an authentic flavour of cultured urbanite life in a big European city. This is an intelligent comedy that takes its characters' intellectual and cultural curiosity on board with wry scrutiny but without ridicule, and the action is punctuated by the performances of contemporary dance, theatre, music and art that the protagonists attend or take part in. It also has a very cool soundtrack, mixing cult pop classics like David Bowie's Space Oddity with a Teardrop-Explodes-like electronic theme.
Production company: X Filme Creative Pool
International sales: The Match Factory, www.the-match-factory.com
Producer: Stefan Arndt
Cinematography: Frank Griebe
Production design: Uli Hanisch
Editor: Mathilde Bonnefoy
Music: Tom Tykwer, Johnny Klimek, Reinhold Heil, Gabriel Mounsey
Main cast: Sophie Rois, Sebastian Schipper, Devid Striesow, Angela Winkler