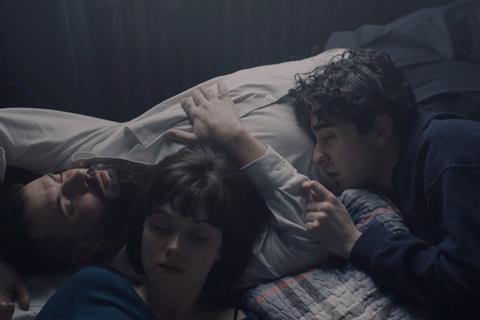 Toronto International Film Festival (TIFF) brass announced on Wednesday (July 31) the launch of a talent incubator for female content creators and unveiled the line-up of Canadian features, nearly half of which are directed by women.
Five features from indigenous filmmakers are among the selection of 26 Canadian features. TIFF also announced four Canadian Rising Stars, the annual TIFF Filmmaker Lab participants, finallists for Telefilm Canada's PITCH THIS! competition, and the roster of Canadian short films.
The Canadian feature selections include seven first features and 13 works by returning TIFF alumni, among them the North American premiere of Atom Egoyan Guest Of Honour (the world premiere is in Venice), as well as world premieres of Heather Young's Murmur in Discovery about a middle-aged alcoholic cut off from her loved ones, and Joey Klein's Contemporary World Cinema opioid crisis drama Castle In The Ground (pictured) starring Imogen Poots, Alex Wolff, and Neve Campbell. Also receiving its world premiere is TIFF Docs selection There's Something In The Water from Ellen Page and her Gaycation co-host Ian Daniel.
The five films by Indigenous filmmakers and film teams are: Abenaki director Alanis Obomsawin's documentary Jordan River Anderson, The Messenger in Masters; Jeff Barnaby's Midnight Madness entry Blood Quantum; Myriam Verreault's Kuessipan in Discover, about life among the Innu people in northeastern Quebec; Elle-Máijá Tailfeathers and Kathleen Hepburn's domestic violence drama The Body Remembers When the World Broke Open in Contemporary World Cinema; and Zacharias Kunuk's One Day In The Life Of Noah Piugattuk in Special Events, about a life-changing encounter on Baffin Island in 1961.
All Canadian feature films are eligible for the Canada Goose Award for Best Canadian Feature Film. The seven Canadian feature directorial debuts are eligible for the City of Toronto Award for Best Canadian First Feature Film.
Previously announced Canadian titles include festival opener Once Were Brothers: Robbie Robertson And The Band by Daniel Roher, François Girard's The Song Of Names, Semi Chellas's American Woman, and Barry Avrich's David Foster: Off the Record.
GALAS
American Woman – Canadian Premiere
Dir: Semi Chellas
Once Were Brothers: Robbie Robertson And The Band – world premiere
Dir: Daniel Roher
The Song Of Names – world premiere
Dir: François Girard
SPECIAL PRESENTATIONS
Clifton Hill – world premiere
Dir: Albert Shin
Guest Of Honour – North American premiere
Dir: Atom Egoyan
SPECIAL EVENTS
David Foster: Off the Record – world premiere
Dir: Barry Avrich
One Day in the Life of Noah Piugattuk – North American premiere
Dir: Zacharias Kunuk
MASTERS
Jordan River Anderson, The Messenger – world premiere
Dir: Alanis Obomsawin
TIFF DOCS
Coppers – world premiere
Dir: Alan Zweig
This Is Not a Movie – world premiere
Dir: Yung Chang
There's Something In The Water – world premiere
Dirs: Ellen Page, Ian Daniel
DISCOVERY
Black Conflux – world premiere
Dir: Nicole Dorsey
Easy Land – world premiere
Dir: Sanja Zivkovic
Kuessipan – world premiere
Dir: Myriam Verreault
Murmur – world premiere
Dir: Heather Young
Raf – world premiere
Dir: Harry Cepka
The Rest Of Us – world premiere
Dir: Aisling Chin-Yee
CONTEMPORARY WORLD CINEMA
And The Birds Rained Down (Il Pleuvait Des Oiseaux) – world premiere
Dir: Louise Archambault
Antigone – world premiere
Dir: Sophie Deraspe
The Body Remembers When The World Broke Open – North American premiere
Dirs: Elle-Máijá Tailfeathers, Kathleen Hepburn
Castle In The Ground – world premiere
Dir: Joey Klein
The Last Porno Show – world premiere
Dir: Kire Paputts
Tammy's Always Dying – world premiere
Dir: Amy Jo Johnson
White Lie – world premiere
Dirs: Calvin Thomas, Yonah Lewis
MIDNIGHT MADNESS
Blood Quantum – world premiere
Dir: Jeff Barnaby
The Twentieth Century – world premiere
Dir: Matthew Rankin
TIFF Rising Stars
The TIFF Rising Stars programme returns for its ninth year. Kacey Rohl, Mikhaïl Ahooja, Nahéma Ricci, and Shamier Anderson will get access to professional development sessions, industry events, red carpets, mentorship, and networking opportunities.
Each is featured in this year's Official Selection. Rohl stars in Contemporary World Cinema selection White Lie; Ahooja is featured in the Midnight Madness entry The Twentieth Century; Ricci will appear in Sophie Deraspe's Contemporary World Cinema selection Antigone; and Anderson will be featured alongside Shailene Woodley, Sebastian Stan, and Jamie Dornan in Drake Doremus's Special Presentations entry Endings, Beginnings. TIFF will announce its four international Rising Stars on August 15.
"With such a wealth of homegrown talent, selecting the Canadian Rising Stars is never an easy task," said Cameron Bailey, TIFF artistic director and co-head. "We were blown away by this group and deeply impressed by these young, up-and-coming voices. I have no doubt they'll go on to do big things, just like the Rising Stars who came before them."
Filmmaker Lab Participants and Inaugural Talent Accelerator
The 20 directors selected for the 16th annual TIFF Filmmaker Lab mentorship initiative are:
Canada – Joseph Amenta (Ontario); Sofia Bohdanowicz (Ontario); Karen Chapman (Ontario); Aisling Chin-Yee (Quebec); Nicole Dorsey (Ontario); Martin Edralin (Ontario); Drew Lint (Ontario); Samantha Pineda Sierra (British Columbia); Geoff Redknap (British Columbia); and Charlie Tyrell (Ontario).
International – Abbesi Akhamie (USA); Cyril Aris (Lebanon); Andreas Bøggild Monies (Denmark); Chema García Ibarra (Spain); Beza Hailu Lemma (Ethiopia); Jennifer Peedom (Australia); Johanna Pyykkö (Norway); Silvina Schnicer (Argentina); Maya Vitkova-Kosev (Bulgaria); and Charles Williams (Australia).
Four Governors — producer Cassian Elwes, writer-director Patricia Rozema, acting coach Miranda Harcourt, and director Lulu Wang – will serve as guides throughout the four days.
New this year is the TIFF Talent Accelerator, a year-long development programme for promising Canadian female creators. Two Filmmaker Lab directors are part of the inaugural class of six, with two producers and two writers benefitting from other Industry support programmes.
The 2019 TIFF Talent Accelerator participants are:
Directing – Sofia Bohdanowicz, Karen Chapman;
Producing – Melissa Coghlan, Shasha Nakhai; and
Writing – Lisa Jackson, Jasmin Mozaffari.
TIFF Talent Accelerator is made possible by Share Her Journey, TIFF's fundraising initiative to support female talent in front of and behind the camera. The Lab will run from September 4–7. Filmmaker Lab and Talent Accelerator are programmed by TIFF Industry Programming producer Jane Kim.
PITCH THIS!
Six teams of finallists for Telefilm Canada's 20th annual PITCH THIS! competition will spend six minutes each pitching their feature-film idea to a live audience and a jury of film professionals. The winning team will receive $15,000 for project development. The competition will take place at the Glenn Gould Studio on September 8 and is open to all press and industry delegates.
The 2019 finallists are:
La Cercanía
Jorge Thielen Armand, Rodrigo Michelangeli
When Oana's father falls gravely ill in Venezuela, she breaks a 15-year exile in Canada to return home and visit her family one last time. But when she reconnects with Sofia, her estranged half-sister, Oana must commit to helping Sofia transition into adulthood amid the devastation caused by the economic crisis.
What Night Taught Her (documentary)
Lauren Grant, Lisa Rideout, Ashley Cooper
An intimate look inside Canada's first sex workers' rights organization and the people who run it. Delving into the ups and downs of three outreach workers' lives, the film reveals the harsh realities of a job that can mean the difference between life or death.
Blue Flower (Fleur Bleue)
Geneviève Dulude-De Celles, Sarah Mannering, Fanny Drew
When a video of a six-year-old Romanian art prodigy goes viral on the internet, Mihai is sent to evaluate the girl's production – meaning he has to return to his home country for the first time in 30 years.
Paying For It
Kristy Neville, Natalie Urquhart
After his long-time girlfriend begins sleeping with another man, a painfully introverted cartoonist begins sleeping with prostitutes, to the disapproval of his friends and former lover. An unconventional rom-com comedy about a modern man's search for love and connection.
Worst Team Ever
Kathleen Jayme, Michael Grand, James Brown (Documentary)
This 80- to 90-minute documentary tells the unfortunate story of what happened to the Vancouver Grizzlies, Canada's other NBA team – gone, but far from forgotten – who just might have been the worst professional sports franchise in history.
Epochal
Rodrigo Barriuso, Kyah Green
When dementia begins to progress, a transgender woman living with Alzheimer's at a transphobic nursing home finds herself mentally regressing to a time before her transition. As the complexities of gender identity resurface, her sense of self becomes an emotional battlefield that she will have to defend and uphold.
Click here for the list of Canadian short films. The 44th annual TIFF runs from Sept 5-15.