Kankuro Kudo's anarchic Japanese comedy has triumphed at the 15th New York Asian Film Festival, which executive director Samuel Jamier said drew record audiences.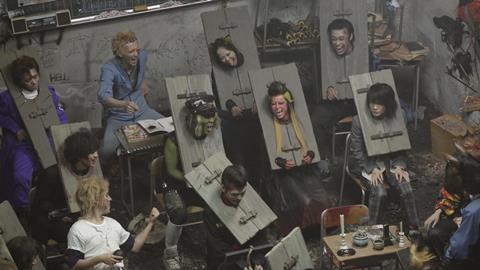 Too Young To Die! received its North American premiere at the festival, and stars Ryunosuke Kamiki as a student sent to Buddhist hell after a freak bus accident, only to make a pact with a guitar-shredding demon to be reincarnated and reunite with his high school crush.
Toho Co Ltd handles international sales. Tomoya Nagase also stars as the demon.
Showbox's South Korean thrillers Inside Men from Woo Min-ho and A Violent Prosecutor from Lee Il-hyeong came second and third in the poll.
Inside Men's Lee Byung-hun attended the festival to receive one of three Star Asia Awards.
Fourth was Nawapol Thamrongrattanarit's offbeat rom-com Heart Attack from Thailand, while Mario Cornejo's surfing relationship drama Apocalypse Child from the Philippines ranked fifth.
"This year, we set out to prove there was a New York audience for the cinemas of China and Southeast Asia, especially the Philippines," said Jamier.

"We're thrilled that they represent the best-performing films at the festival this year with sell-out screenings. We didn't play safe in our anniversary year; we are proud that our audience is continuing to support us in pushing boundaries."
Festival box office grew 20% and attendance was particularly strong for films from China, the Philippines and Japan. Festival organisers scheduled 51 films over 18 days at the Film Society of Lincoln Center and the SVA Theatre in Manhattan.
The festival closed with the international premiere of Adam Tsuei's Taiwanese thriller The Tenants Downstairs.