Icelandic filmmaking veteran Fridrik Thor Fridriksson returns to Toronto with Horizon, which he directed alongside photographer and budding filmmaker Bergur Bernburg.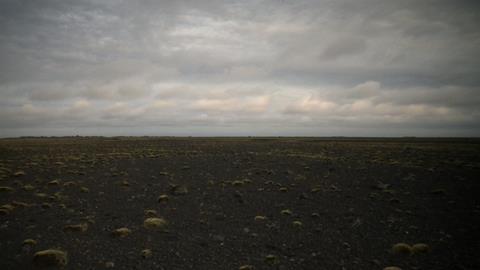 The moving and meditative documentary, having its world premiere in TIFF Docs, is about influential Icelandic landscape painter Georg Gudni Hauksson.
When Fridriksson ran a Reykjavik art gallery decades ago, he first met the young painter. For the new film, he teamed up with Bernburg, who had been planning a project about Gudni after interviewing him in the 2000s.
In Horizon, Gudni, who died suddenly at age 50 in 2011, is seen explaining his philosophies of life and art in archival interviews that were done for different projects.
This archival material is interwoven with looks at his paintings, inspiring Icelandic landscapes, and interviews with his family members, art historians and Gudni appreciators such as Viggo Mortensen.
Horizon sales are handled by Fridrikson's own Icelandic Film Corporation; the Iceland-Denmark production is backed by the Icelandic Film Centre. Fridriksson and Bernburg also produce the film alongside Bill Rathje and Magnús Árni Skúlason.
Fridriksson, who was Oscar nominated in 1992 for Children of Nature, has been to Toronto with a slew of past films including Mama Gogo in 2010.
Screen spoke to the directors in Toronto.
How did this project start?
Bernburg: We met in 1991 and had done some smaller projects together. In 2010 we started discussing this, but in 2011 Gudni passed away. In 2012 we started talking about the possibilities, and trying to figure what material was around. Together we created a different approach to the project.
In these archival interviews, he seemed very open in talking about his work. Is that true?
Fridriksson: He was very quiet. But he was very clear when he did talk about his work. He was honest.
Bernburg: When he saw you were really interested in his work, he would talk about it.
How does this film reflect the art he made?
Fridriksson: Like Gudni says in the film, he's inspired by Icelandic nature only. That 'only' is very important. He said the landscape was inside him. So very few people admit that, how much Icelandic nature influences them. Very specifically in the Icelandic film industry, many Icelandic films have used the landscape too much and people stop following the story and are distracted by the landscape.
Bernburg: He says at one point in the movie that he has to know the landscape before he can paint it…one of the issues we had with the movie is that we didn't want to tell people what he was painting, with the landscapes. Like he says you want to reflect on your own thoughts, it's meditative in a way.
Why does his work mean something special to each of you?
Bernburg: It's also interesting for his take on things. It's not just about what you do, it's how you do it. When he explains his attitude towards things, he's also reflecting on how we live. It reflects on life, not just the painting.
Fridriksson: Usually people don't like to go out when it's windy and rainy, but that's something in common with my films and his paintings. I love to shoot when it's snowy or rainy. I started to appreciate so-called 'nasty weather' and turn it into beauty. A valley full of fog is more beautiful than one that is clear. He's like a poet.
How did you make sure the score by Kjartan Hólm (a touring member of Sigur Ros) didn't overwhelm the images?
Bernburg: It was important that it didn't overpower…It's a little like cooking, it's not so difficult to make a hot chili con carne so the meat disappears. But here the raw material is very delicate, you have the paintings, the artist, the nature. And if you cook too many ingredients together it might be a mess.
Fridrik Thor, why did you want to collaborate on this film?
Fridriksson: When I saw the material they already had, I saw a great potential… This stuff really touched me, it was almost like Gudni was alive. He was a lovely man.
Are you hoping more people will discover his art through this film?
Fridriksson: I think for art students now it's very important to see this film.
Why did you choose the title of Horizon?
Bernburg: The horizon isn't really anything, it's where heaven and earth combine. It's in your own head, where is that happening? It's not really happening anywhere. It's the same with his paintings, where is the horizon? It's depending on your own mood and maybe the lighting in the room, lots of things.
Fridriksson: In his paintings, there is a lot of space left for the visitor to bring his own ideas.