The full line-up of Toronto's Contemporary World Cinema programme with details on each title including sales contacts.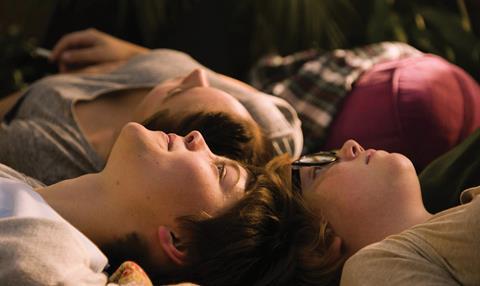 25 April (NZ)
Dir Leanne Pooley
Pooley's latest film combines documentary and animation to tell the true story of the 1915 battle of Gallipoli, a significant event in the history of New Zealand. She previously won TIFF's People's Choice award for her 2009 documentary The Topp Twins: Untouchable Girls.
Contact: K5 International, info@k5mediagroup.com
3000 Nights (Pal-Fr-Jor-Leb-UAE-Qat)
Dir Mai Masri
Documentary film-maker Masri, who first played TIFF with her 1987 debut Wild Flowers: Women Of South Lebanon and is an activist for the Palestinian cause, makes her narrative debut with this drama about newlywed Palestinian schoolteacher Layla (Maisa Abd Elhadi) who gives birth in an Israeli prison and struggles to raise her son behind bars.
Contact: Intramovies, federica.mei@intramovies.com
The Apostate (Sp-Fr-Uru)
Dir Federico Veiroj
The third film from the director of Uruguay's 2010 Oscar submission A Useful Life is an absurdist comedy set in Madrid. Co-writer Alvaro Ogalla makes his screen debut as an eternal philosophy student on a mission to find himself and strike his name from the Catholic Church's baptismal record.
Contact: FiGa Films, sandro@figafilms.com
Baba Joon (Isr)
Dir Yuval Delshad
Billed as the first Persian-language film shot in Israel, Baba Joon follows the story of three generations of Israeli men. The film is writer-director Delshad's feature debut, and stars Homeland'sNavid Negahban.
Contact: United King Films, avitalr@unitedking.co.il
Campo Grande (Braz-Fr)
Dir Sandra Kogut
It has been eight years since the Brazilian film-maker's last feature, her directorial debut Mutum, played TIFF. Her new work once again shines a light on social issues and centres on a rich woman who suddenly finds herself caring for two poor young siblings.
Contact: Films Distribution, www.filmsdistribution.com
Cuckold (SA)
Dir Charlie Vundla
Vundla follows up his 2011 debut How To Steal 2 Million, nominated at the 2012 African Movie Academy Awards, with drama Cuckold. Supported by Gauteng Film Commission, the film tells of a successful assistant professor who spirals into a life of drink and drugs after the breakdown of his marriage. The cast includes Terry Pheto, re-uniting with the South African writer-director after appearing in his debut film.
Contact: Gauteng Film Commission, info@gautengfilm.org.za
The Fear (Fr)
Dir Damien Odoul
Odoul's war drama sees a young French infantry volunteer thrown into the chaos of trench warfare on the Western Front during the First World War.
Contact: Wild Bunch, obarbier@wildbunch.eu
Girls Lost (Swe)
Dir Alexandra-Therese Keining
Based on an August Prize-winning novel, Girls Lost (Pojkarna) is an unconventional Swedish coming-of-age story that follows three bullied teenage girls who discover a magical plant that, when consumed, turns them temporarily into boys. Writer and director Keining's 2011 film Kiss Me won the breakthrough audience award at AFI Fest.
Contact: Yellow Affair, contact@yellowaffair.com
Granny's Dancing On The Table (Swe)
Dir Hanna Skold
In both her feature and short film-making, Skold explores themes of societal isolation and taboos. This continues with the Swedish director's latest work, which stars Blanca Engstrom as 13-year-old Eini, who retreats into her own imagination after her violent father keeps her cut off from the world. The project was funded with the help of a Kickstarter campaign.
Contact: DoDream helene@good.se
A Heavy Heart (Ger)
Dir Thomas Stuber
Stuber's feature debut follows a former East German boxing champion reduced to working as a bouncer and debt collector, and is forced to reflect on his life when he is diagnosed with a fatal disease.
Contact: Picture Tree International, pti@picturetree-international.com
Hong Kong Trilogy: Preschooled Preoccupied Preposterous (HK)
Dir Christopher Doyle
Award-winning cinematographer-turned-film-maker Doyle has a long-standing affinity with Eastern narratives. Having shot multiple films for Asian directors, including eight for Wong Kar Wai, Australia-born Doyle's third feature as director, after 1999's San Tiao Ren and 2008's Warsaw Dark, is a drama about life in modern Hong Kong narrated through real-life interviews with three generations of residents.
Contact: www.hktrilogy.com
Honor Thy Father (Phil)
Dir Erik Matti
Nominated for the SACD prize at Cannes 2013 for crime drama On The Job, and in pre-production on that film's sequel along with a number of other projects, prolific writer-director Matti is also bringing his thriller Honor Thy Father to TIFF. John Lloyd Cruz stars in the story of a family facing financial ruin after getting involved in an investment scam.
Contact: Reality Entertainment, info@reality.com.ph
How Heavy This Hammer (Can), Dir Kazik Radwanski
The second feature from writer-director Radwanski stars Erwin Van Cotthem as a father and husband who feels adrift until he finds his purpose in an unlikely place: online gaming. Radwanski's debut, Tower, premiered at Locarno in 2012 before showing at TIFF. His shorts have screened at numerous festivals, with 2008's Princess Margaret Blvd winning prizes at Slamdance and Edinburgh.
Contact: MDFF, info@mdff.ca
In The Room (HK-Sing)
Dir Eric Khoo
Khoo, whose 2008 film My Magic played in Cannes Competition, sets his latest project entirely in one Singapore hotel room, with events taking places over several decades. The film has been labelled as Singapore's first erotic movie.
Contact: Distribution Workshop, dw@distributionworkshop.com
Incident Light (Arg-Fr-Uru)
Dir Ariel Rotter
The Argentinian director has frequented Berlin with his last two films, The Other and Just For Today, and makes his TIFF debut with Incident Light. The film takes place in 1960s Argentina, and sees a young widow and single mother being courted by a mysterious older man.
Contact: Urban Distribution International, contact@urbandistrib.com
Let Them Come (Fr-Alg)
Dir Salem Brahimi
Adapted from the novel by Arezki Mellal, Brahimi's film examines Algeria's descent into barbarity as the army attempted to suppress radical Islamist opposition, leading to the country's 'dirty war' in the early 1990s. As co-producer, London-born Brahimi worked with Costa-Gavras on 2009 drama Eden Is West, and the Greek film-maker has returned the favour - his production company KG Productions backed Let Them Come, which is Brahimi's narrative feature directing debut.
Contact: KG Productions, kg@kgproductions.fr
A Month Of Sundays (Aus)
Dir Matthew Saville
This Australian comedy stars Anthony LaPaglia as a real-estate agent who receives a phone call from his mother, despite her being dead for over a year. Director Saville's previous feature Felony premiered at TIFF in 2013.
Contact: Visit Films, info@visitfilms.com
One Breath (Ger)
Dir Christian Zubert
After Tour De Force played at TIFF last year, director Zubert returns with this drama about a pregnant, educated Greek woman who takes a job as a nanny for a successful German career woman. One careless moment changes both women's lives forever. Set against the backdrop of the Greek economic crisis, the film was produced by Ulf Israel at Senator Film's Cologne-based production arm, Senator Filmproduktion.
Contact: ARRI Media World Sales, worldsales@arri.de
Parisienne (Fr)
Dir Danielle Arbid
In the new film from the Lebanese director, an Arab immigrant in Paris encounters three different men who reveal facets of her new country, and of herself.
Contact: Films Boutique, info@filmsboutique.com
Paths Of The Soul (China)
Dir Zhang Yang
Zhang returns to TIFF, where he won the 1999 International Critics' Award for Shower (Xizao), with this drama based on true events and with a cast of non-professional actors. Shot in documentary style, its focus is a small group of Buddhist pilgrims as they embark on a 2,000km journey to Lhasa. International sales are being handled by Asian Shadows, the sales arm of Isabelle Glachant's production company Chinese Shadows.
Contact: Asian Shadows, contact@chineseshadows.com
Sparrows (Ice-Den)
Dir Runar Runarsson
Runarsson's follow-up to debut feature Volcano (which played in Directors' Fortnight at Cannes in 2011) follows 16-year-old Ari, who has to leave his mother's home in Reykjavik and move back to his former hometown in the isolated Westfjords of Iceland. There, he navigates a rocky relationship with his father. The cast features Ingvar Eggert Sigurdsson, Atli Oskar Fjalarsson and Rakel Bjork Bjornsdottir. Denmark's Mikkel Jersin (a Screen Future Leader in 2015) produces for Nimbus.
Contact: Versatile, pboye@versatile-films.com
Starve Your Dog (Mor)
Dir Hicham Lasri
Writer and director Lasri returns with this story of a once-famous journalist who eyes a return to the limelight after securing an interview with Morocco's former minister of the interior, a figure who was prominent during the country's decade of repression before being placed under house arrest.
Contact: Paul Thiltges Distribution, info@ptd.lu
The Steps (Can)
Dir Andrew Currie
Currie premiered his 2006 zombie comedy-horror Fido at TIFF. In his latest film, the Canadian director brings his sense of humour to bear on the story of a dysfunctional family's ill-fated lake-house reunion in Northern Ontario. James Brolin, Emmanuelle Chriqui, Christine Lahti and Jason Ritter star.
Contact: Seville International, sevilleinternational@filmsseville.com
Stranger (Kaz)
Dir Yermek Tursunov
Set in the 1930s and '40s on the Kazakh steppe, Tursunov's drama follows an orphaned boy who, after living for years in a mountain cave, attempts to return to his village. Two of Tursunov's previous features - 2009's The Daughter-In-Law (Kelin) and 2013's The Old Man (Khal) - were Kazakhstan's submission for the best foreign-language Oscar.
Contact: Yermek Tursunov, yermekfilm@gmail.com
Thank You For Bombing (Aust)
Dir Barbara Eder
Austrian film-maker Eder's latest feature looks at the behind-the-camera lives of three international war correspondents on assignment in Afghanistan.
Contact: Lotus Film, office@lotus-film.at
Truman (Sp-Arg)
Dir Cesc Gay
The Spanish film-maker's latest film is an intimate drama that follows a man putting his affairs in order after being diagnosed with terminal cancer. Gay's Fiction and In The City premiered at TIFF in 2006 and 2003 respectively.
Contact: Filmax International, filmaxint@filmax.com
The Whispering Star (Jap)
Dir Sion Sono
Festival favourite Sono returns to TIFF with this sci-fi story in which a humanoid robot delivery-woman muses on the mystery of human nature as she drops off parcels around the galaxy.
Contact: Nikkatsu Corporation, international@nikkatsu.co.jp