The full line-up of world premieres in Toronto's Midnight Madness programme, with details on each title including sales contacts.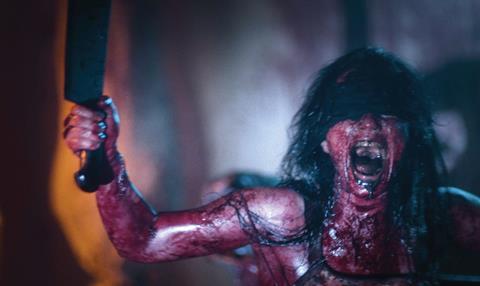 Baskin (Tur)
Dir Can Evrenol
Turkish short film-maker Evrenol's feature debut tells of a group of unsuspecting cops who encounter a Black Mass in an abandoned building, which turns out to be a trapdoor to hell. TIFF has described the film, which writer-director Evrenol has adapted from his own 2013 Sitges-nominated short, as a tour de force.
International contact: The Salt Company, info@salt-co.com
US contact: XYZ Films, info@xyzfilms.com
The Devil's Candy (US)
Dir Sean Byrne
Australian director Byrne has also penned this creepy haunted-house tale of a struggling painter (Ethan Embry) who is possessed by dark forces after he moves into his dream family home. Byrne's previous film, gory revenge horror The Loved Ones, picked up multiple international festival nominations and awards, and was named TIFF Midnight Madness People's Choice in 2009.
International contact: HanWay Films, info@hanwayfilms.com
US contact: CAA, info@caa.com
The Girl In The Photographs (US)
Dir Nick Simon
Big-city glamour clashes with homespun values in the latest feature from US film-maker Simon, as a celebrity photographer visits a sleepy small town on the trail of a violent serial killer. Genre favourite Katharine Isabelle takes a starring role, godfather of horror Wes Craven is on board as an executive producer and veteran DoP Dean Cundey is behind the camera.
Contact: CAA info@caa.com
Hardcore (Rus-US)
Dir Ilya Naishuller
Russian music-video director Naishuller brings video-game sensibilities to the big screen and creates a feature debut described as a "white-knuckle, crackerjack thrill ride". Filmed like a first-person shoot 'em up, largely on GoPro cameras, and starring District 9's Sharlto Copley, Hardcore sees a cyborg super-soldier fighting across Russia to save his wife from a psychotic paramilitary psychic. Naishuller's countryman Timur Bekmambetov serves as a producer.
Contact: WME Entertainment, www.wmeentertainment.com
The Mind's Eye (US)
Dir Joe Begos
After making his mark with 2013 debut Almost Human, writer-director Begos will be storming Midnight Madness with the world premiere of his hotly anticipated follow-up. He also serves as producer and DoP on The Mind's Eye, the story of a drifter with psychic abilities who faces a nefarious doctor and his band of telekinetic assassins.
Contact: ICM Partners, www.icmpartners.com
Southbound (US)
Dirs Roxanne Benjamin, David Bruckner, Patrick Horvath, Radio Silence
The makers of horror anthology V/H/S present another collection of terrifying tales, which follow a group of travellers forced to confront their darkest fears over the course of one night. The project is awash with genre talent, including Hobo With A Shotgun director Jason Eisener, who co-edits, and prolific horror producer Greg Newman, who was behind Jim Mickle's 2010 Toronto Midnight Madness People's Choice Award winner Stake Land.
International contact: MPI Media Group, info@darkskyfilms.com
US contact: CAA, info@caa.com